Parts of the carding machine at the Spinnery are turning 100 this year!  This anniversary recently made it into the local paper, and we couldn't be prouder of our role in breathing new life into an industry that formed much of New England as we know it today.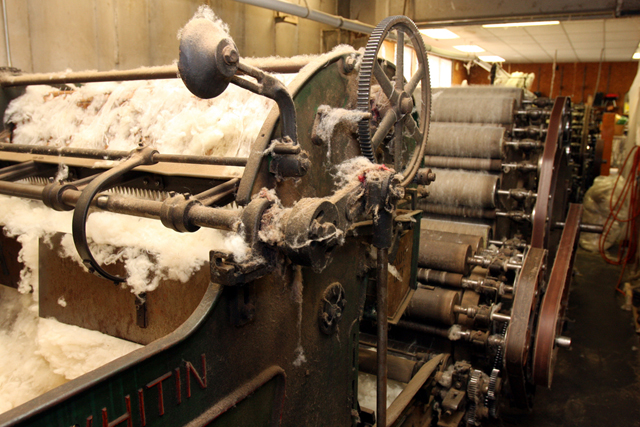 The behemoth that fills the back of the Spinnery was assembled over 30 years ago from various parts and pieces salvaged from abandoned mills all around New England and Canada.  In the early 1980's the founding members of the co-op spent months travelling far and wide to find the machinery and expertise needed to put it together in working order.
Two giant pieces from Davis & Furber cards manufactured in 1916 are now integral  parts of our operation, and help us process an average of 200 pounds of fiber a week.  In honor of their centennial we've made a new yarn to share with you that is as unique, hard wearing, and classic as the machine that made it:  Our new limited edition: Moorit!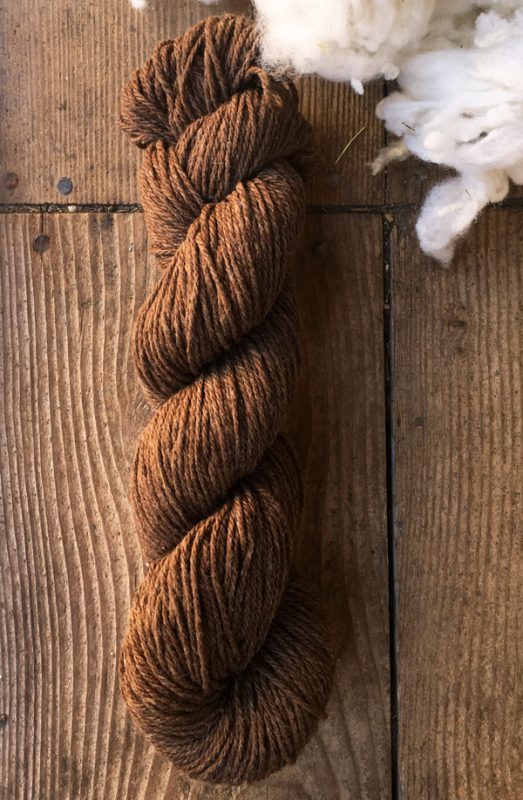 This undyed yarn comes from a very special flock of Merino sheep that are being raised for their atypical color.  Our friend Andy has been breeding his flock not for the brilliant white fleece that the breed is known for, but a warm cinnamon shade called moorit.  We thought that it would be best showcased in springy, delightfully soft 3-ply DK weight yarn.
Our 3 oz. skeins contain approx. 180 yards and are made from some of the finest wool that we have had the pleasure of working with.  The yarn has a recommended gauge range of 5-6 stitches to the inch on a range of needle sizes from US 4/3.5 mm to US 7/ 4.5 mm.
Because of the yarn's 3 plies, it has a very balanced round shape that lends itself beautifully to crisp cables and rich textured stitches.  We can't wait to see what you make with it!
This yarn will be making its debut at the upcoming Sheep & Wool Festivals in Maryland and New Hampshire.  We hope that you'll be able to stop by our booth to get acquainted with it.  Or you can visit us at the Spinnery and wish the carding machine a happy birthday!