Larisa spent many hours winding and bundling the Spinnery's new Mountain Mohair Mini skeins this winter.  As she worked, she found herself wanting to create a cowl that would highlight small amounts of our delicious Mountain Mohair.
After a thorough search of the Ravelry database that didn't turn up what she was envisioning, she designed the cowl that she wanted to wear.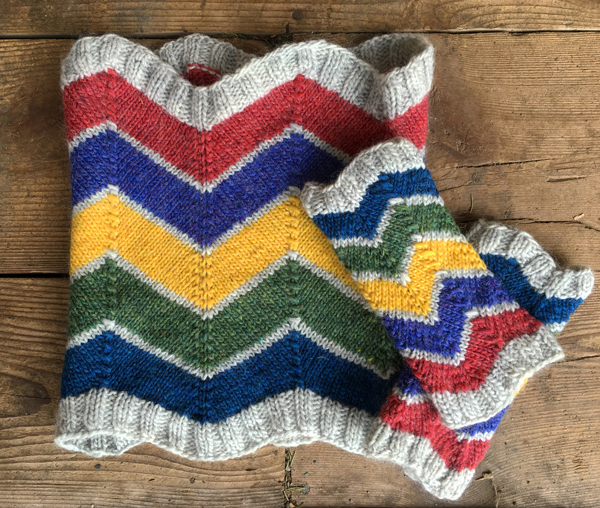 And today, we have the pleasure of introducing Larisa's first pattern:  The Route 5 Cowl and Wrist Warmers!
Named after the rural highway that Larisa uses to commute to and from the Spinnery, these fun accessories have chevron striping that is reminiscent of the twists and turns of that beautiful road and the Connecticut River that runs beside it.
Using a full single skein of Mountain Mohair for the main color (on the ribbed bands and between each contrast color stripe) and a bundle of 5 of our Minis, you'll have enough yarn for both the cowl and matching wrist warmers.  Larisa used Blizzard as her main color to act as a soft neutral and played with pop colors for her stripes.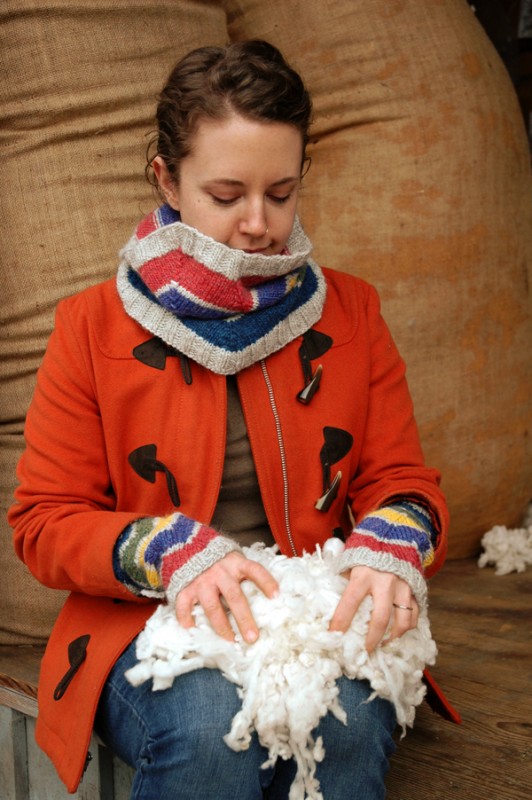 Larisa specifically selected a bundle group that had a mini skein of Goldenrod in it and ended up with a color selection that is a bit reminiscent of a Hudson's Bay point blanket.  She used (from bottom to top) Blueberry, Fern, Goldenrod, Periwinkle, and Rhubarb.
The random selection of colors included in our bundles will allow you to play with your own combination.  You could also substitute leftover bits of stash yarn from other projects to create custom stripes of your own design.
We hope that you have fun with Larisa's new pattern.  We can't wait to see what new color combinations result from it!