Our month long sale began earlier this week and shoppers have been finding some great deals.  We wanted to share the details with you so that you wouldn't miss out on the fun.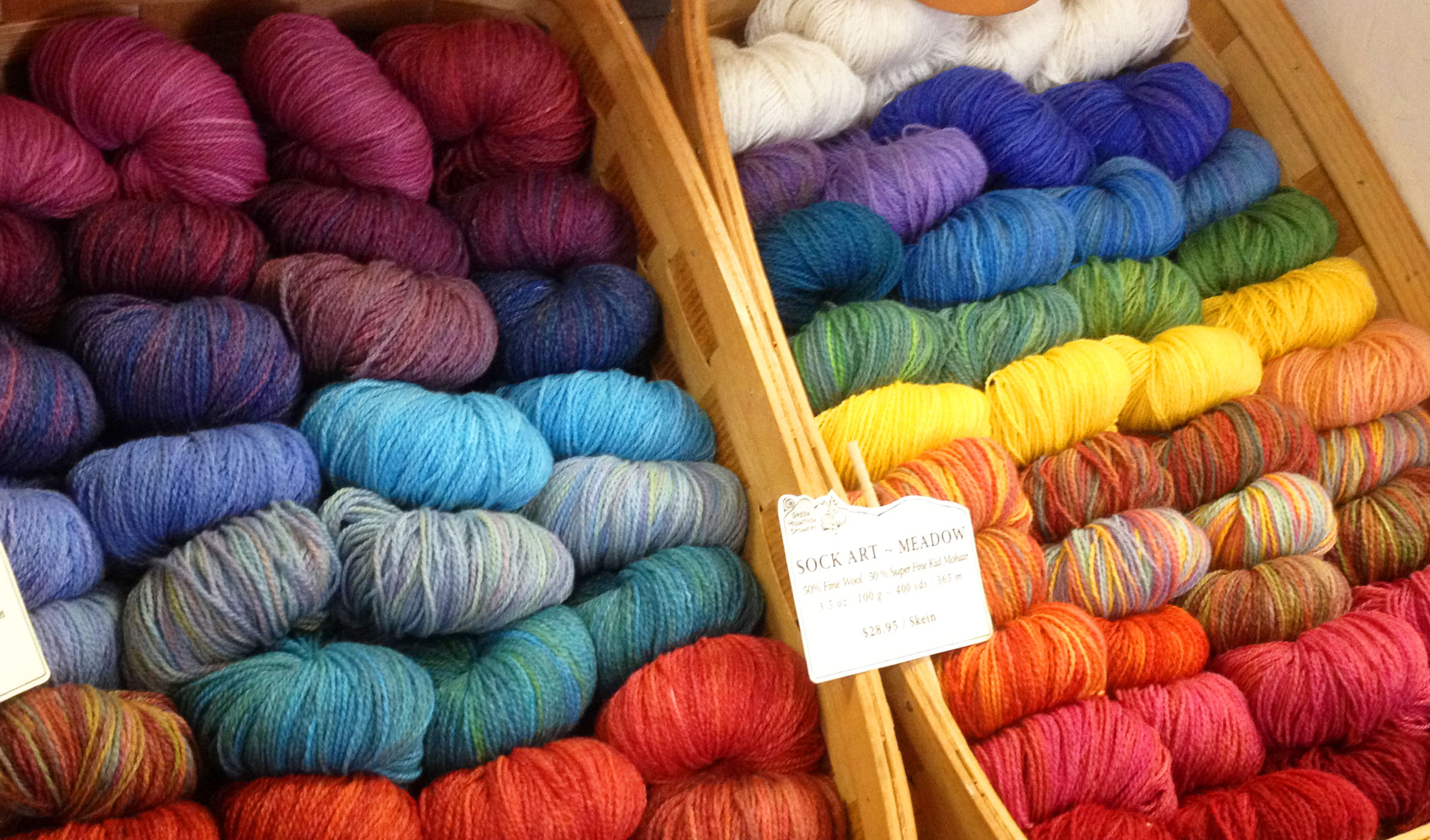 So far our 30% discount on our 2-ply fingering weight Sock Art yarns has been the biggest hit.  We are in the midst of transitioning to a 3-ply version of both yarns that will be available for sale later this spring.  As a result, we are discontinuing the 2-ply Forest and Meadow.
Forest's blend of 70% Fine Western Wool and 30% TENCEL® Lyocell (a man made fiber created from wood pulp) lends it a distinct sparkle that brings out fancy stitch patterns. We thank the sheep and the trees for producing this lovely fiber!
Meadow is a blend of some of the rarest American-grown natural fibers, 50% super fine kid mohair and 50% Fine Western Wool (a cross between Rambouillet and Columbia sourced from herds along the Front Range of the Rockies). This yarn is elastic, warm and soft with a subtle luster. These hand painted skeins are a tribute to the farmers and animals that produce such excellent fleeces.
Our skeins are hand painted by a friend and local artist Melissa Johnson 5 at a time in a microwave on her back porch.  The colors are mouthwatering and we've found that many Spinnery fans want to use this yarn for more than just socks.  It is easy to envision working with this yarn for larger projects such as shawls and lightweight spring and summer knits.
We are also offering skeins of Pink Lilac Cotton Comfort at a remarkable 50% off.  This discontinued color has been a great favorite among knitters and crochet fans looking for skeins for baby knits, when the run of the mill pink or blue won't do.
We also have a great deal on a small quantity of extra large unwashed skeins of Atlantis Mewesic. (Seen above in the Sabi Hat designed by Olga Buraya-Kefelian and knit up by Maureen as a holiday gift last month).
As it happens, a few of skeins of this yarn will be a future prize on BabyCocktail's KAL that you may want to join.  Thea Colman has suggested pairing the yarn with her Bastille Cowl pattern. Yum.
These skeins include a whopping 280 yards of yarn (instead of the usual 180).  We are offering them at a 15% discount.  These larger skeins could be a great choice for crafters interested in working on larger projects with fewer ends to weave in.
We hope that you have time to visit our little shop before the end of the month.  You'll find one-of-a-kind skeins in our selection there that are not available online.  We're also offering all of our in-stock book titles at 20% off.  You may find it well worth a trip.
We look forward to seeing you soon.