There are just a couple of weeks remaining before our 2015 Knitters in the Green Mountains Weekend.  Thea Colman and Ellen Mason will be joining us for a crafty weekend of fun, fiber and festivities on Friday November 6th – Sunday November 9th.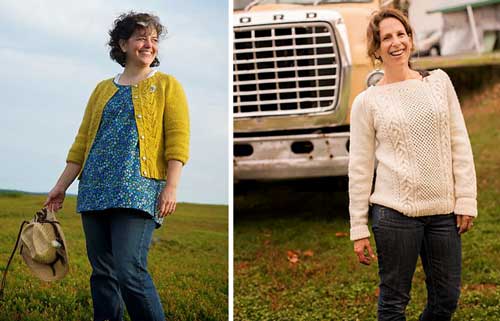 On Saturday, Thea will impress us with her design process as she takes us from yarn thoughts to stitch motifs to actually plotting ideas for a basic design.  We'll put that into practice as we cast on for custom cowls.  She'll follow that up with a session in which we play with cables, where we look at things we can do with cables – pair them together, play them off of one another, change the size, add/change texture, add/change lace, make a panel, read and create a chart, etc.
On Sunday morning, Ellen will share her creative ways for sculpting a mitten thumb with her "Fried Chicken Mitten" pattern, using two at a time magic loop techniques.  Time permitting, she demonstrate a quick sewing project for a darling "runaway" hobo bag that could be used as a project bag or as a reusable gift bag (perfectly timed for the upcoming holiday season).
There are a few spots available, so if your calendar allows, we hope that you can join the fun!  More details can be found here and you can call us at 800-321-9665 with questions.