Our friends at Must Love Yarn have moved and are celebrating their Grand Re-opening this Saturday.  We'll be there with a special Trunk Show for the festivities!
If you are in the Burlington area, or are making your weekend plans, add a visit to this terrific LYS, located in Suite 2 at 2438 Shelburne Road, Shelburne, VT 05482.  We'd love to see you there!
Larisa and Maureen will be there from 1-4 pm on Saturday August 19th with a special selection of Spinnery treasures to share.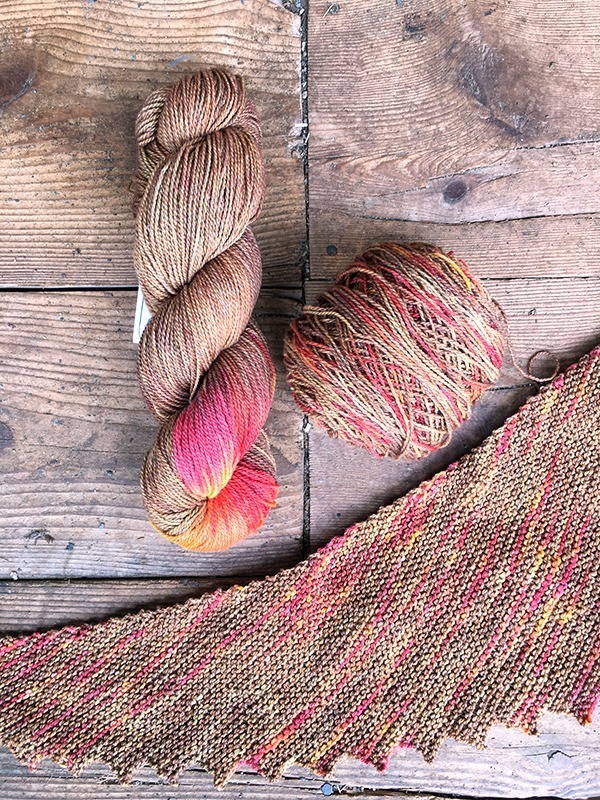 These will include a mouthwatering selection of our handpainted fingering weight yarns like the one shown above that has been knit up into a classic Hitchhiker shawl designed by Martina Behm.  You can find a copy of the pattern on Raverly available for purchase directly from the designer.
A single skein of any of our Sock Art or Simply Fine yarns will knit up quick as a wink into a light summer accessory like this one that you'll adore.
We'll also have on hand several new project kits and a pre-release sneak peek of a new Spinnery pattern, the Mercury Rising shawl!  This garter stitch crescent shawl was designed by Larisa Demos and was inspired by this spring's Knitters' Weekend featuring Bristol Ivy.  If you aren't able to join us for this weekend's Trunk Show, you'll have to wait a few weeks for more details…
We hope to see you in northern Vermont in a couple of days for this very special occasion, or at our Mill in Putney any day of the week.