This week's holiday provides us with a extra day of rest to enjoy with our friends and families.  It gives us a welcome moment to look back on the past year and reflect on all that we have to be grateful for.
We are proud members of a growing community of fiber loving folks who craft, design and otherwise contribute to the wealth of yarns, patterns and goods available to us all.  Every week that passes sees this kindred group, and all that they have to offer, become richer and more robust.
When we return to the Spinnery this weekend, we'll open our doors to friends from far and wide to give them a chance do a little shopping and to see how our work fits in with the larger fibershed we all enjoy.  Putney's Craft Tour weekend gives visitors a chance to see behind the scenes at about two dozen local craftsmen and artists.  For our part, we'll be providing in depth tours of our production process and some special treats.
We'll be selling some unique products this weekend, giving you a chance to shop locally, and find some terrific holiday gift ideas.  We have a limited edition shawl kit in three beautiful colors, some locally made sheep note cards, and…
Exclusively available in our mill shop will be a collection of shop samples as part of our Annual Sample Sale!  We have dozens of garments and accessories for children and adults.  Shown below is a very small sampling of what we'll have available while supplies last.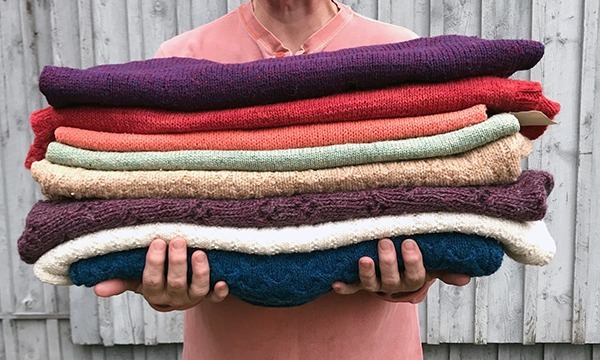 Each of these hand knits is one of a kind, crafted with a great deal of love and priced to go!  And several have been donated to directly support the Putney Food Shelf.  All of the proceeds from the sale of these items will be donated to this local organization to ensure that the holiday season is more comfortable for local families in need.  A win win for everyone!
We hope that you'll be able to stop in for a visit.  We'd love to  thank you in person for being a part of our fiber family and making the world a more beautiful place with all that you create!