Thanksgiving Weekend is Putney Craft Tour Weekend, and we'll be celebrating our 41st Anniversary Year!  This Open Studio event has been designated one of Vermont's Top Ten Winter Events.  You don't want to miss it.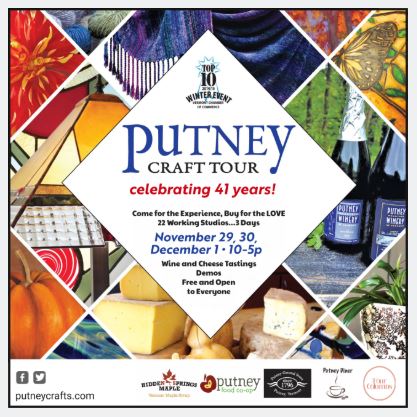 November 29, 30 and December 1 (10 am – 5 pm)
The 41st Annual Putney Craft Tour, the oldest continuing crafts tour in the country, is held during the long Thanksgiving weekend and gives shoppers, visitors and collectors another reason to be thankful. Glass blowers, potters, jewelers, weavers, painters, woodworkers, – even artisan cheese makers, and winemakers- invite visitors to come in to their studios, discover, ask questions, sip hot cider and buy that one-of-a-kind gift direct from the artisan who made it.
Part of the fun is meandering through the beautiful Vermont countryside, following the map to find these prominent craftspeople and view the works where they are conceived and created. Most studios do demos. The weekend is promoted as the "Putney Craft Tour's Craft, Culinary and Performance Weekend" with wine and cheese tastings and performances at night at Next Stage and Sandglass Theatre. Location: Putney, Westminster, Westminster West and Saxtons River, VT.
Visitors may start at The Gleanery Restaurant, 133 Main Street, Putney for info, maps, and a preview exhibition of the artisans' works. www.putneycrafts.com
This year, the organizers will be hosting a Photo Competition: Snap pictures as you visit the studios and post them on Instagram to win a chance for a $50 gift certificate.
We have lots to share with you.  We will be offering Mill tours, we have some exciting new yarn offerings, and you'll find our annual Sample Sale during which you'll be able to purchase one of a kind hand knit items at prices you won't believe!  We hope that you can stop on by, we look forward to your visit.