For many of us social butterflies, the quarantines, social isolating, and distancing required in the past several months have been difficult.  Knitting and crochet can be so much more rewarding when made more communal through shop visits, fiber festivals and community crafting groups.
It is such a pleasure to meet other fiber enthusiasts, see what they are working on, and share our own progress.  It is also very helpful to be able to run questions by other crafters who have different experience levels. Advice, helpful suggestions and out of the box solutions can help us overcome all kinds of stumbling blocks, allowing us to complete projects that would otherwise languish under the couch.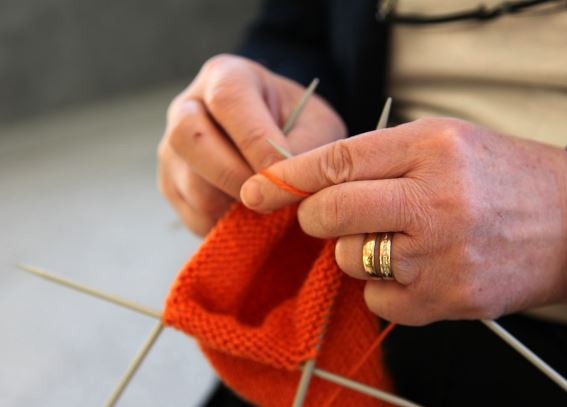 Tomorrow morning Larisa will be hosting our next virtual meet up on Go To Meeting.  Using your computer, tablet or  phone, head over to this website: https://www.gotomeeting.com/meeting/join-meeting  and enter our Meeting ID number: 423-682-741.
From 10 am – 12pm Larisa will be there to knit with you, and get caught up.  We hope that you can gather your current project and a cool beverage and join our virtual group for some socially distant crafting.
We are going to try hosting these gathering more regularly, so that you can add them to your calendar and join us whenever you are available. You can plan to set aside a couple of hours on the first Thursday of the month in the evening, and the 3rd Saturday of the month in the morning.
Larisa may occasionally plan additional virtual meet-ups when we have specials, or when we would normally be gathering at a Sheep & Wool Festival.  We hope that this will allow us to stay connected with our fiber friends around the country and perhaps reach new ones as well!