Perhaps you already know about the "other" yarns that the Spinnery produces…  In case you don't, we'd like to tell you a bit about the special yarns that come through our production line that never make it to our sales floor.
About 40% of the yarn that the Spinnery produces is custom lot work.  "We enjoy working with fiber producers to design yarn particular to their unique fleece and fiber considerations. We can card and spin as little as 35 lbs of raw fleece or 20 lbs of scoured fleece."
This small minimum makes the Spinnery an excellent choice for fiber producers who don't have large quantities of fiber to work with.  As few as a handful of sheep can provide the wool needed to meet the criteria.
Large producers also work with us as well. Our beautiful woolen spun yarns are created for many well known producers in the fiber world including Swans Island, Jill Draper, Elsa Wool and others.  These yarns are a delight to weavers, dyers, and knitters alike.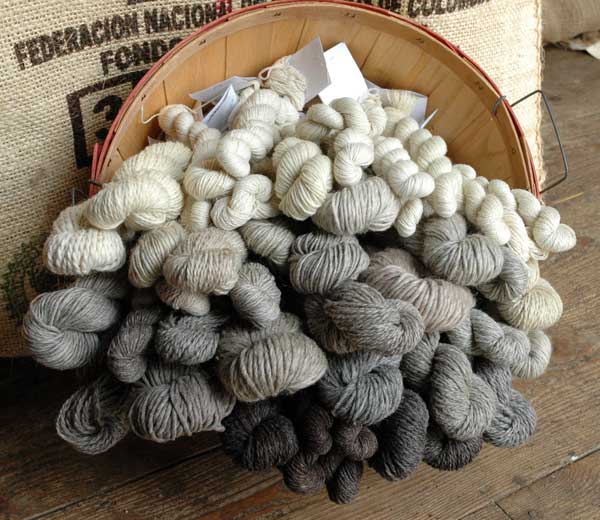 Our custom lot yarns provide a bit of spice for us as they range widely in both gauge and content.  We've spun everything from lace to bulky yarns.  And these yarns occasionally include fibers not normally seen in the blends that we proudly put our Spinnery labels on including angora, camel and bison.
Lauren and David manage our custom processing and they will be coming along to the Maryland Sheep & Wool Festival and the New Hampshire Sheep & Wool Festival to meet with fiber folks and answer any questions about our custom yarns.  We hope that if you are planning to attend either festival you'll stop by our booth and visit with them.  (Lauren will be in Maryland for the entire festival and Lauren and David will be in New Hampshire on Saturday May 9th).
If you have a small flock and are looking to have some yarn spun, or if you know of someone who might like to learn more about this service we would love to tell you all about it.  We look forward to visiting with you soon!