You may already know that 65% of our production is focused on custom lot spinning.  In addition to yarns you can find in our shop, we create yarns for small farms, indie dyers, weavers and local yarn shops all around the country.  These are not yarns that we sell directly, instead they are often found at Sheep & Wool festivals, local farm stands or farmers' markets and occasionally in local yarn stores.
This work allows us to foster a rich fiber shed, ensuring that you have a greater chance of finding yarn that is spun from fiber grown near you.
Last weekend, when Larisa and Maureen visited Must Love Yarn's new location at Suite 2 at 2438 Shelburne Road, Shelburne, VT, they brought with them a Spinnery Trunk Show of yarns that featured locally hand painted skeins as well as some organic skeins that were sourced from a flock in New Haven Vermont.
We love the new space that partners Angela, Kelly and Jennifer have moved into.  Maureen snapped a few photos of the new space that couldn't be more welcoming, bright and open.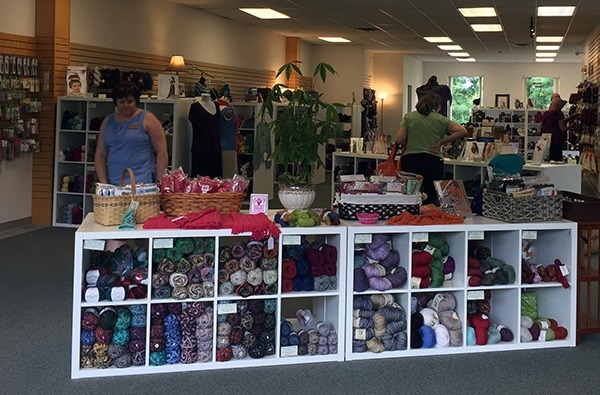 We were delighted by the rich selection of locally sourced yarn all ready on the shelves at MLY.  Some of which is highlighted in a local newscast that aired last week that you can find here.
And we were proud to note that several of these skeins were spun here at GMS!  Blue Heron Farm is a family run organic farm located in Grand Isle, VT that makes lovely skeins.  And our friend Jessica of Dillner Hillside Farm (who occasionally provides us with delightful mohair fiber) has skeins of her yarn among Must Love' Yarn's local selection.
For some fun inside information, you can take a virtual tour of the newly expanded version of the shop by watching the video below.

We learned that there are plans afoot to soon offer spinning wheels, so in upcoming months there will be even more the learn, love and share.
As the foliage season draws visitors up into Northern Vermont, we hope that you'll get a chance to visit this newly expanded local yarn shop in Shelburne.  If you miss the chance to find single sourced local yarns during this Fall's festivals, a visit to Must Love Yarn can provide you with some terrific Vermont grown and spun yarns worth trying.  And on the way, you can visit our Mill in Putney, VT to see what we're spinning!