Happy New Year!  We're very happy to announce that we'll be part of the fun of the 2nd annual Boston Farm & Fiber Festival.  Mark your calendars for Febraury 10th 2019!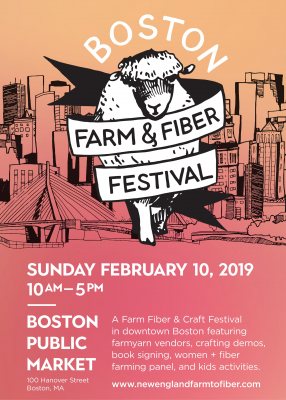 This very special one day event brings some of our favorite fiber producers together in one convenient spot in downtown Boston.  You'll find locally sourced skeins of all kinds (many of which were spun at the Spinnery).  And this year, we'll be participating as vendors and share a new bulky weight limited edition yarn that we've spun up just for the occasion.  It incorporates 100% New England sourced wool and was spun here at our VT mill; Super duper local!
This yarn is a 100% wool put up in 4 oz. skeins of approximately 112 yds each.  It can be used for all of our patterns that call for our Capricorn yarn.  A couple of our favorites, the Capricorn Caps  and the Steps & Ladders Hat can create 2 adult hats with 2 contrasting skeins.
We'll be using the intervening weeks to hand paint a few dozen of these variegated skeins in lush irresistible colors for the event.  We hope that you'll be free to come enjoy the day with us.  We've updated our 2019 calendar so that you'll be able to mark yours with all of the wooly gatherings we have planned for the year.