Today marks the 96th International Cooperative day, so we thought we'd look back on the history of the Spinnery. Our origin story is one of thoughtful intentions made real through cooperative participation.
In the late 70's Claire Wilson (a journeyman weaver), Libby Mills (a teacher and founder of the fiber program at The Putney School), David Ritchie and Diana Wahle (both recent graduates of the School for International Training in Brattleboro), began a conversation that would change their lives.  Inspired by their study group discussion around E.F Shumacher's Small is Beautiful: Economics as if People Mattered, the four founding members of the Spinnery began to explore how starting a small business together could play a part in revitalizing their community.
The small scale economics described in this book could allow them to re-establish links to local agriculture.  At the time, many New England dairy farms were downsizing and transitioning from large herds of cows to smaller flocks of sheep.  The 1976 oil embargo and fuel crisis was also informing their discussion.  It seemed to be a pivotal moment when a local focus could address many needs.  Their ideas began to coalesce into a three part goal of creating a workplace committed to sustainability, to the thoughtful and responsible use of natural resources, and the support of local small scale farms.
Building a mill that processed yarn from regional materials could lower the overall environmental impact of the skeins it produced, and provide a natural alternative to petroleum based yarns being mass produced outside the US.  Creating a productive use for local fibers of all kinds would support small farm growth and the continued proliferation of heritage breed animals who contribute to a robust biodiversity.  The more complex and robust the system, the more resilient it is against failure.
At this point in 2019, 65-70% of our production is spinning yarns for small fiber producers around the county.  It's remarkable that these benefits remain as pivotal to our lives today.  In the prevailing years many of us have embraced a desire to use our purchase power more thoughtfully, understanding that our choices can have a cascading effect starting with our local economy, and subsequently the health of our biosphere.  More recently, the folks at Fibershed have worked to continue this conversation and disseminate a more nuanced description of these ideas through community outreach.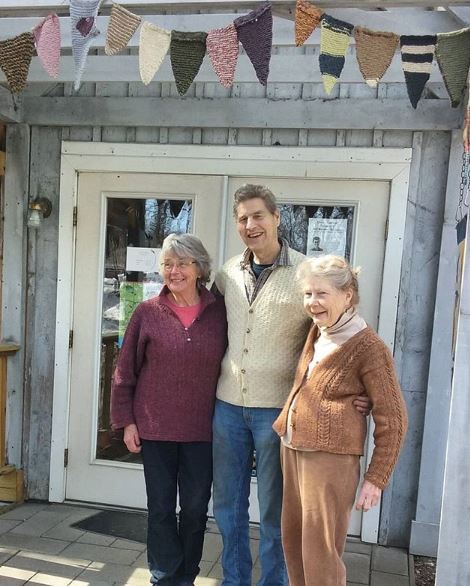 Casting back again to the early days, Claire, Libby, David and Diana embarked on a six year adventure of research and discovery that would have them travelling to mills around Europe and New England to learn as much as they could about processing yarn.  Fortuitously, they were aided by Ray Phillips, a mill technician at nearby Harrisville Yarns who offered them his valuable expertise.  With his support, they located the machinery they needed piece by piece, and eventually assembled a functioning production floor in a converted gas station at the edge of Putney.  Ray came to join the team within the Spinnery's first year to supervise and mentor the group as their nascent experience developed.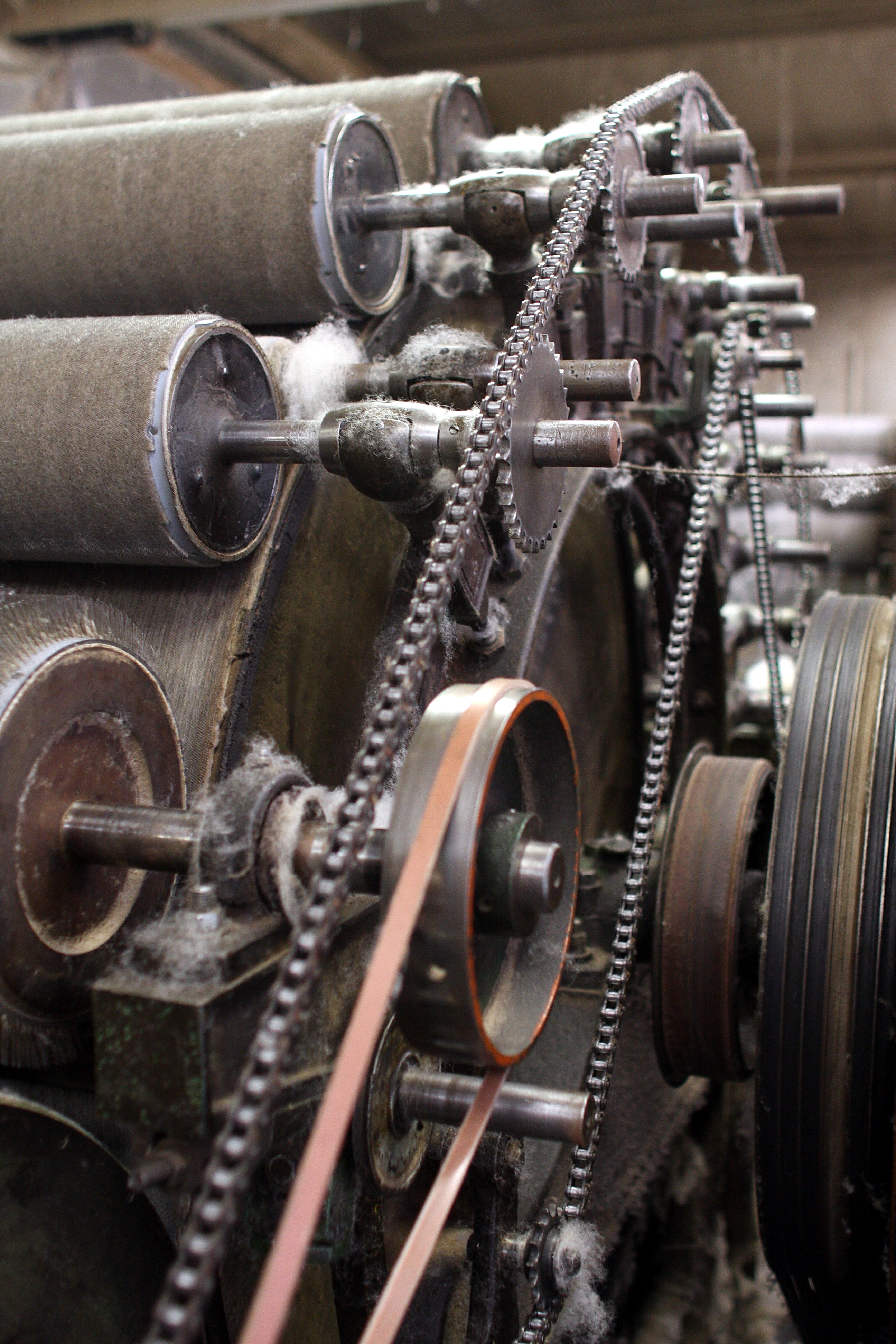 In late December 1981 the mill shop opened for business and the daily work of the mill began in earnest.  Using and maintaining the machines (that for the most past were decades old), proved challenging.  Replacement parts often need to be machined or re-purposed from tractors, motorcycles or elevators.  The group also experienced a steep learning curve about fibers.  Each batch of yarn provided them a better understanding about how different fibers interacted with the machines and each other for different results. As their expertise grew, it allowed them to more effectively work with fiber producers to create yarns that blend their contents to the best advantage.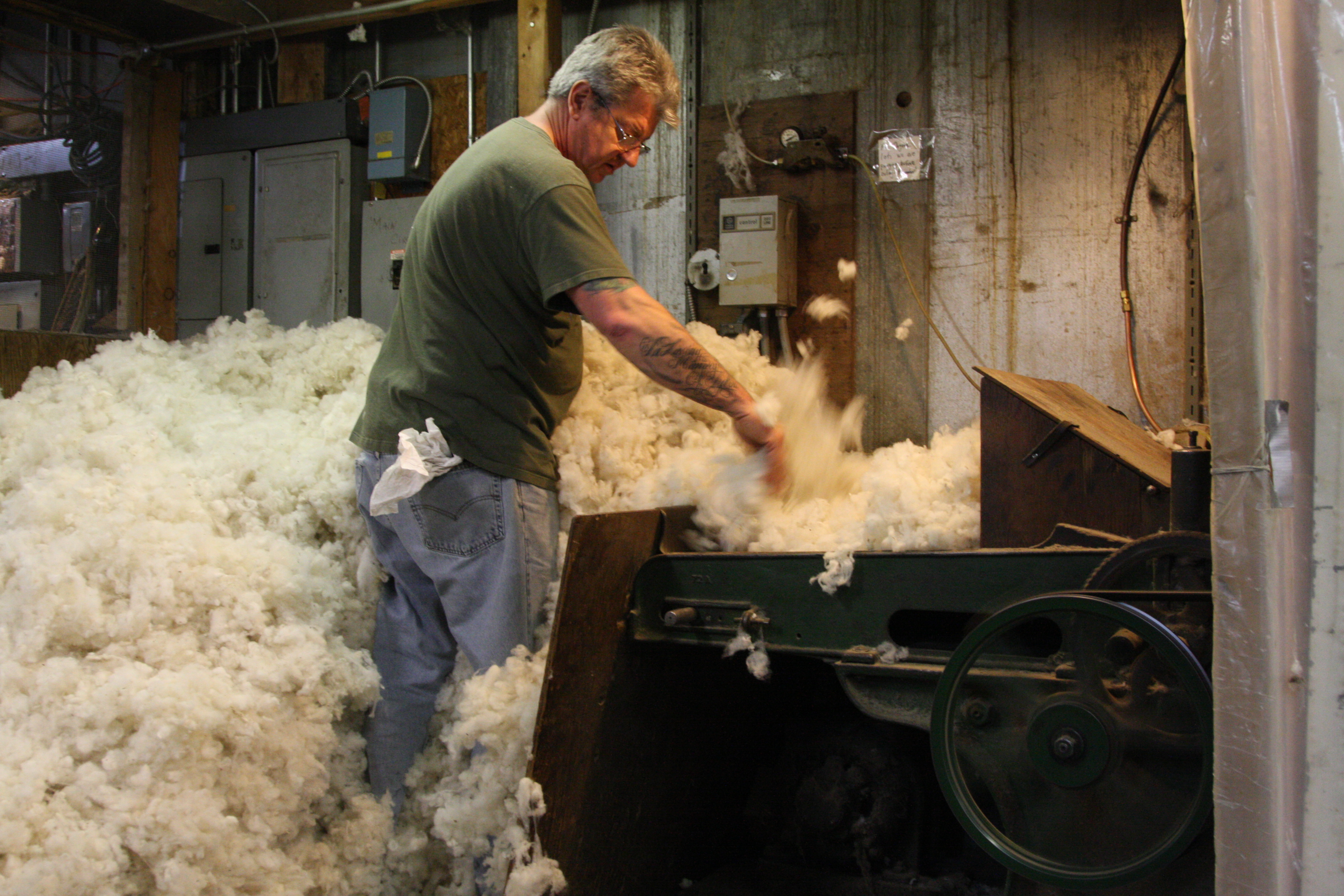 In 2003, members of the staff began to explore the possibilities of cooperative ownership.  Cooperatives are people-centered enterprises characterized by democratic control that prioritize human development and social justice within the workplace.  A perfect match for the ideals of the Spinnery.  Over the next three years David and a group of 6 interested employees worked with a consultant to restructure the organization while reaffirming a commitment to the founders' original goals.  This transition allowed Claire and Libby to retire; to shift from daily work to participation as members of the Cooperative Board of Directors.
For the past thirteen years the Spinnery has continued to produce better and better yarns with a dedicated staff of roughly a dozen; while it's smaller group of worker owners meets regularly to collectively oversee operations.  All decisions for the organization be they great or small are made by consensus.  This ensures a greater understanding by each member owner of the overall business and every aspect of its intertwined workings.
Gail, Maureen, Lauren, Larisa and David, the current GMS worker-owners, are passionate and dedicated to running a company with a vital working environment, where workers are challenged to make use of their skills. Our workplace prioritizes mutual respect among co-workers, and a healthy environment for our minds and bodies.
"We strive to have a healthy workplace with good pay, benefits, flexible schedules, and an environment where every employee feels supported to show their best ability in what they can bring to the company. We make sure we show integrity in what we charge and what we get in return, and are grateful to receive a fair and healthy profit for our commitment  As a 'small is beautiful' company, we work to stay informed about the  conditions of our environment (air, soil, water, planet, animals). Based on these needs, we make decisions and take actions every day to address these challenges."
You can read more about the Spinnery's beginnings in The Green Mountain Spinnery Book.