The dozen patterns that comprise the At the Spinnery collection are classically appealing and have been very popular since our book was first published.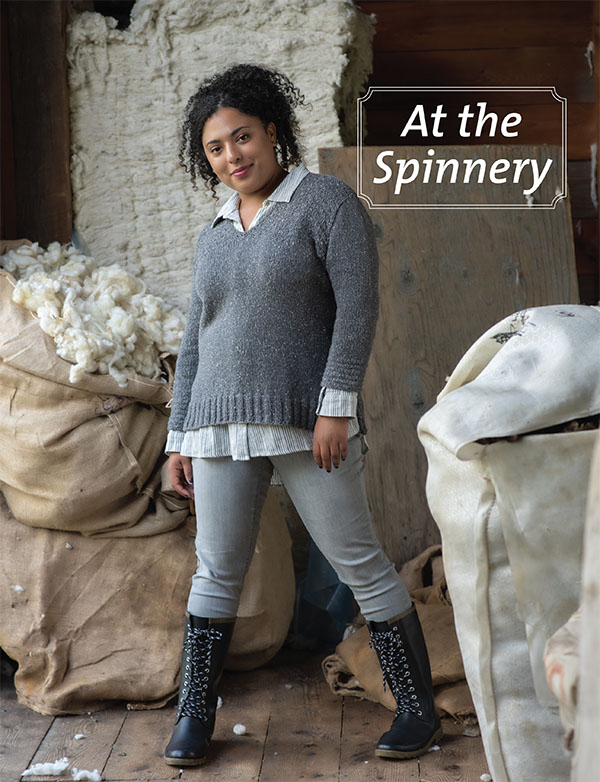 Many friends expressed an interest in being able to purchase these patterns individually and so we have spent some time this fall and winter working on this project.  We're pleased to announce that three more patterns from this collection are now available as single patterns.
Larisa Demos' Sap Run Vest is a delicate layering piece that is ideal for transitional season wear.  Worked in the round from the bottom up, the Sap Run Vest sports a simple lace pattern on the front panel that evokes the welling up of sap in the Spring. Green Mountain Spinnery's Sylvan Spirit adds to the versatility of this piece with its blend of fine wool and Tencel® Lyocell in a DK weight.
The pattern includes sizing that ranges from 37 (40, 44, 48, 52, 56)" / 94 (102, 112, 122, 132, 142) cm.  It calls for 4 (5, 5, 6, 7, 8) skeins of Sylvan Spirit, Alpaca Elegance, Mewesic or Cotton Comfort.  It is shown here in Hematite Sylvan Spirit with 7″ / 18 cm positive ease.
We've also just released Maureen Clark's Green Leaf Pullover pattern.  This cropped lacey pullover is another ideal layering piece.  Maureen has a soft spot for working with Sylvan Spirit. This unique blend of fibers (Fine Western Wool and Tencel® Lyocell) adds a luster and fluidity to the yarn that she finds irresistible. It works up into a finished fabric that has a more polished feel—sweaters knit up with it are perfect for any occasion.
This pattern includes sizing 40 (42, 45, 49, 54, 58)" / 97 (107, 114, 124, 135, 145) cm and calls for  5 (6, 6, 7, 7, 8) skeins Sylvan Spirit, Alpaca Elegance, Mewesic or Cotton Comfort.  You could modify the length of this sweater, please remember that additional length will require additional yardage.  It is shown above in Jade Sylvan Spirit with 9" / 23 cm of positive ease.
Last but not least, is Kate Salomon's Mill Stone, a circular throw blanket that is perfect for winter snuggling.  It has a blocked diameter of 49″.  Show here it is made with 1 skein of Alpine Shadow (in the center and I-cord edge) and 12 skeins of Grey Birch Mountain Mohair.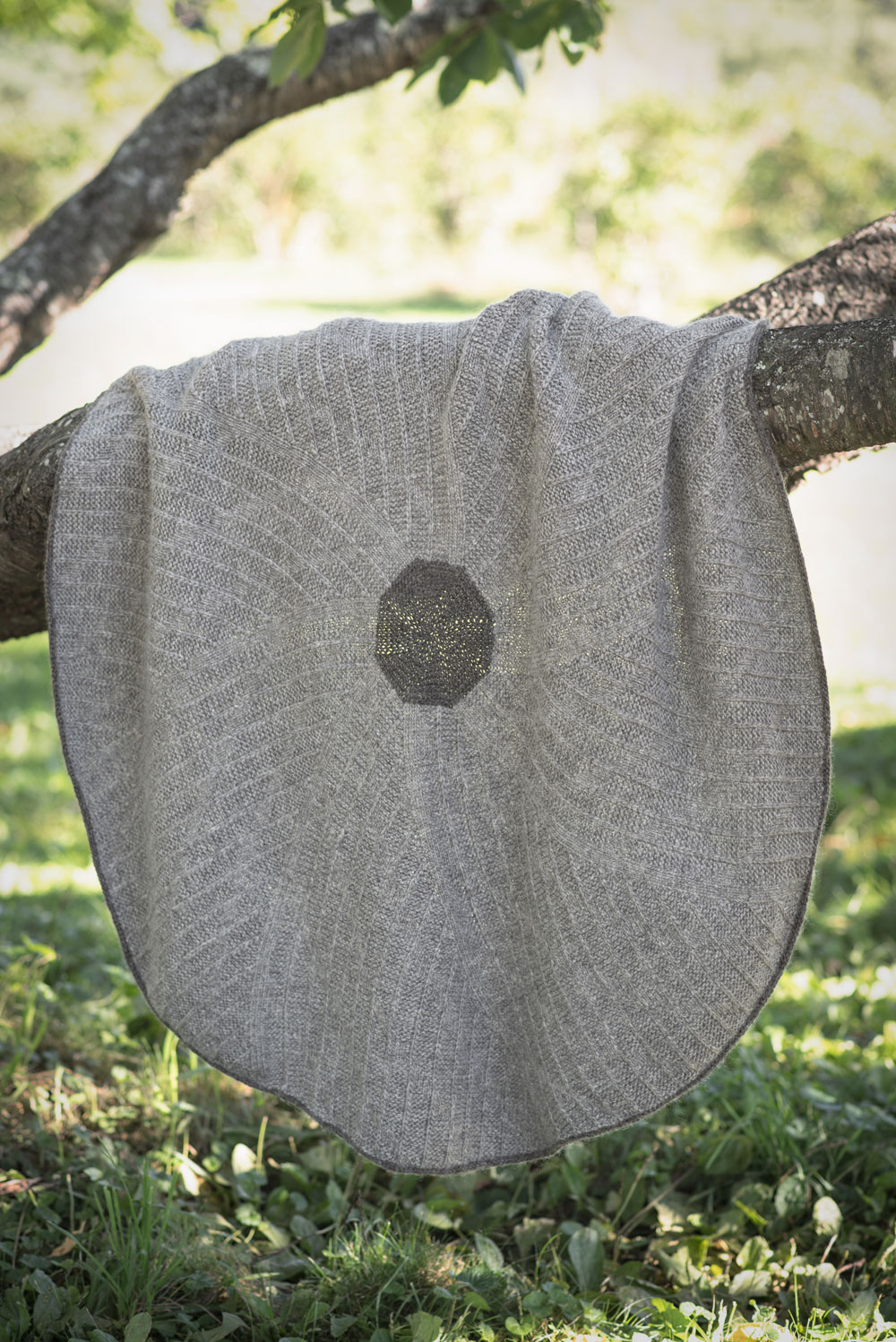 Several years ago, Kate came across an article about some local bakers turned millwrights. The photos of the millstones they are creating inspired Kate to create a cozy throw blanket that pairs the contradictory rugged look of the rough-hewn stone with the soft halo of Spinnery Mountain Mohair. This textured circular blanket is worked from the center out giving you the opportunity to adjust the finished size to your preference.
We will continue to work on laying out the other patterns from At the Spinnery that have not yet been released individually.  Please let us know via email if you have a favorite that you'd like us to move to the top of the list.