The Putney Craft Tour is on!  We're delighted to invite you to experience one-of-a-kind, hand-crafted holiday shopping. Tour the studios of the area during the day… and enjoy performances at night!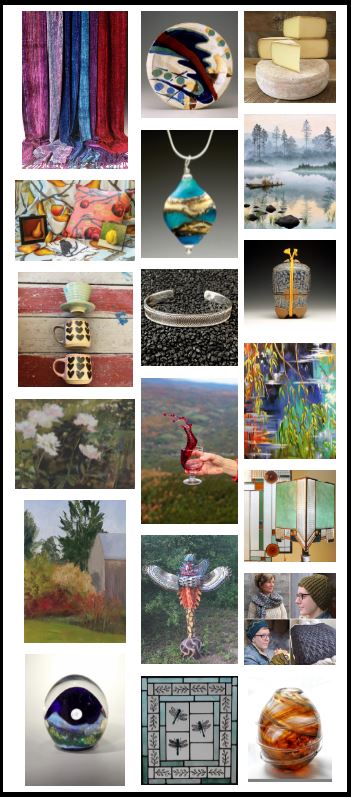 The 43rd Annual Putney Craft Tour, the oldest continuing crafts tour in the country, is held during the long Thanksgiving weekend (Nov 26, 27 & 28 (10 am -5pm), and gives shoppers, visitors and collectors another reason to be thankful. Glass blowers, potters, jewelers, weavers, painters, even artisan cheesemakers, and winemakers – invite visitors to come in to their studios, discover, ask questions, and buy that one-of-a-kind gift direct from the artisan who made it. The weekend is made more appealing with wine and cheese tastings and performances at night at Next Stage Arts and Sandglass Theatre.
Putney's Next Stage will present "Zoo Story", Edward Albee's one-act masterpiece that first catapulted him onto the world drama scene, November 26and 27, at 7:30 pm.
Sandglass Theater is offering "A Rafter of Crankies" that will feature Sandglass co-founders Ines Zeller Bass and Eric Bass, as well as local crankie creators Brendan Taaffe and Anna Patton. Performances will be held at Green Mountain Orchard, located on West Hill Road on Friday, November 26, at 7 PM and Saturday, November 27, at 5 & 7:30 pm.
Our Mill will be open 10 am – 5 pm Friday, Saturday and Sunday.  Along with all the treats to be found in our shop, we'll be offering tours of the Production floor, providing visitors a fascinating glimpse into how our beautiful skeins are made — from fleece to skein. (This is often a highlight of the weekend for non-knitters and fiber enthusiasts alike.)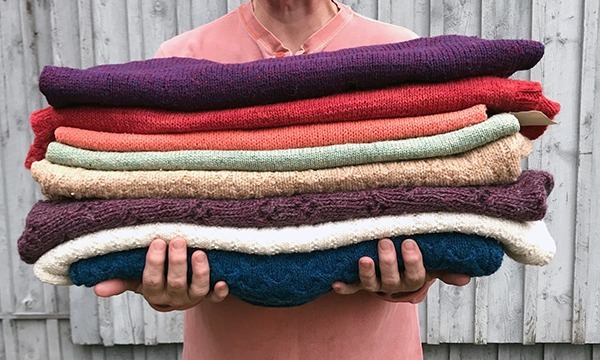 To celebrate our 41th anniversary we'll be holding the largest sample sale that we've ever held, with proceeds going to benefit our local food bank, the Putney Food Shelf.  It offers supplemental food that can help sustain our friends and neighbors through the winter months.  You'll find garments and accessories for children and adults, giving you warm woolens without the need to knit a single stitch!
We hope that as you organize your plans for the holiday weekend, you'll be able to include a trip to exit 4 off I91, and our little corner of Vermont.