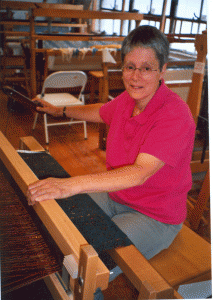 We are pleased to take a moment here on the blog to put the spotlight on Catherine "Cap" Sease, longtime friend of and designer for Green Mountain Spinnery. You may already be a fan of her many designs for the Spinnery or her book, Cast On Cast Off. Libby Mills, one of the founders of the Spinnery, was her high school weaving teacher!
Cap's grandmother taught her to knit when she was about 5 or 6 and she has been knitting ever since. Both of her sisters also learned about the same time and one is still an avid knitter today. A yellow cardigan in an interrupted rib is a vague memory of an early project. By the time she was in high school, she was knitting sweaters not only for herself, but others as well. Sometime, many years ago, she realized that patterns weren't absolutes and if she wanted to make a change in a pattern, no one was going to stop her. This epiphany was incredibly liberating as she realized she could use different yarns or colors or stitches, and she could make a high or lower v-neck or whatever! That unleashed the designer inside, but it took some time before she designed something completely from scratch.
Cap has been designing for the Spinnery for the past 8 years. This relationship started when the Spinnery brought out a child's sweater and she made a hat to go with it. When working on designs, she thinks about the qualities and gauge of the yarn – what type and style of garment do they suggest—and also what stitch would show it off best. That process leads her in one direction, sometimes even two or more. Other times Cap has a project in mind and then chooses the yarn that she thinks will work best. Above, from left to right, are the Van Dyke Tee, Gulfoss, and Cap's Comfy Cardigan.
The inspiration for her designs come from everywhere. She has a pile of ripped out photographs from magazines, each of a sweater, hat, scarf or whatever that with a few changes would make a great pattern. Also, she makes a note of what people around her are wearing, with special attention to an interesting stitch, style or idea that might eventually end up in a pattern. She has been known to surreptitiously follow someone around in order to sketch out a pattern or figure out a stitch on something that person is wearing!  Perhaps it was a crayon box that got her thinking about a design that ended up as Stripy Stripe Sweater. Shown above, from left to right, are the Stripy Stripe Sweater, Peanut, and the Pebble Yoke Sweater and Hat.
When asked if she has a favorite Spinnery yarn, she says she can't say that one would be singled out! Though she is particularly fond of Alpaca Elegance, Simply Fine and Sylvan Spirit as they are fun to knit with and produce elegant garments. They are relatively fine yarns, but wonderfully warm. She notes that she especially like the slight sheen of Sylvan Spirit.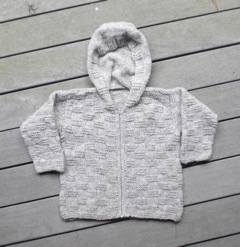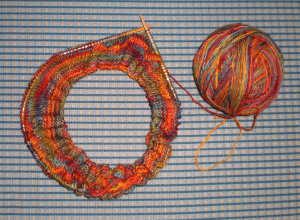 She has just finished designing a hoodie cardigan for a child that will come out in the Spinnery's first e-book in October. It is designed in honor of her grandnephew Rahm and we have a peek at the design! On the needles now is a frilly Mobius cowl in hand-painted Simply Fine. The frills are great fun to make and it should be an easy pattern for knitters with be a nice introduction to Mobius knitting. She is also thinking about a child's sweater in honor of her newest grandniece. All she knows now is that it will be called Maisie and will be made with Sylvan Spirit.
Last year, the book Cast On, Bind Off came out and has done wonderfully well. This has led to book signings and teaching workshops which has been good fun.  Cap has a second book in the works, this one on seams for knitters! In addition, to knitting, she also weaves and makes baskets. With all this work with fibers, you would think that is all she does, but it is only her avocation, at least at the moment. By profession, Cap is an objects conservator. She works in a museum where she takes care of the collections, ensuring that storage and exhibit conditions are optimal for their long term preservation. She also repairs objects when they get broken or damaged, clean them for exhibit, and so forth. Her entire career, she has worked with anthropological collections, but her specialty is archaeological material. Cap has worked on numerous excavations throughout the Mediterranean and Middle East and has been a consultant in legal cases involving stolen antiquities. This work has also taken her to a war zone as a member of a US State Department team assessing the conditions in the Iraqi Museum after the war in 2003. Everywhere her travels have led her, she seems to find textiles and fibers.
We are looking forward to more fantastic designs the future work that Cap shares with us! Have you made one of her designs? We'd love to see it; you can share it with us in our Ravelry group or Facebook page. You can even Tweet us a work-in-progress shot!