According to style maven Karen Templer of Fringe Association, the new "it" sweater this Fall will be made with camel. She follows many top designers and when they released their previews earlier this month of 2015 Fall Fashion, camel sweaters were abundant. She collected a few of her favorites in a blog post last week.
We just washed and skeined the last few skeins of our beautiful Alashan 100% camel yarn this week. So you may want to act fast and ensure that you don't miss out.
These skeins of 350 yards of DK weight yarn are deliciously soft. And due to the longer fibers, this yarn (that is close to the soft feel of cashmere) is in fact stronger and less likely to pill. Practical luxury!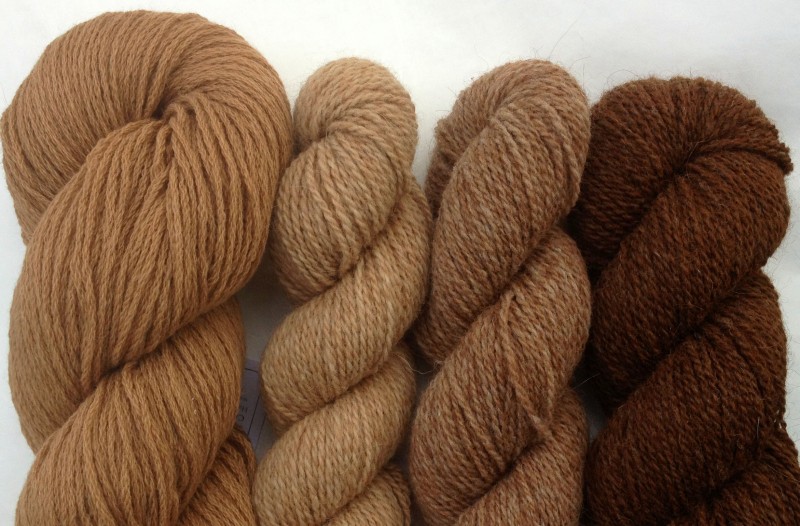 And for those of you who are looking for a yarn option that is a bit more affordable, or a different neutral shade that will better suit your complexion, the undyed skeins of our Alpaca Elegance could be a perfect substitute. At a similar gauge, these 180 yard skeins are just $14.25 each.
We have found a few classic patterns that will ensure that your new handmade sweater for fall is on the cutting edge of fashion.
If you prefer pullovers, Ysolda Teague's Blank Canvas is a favorite of Kate's. She has knit a total of three! And the #33 Cabled Pullover from the Fall 2014 issue of Knit Simple magazine could be another timeless option.
For those of you who love cardigans you might want to check out Joji Locatelli's Grandpa Cardigan for a pattern that looks as delightful to knit as it would be to wear.
And of course our selection of Spinnery patterns that are perfectly suited to either yarn are always a safe bet: Amanda's Romance, Odiorne and our new Passionate Kisses.
We hope that if you are drawn to try our special limited edition Alashan, you'll be among the last to snap up these beautiful skeins and we can't wait to see what you make with our skeins for your new fall wardrobe.