A new batch of Brickouse Mewesic has traveled through production this week.  We thought we'd share it's progress and offer you an insider's view into how our blended yarns are created.
Since we don't have the space here at the Spinnery for large scale dyeing, much our our woolen spun yarns are created with dyed-in-the-fleece wool.  The richly tweedy Mewesic is a great example.
Our distributors send wool to the G. J. Littlewood & Son Dyers in the Philadelphia area where it is cleaned, scoured and dyed.  Giant bales of this dyed fiber (shown above) are then sent to us to play with.  Special recipes are created for each of our custom color ways and carefully measured quantities of the brilliantly hued wool are combined with several trips through our picker.
The blending continues as the fiber moves through our carding machine.  Here you can see the carded fleece and finished pencil roving that shows the mixture of colors.  On closer inspection, you can see two tones of red combined with a rich dark black.
The roving is then spun onto bobbins.  And the beautiful tweed is even more apparent in these bobbins of single plys waiting to be spun together (in the opposite direction) into the 2-ply DK weight yarn we love.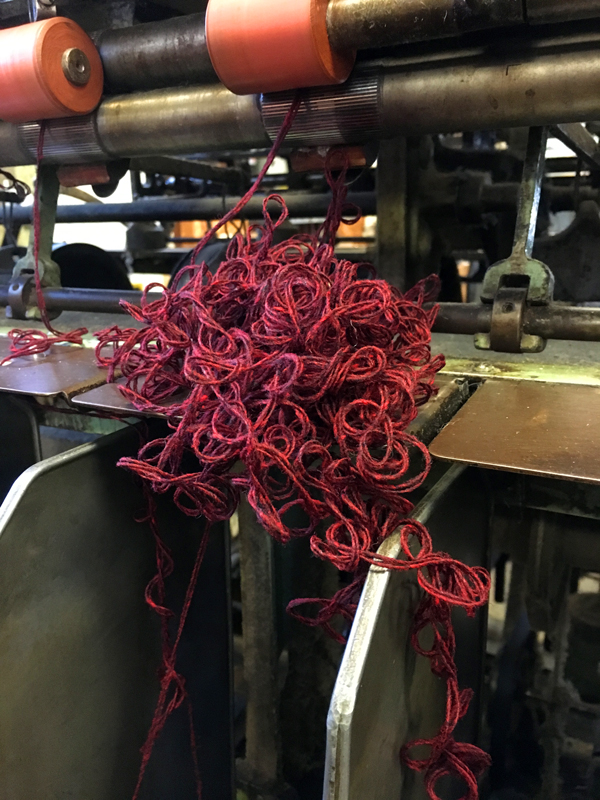 Occasionally, the yarn has a mind of it's own.  And here you can see a snarl on the plying machine that needs attention!
We keep a careful eye on the fiber during all the different stages of our production and we've estimated that each skein has been touched and checked by one of our Co-op members a total of 23 times throughout the process.
We are passionate about our yarns; and love knowing that our time and care with each skein will be added to yours as you craft and then wear hand-knits that will last for years.