A couple of weeks ago we were treated to a visit by the gals from A Verb for Keeping Warm.  This delightful crafting haven located in Oakland, CA takes "local yarn store" to a whole new level.  Kristen and her team host workshops, classes and KALs in their fresh and airy space that span a gamut from sewing fundamentals to hand dying with natural ingredients fresh from their garden.
We've partnered with them for the past several years to spin Pioneer; a deliciously lofty organic yarn from fiber grown from a nearby California flock.  You can read more about these very special skeins here.
Kristen and Sarah were in New England to teach at Squam and while they were in the "neighborhood" they opted to spend the better part of an afternoon with us, learning more about our production process and how their yarn is made.  They shared some of the photos and videos they captured that afternoon in their Instagram feed.  On the off chance you aren't already following them, we wanted to share their impressions of the Spinnery, so that you can enjoy an armchair tour of the mill with a new tour guide!  (Below is a photo captured from a couple of short videos that are a bit hypnotizing).
"Last week at this time, Sarah and I were just returning from a remarkable trip to Green Mountain Spinnery in Vermont – where it was snowing with wool. 🌿 We made our first farm yarn (Pioneer) with GMS four years ago – a monumental event for Verb because we received the opportunity to work with hero Sally Fox and because of the great financial undertaking. We were scared! Though everything went really well and we are still making Pioneer. Now we also make Flock with GMS. So we are so happy to be able to finally see the mill in person! 🌿 I love seeing the old machinery used to create our yarn. This machine opens up the locks of wool, preparing the wool to be carded."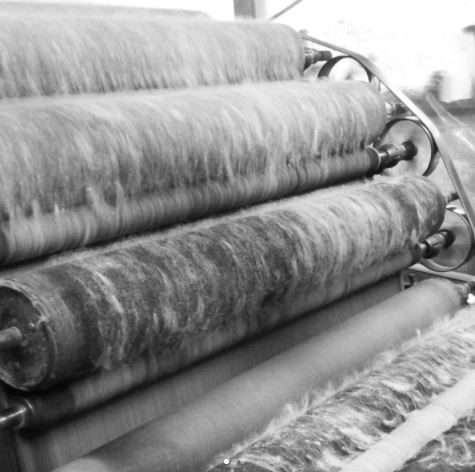 "Once the wool is picked open, it is carded (video 1), then it is pulled into a long continuous strip aka roving (video 2), then carded again in the other direction (this is what makes Pioneer extra woolly) and then pulled into thin strips aka sliver (video 3) 🌿 I like the guest appearance of David in video 3. He is my contact at @greenmtnspinnery and who I discuss design. He is also one of my favorite people. In addition to talking about wool, we talk about the earth, poetry, meditation, politics, and staying present. 🌿 I asked how the Spinnery came about and was told that one of the two founders had sheep and learned there wasn't any place nearby to turn her wool into yarn, so she thought "let's make a mill" (sounds good to me). So the two founders travelled to England to look at machinery. I love thinking about pre-internet days and when you had an idea, you went out and looked, and talked to people. So they found a machine. And then found more vintage machines – piecing together the mill until it could take raw wool and turn it into tidy little skeins of yarn. ❤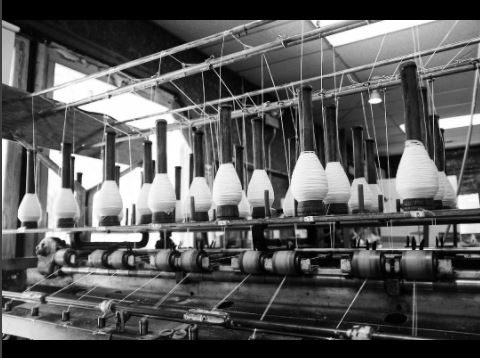 "Once the yarn has been pulled into thin sliver, like you saw in yesterday's video, then twist is added which is what this machine is doing – using the beautiful wooden bobbins."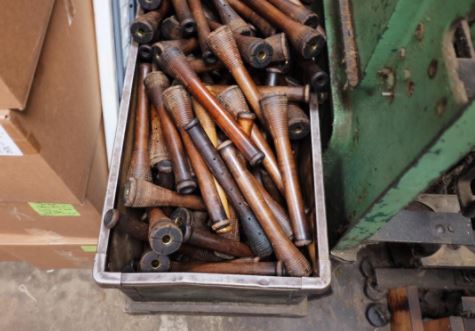 "A box of beautiful, vintage, wooden bobbins used in the spinning process at @greenmtnspinnery – I believe the boxes next to I are full of our new yarn! Details coming soon!"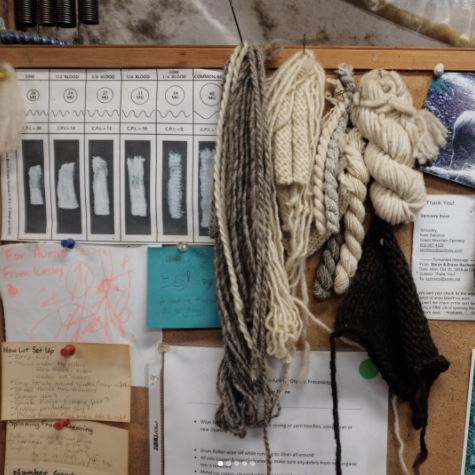 "One of my favorite parts of Green Mountain Spinnery is the ephemera they have hung around the mill over the years: art from a young nephew, a quote from Maya Angelou "The question is not how to survive but how to thrive with compassion, humor, and style.", portraits of young children factory workers as a remembrance of where we were, where some still are, and a reminder of what these old machines have lived through, fancy staff nameplates keeping it official, and sighting friends like @claraparkes (for those of you interested in wool, The Book of Wool is a must-have)."
We hope that you'll plan on dropping by our mill at some point soon.  We'd be delighted to walk you through the production floor and give you a chance to see how our skeins are created and learn a bit more about the Spinnery's rich history.  We're confident that after your visit, you'll never look at a simple skein of yarn the same way, again.