To celebrate the 40th annual Putney Craft Tour this weekend, we'll be offering a very special limited edition yarn.
The wool for this yarn was shorn from rams which had spent the summer grazing on the Putney Mountain summit. For many years Putney Mountain Association volunteers had been trying to control invasive glossy buckthorn by cutting it back, but the buckthorn continued to thrive. If not kept at bay, the buckthorn could grow 20 – 30 feet tall, compromising the beautiful vistas from the Putney Mountain summit, and interfering with the clear views required for the annual hawk watch.
David Ritchie, one of the founders of Green Mountain Spinnery, knew on good authority that grazing animals were being used in public parks and many other situations to control invasive species. Searches on the internet revealed that goats were the preferred animal, and in 2014 goats from
The Goat Girls
, Amherst, MA, spent part of the summer grazing buckthorn on the summit.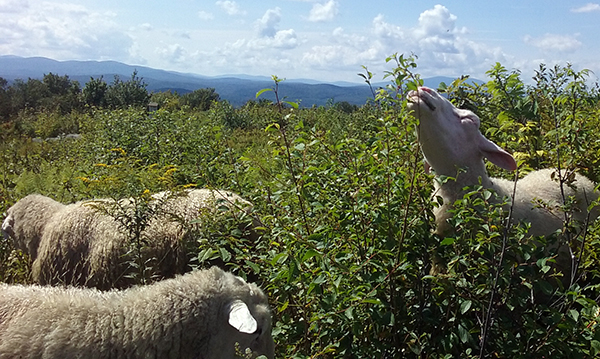 The rest of the summer, sheep from
David Major's
flock in Westminster West took on the job, and for each of the following summers his sheep have been on the summit, with a contingent of volunteers making sure someone checks on the sheep daily, providing water and a bit of grain to keep them happy.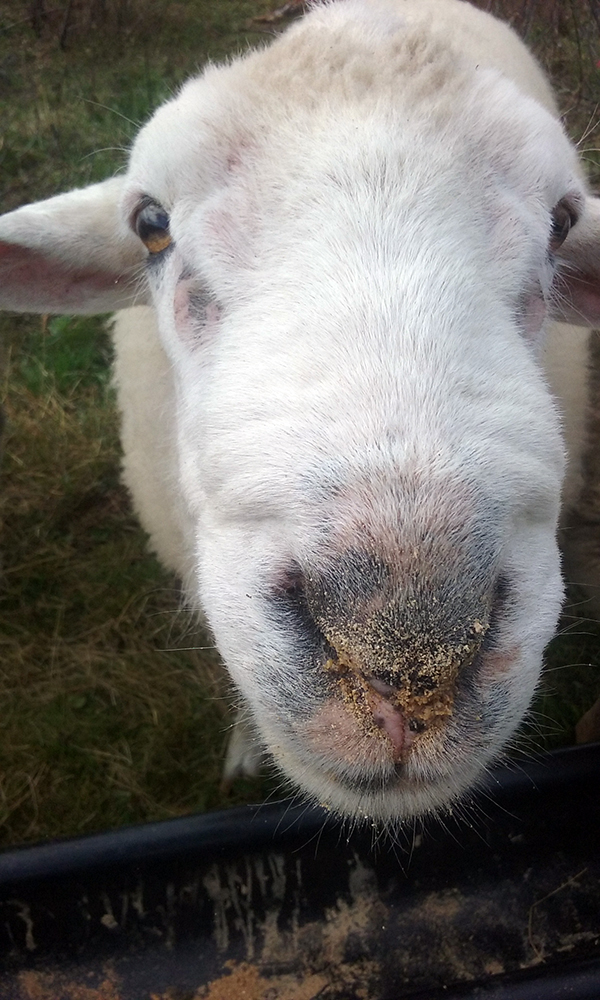 We're happy to report that the buckthorn is well under control.
And we have some spectacular skeins of yarn from these rams' fiber to share with you.  Profit from sale of this yarn will go to
Putney Mountain Association
, a conservation organization founded in 1945 with 40 acres, and now conserving over 700 acres of beautiful undeveloped land, open to the public for education and enjoyment.
Our micro batch of Ritchie's Ram yarn is a bouncy 3-ply aran weight yarn.  The 4 oz. skeins include a generous 230 yards of creamy white undyed wool.  It will knit up beautifully into hard wearing garments, as resilient as the rams themselves.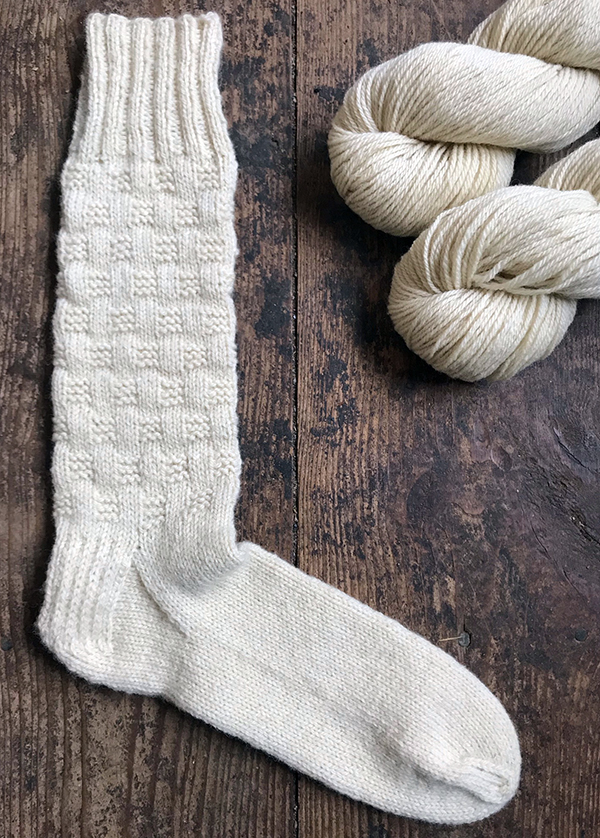 Spinnery co-founder Claire Wilson has designed a new pattern that calls for 2 skeins of this yarn.  Her Sturdy Boot Socks pattern is our gift to you with the purchase of this yarn.  You'll also receive a copy of a poem inspired by this flock penned by David (for whom this yarn has been named.)
These skeins are $14.25 each and will be available only at our Mill shop due to their very limited quantity.  You can purchase them in person this weekend while we have special opening hours for the Putney Craft Tour.
Friday, November 23rd: 9 – 5:30, Saturday and Sunday November 24th & 25th: 10 – 5:30
While you're here, you can enjoy a FREE tour of our production facility and perhaps pick up one of our collection of shop samples that we're making available for purchase.  That's right, a brand new garment without the need to work a single stitch yourself!  It's the perfect time for a visit.
P.S. For those of you who would like to support this worthy cause with the purchase of this yarn but who won't be able to make it to Vermont this weekend, give us a call at 800-321-9665 and we can ship your skeins to you next week!