Back in late August of 2018, we announced that we would be downsizing our Mountain Mohair color range and discontinuing 7 shades.  That news elicited a strong response from some of our fiber friends who have been working with our Mountain Mohair for years.
At least one of those shades had such a strong following that we decided that instead of removing it from the line, we would improve it.  We're pleased to announce that Ice Blue Mountain Mohair is back and better than ever!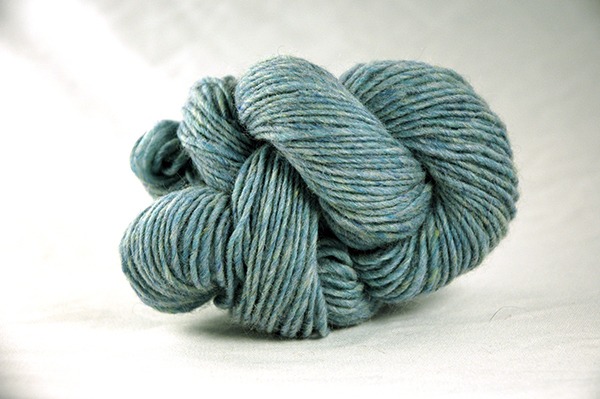 The new color recipe is a bit more complex, with a bit of green and gold, hinting at depths of color deep within an ice flow as well as the glimmer of sun shining through icicles.
Now is your chance to cast on for Cesium designed by Sachiko Burgin and featured in a past issue of Pom Pom magazine (from 2016).  Our Ice Blue color was used for her design and is shown on the model below.
We may be preaching to the choir, but we feel that this yarn is ideal for stranded color work.  The lofty woolen spun construction allows the yarn to bloom beautifully when blocked, making your stranded designs crisp and clear.
For example, our friend Emily's Vintersol by Jennifer Steingass shows off the possibility of this shade. We love how her sweater pairs this soft blue with undyed neutrals for a dramatic effect.
The possibilities are innumerable!  A quick search through the dozens of projects on Raverly that have been crafted with this shade will take your breath away.
What would you like to get started with this lovely new and improved shade?