We met Kallie and her husband Michael in 2015 when they brought fiber to the Mill for spinning.  But their farm got it's start in 2010, raising 100% grass-fed and pasture raised meats for our customers in NYC and the Hudson Valley.  Sawkill Farm is a 200 acre livestock farm in Red Hook, NY.
Over the years, in their quest to use as much of the animal as possible, this enterprising couple expanded their operation to include the production of yarn and lamb pelts from our sheep, soaps using beef tallow, leather goods using hides from our steers,  and bone broths using up all the bones they can.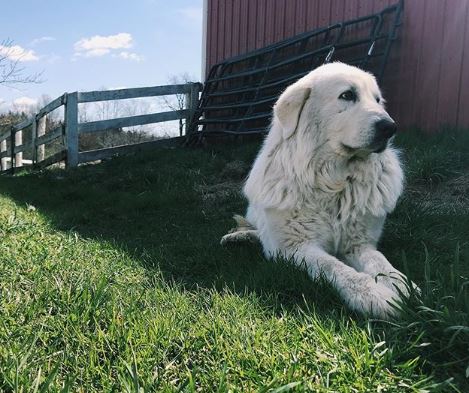 These days, Kallie and Michael are raising two small children, a flock of roughly 1,500 chickens, 90 sheep, 30 pigs, and 20 cows with the help of a couple of trusty herding dogs (Rex is shown above).  The entire family is part of the enterprise, and we are regularly charmed to see photos of Rollo and Sylvie busy with the animals that surround them.  You may want to consider adding Sawkill Farm to your Instagram feed to keep up with the family's activities and offerings.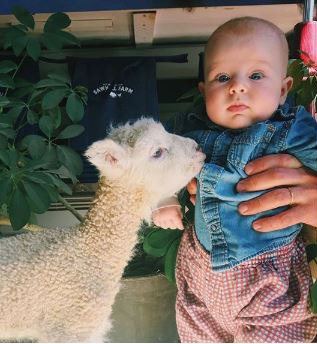 Sawkill Farm's yarns are produced using fiber from their flock of Finn and Romney sheep.  They breed, raise and shear their flock right on the farm.  The fiber is spun at Green Mountain Spinnery and then returned back to the farm for washing, skeining and dyeing.
Finn sheep are known to be very prolific, often having 3-4 lambs at at time. Their fleece typically is silky in feel with a crimp that makes the fiber resilient but not bouncy.  Romney is a conservation breed with a reputation for being large and friendly.  Their fleece is a utilitarian wonder, with well-defined crimp, gorgeous luster and separate locks that invite you to bury your fingers into wooly comfort.
Over the past several years, we've been able to work up several different yarns for the Robertsons ranging from a DK weight to a bulky.  We've enjoyed working with Kallie to make small tweaks to each batch, improving the quality based on the feedback that she receives from her loyal fans and customers.  You can find their current selection available on their website here.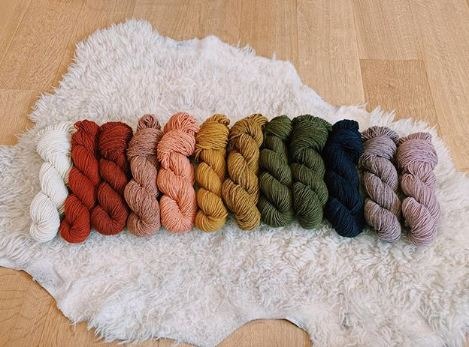 It is possible that our favorite yarn of theirs is the 3-ply Worsted weight yarn that blends 60% Sawkill Farm fiber with 40% domestic merino.  The addition of the finer fiber provides for a softer hand and extra squish.  The additional ply makes for a rounder construction that lends itself perfectly to crisp stitch definition and stunning cable work.  It also extends the precious commodity of their fiber into a larger quantity of skeins so that more of us have a chance to work with this delicious wool.
Several of us at the Spinnery have made keepsake garments with this yarn.  Kate has knit up a stunning version of Thea Colman's Widow's Kiss pullover that is as hard-wearing as it is beautiful.
We hope that you'll take some time this week to browse the Sawkill Farm website's offerings for a treat for yourself that will also support this hard-working family.  Kudos and our deep gratitude to the entire Robertson family for providing so many of us with nourishing food and comforting fiber during these uncertain times.