There a number of new patterns published recently that feature Green Mountain Spinnery yarns. Don't leave your projects behind as the days warm up! Keep your yarn and needles nearby as you are sure to want a project to work on while waiting at the airport, riding in the car, or just relaxing on your porch.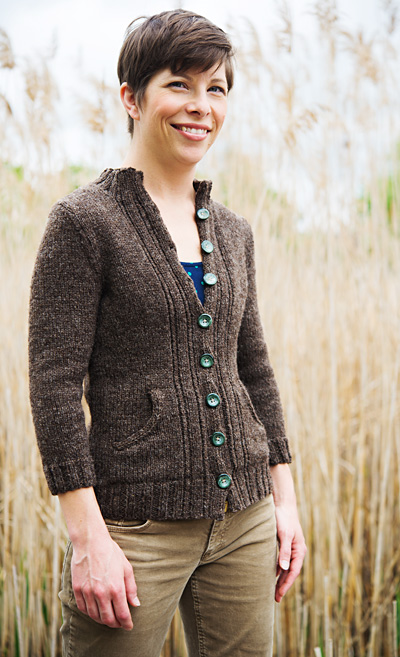 Did you spot Jackaroo, by Amy Herzog, in the newest issue of knitty? Worked in Maine Organic, this jacket is warm (but not too warm), and sure to be a go-to staple in your wardrobe.  As with all of Amy's designs, the construction lends itself to modifications so you will have a sweater you love that is a perfect fit for you! Stripes are a summer staple and are given a fresh look in Julia Farwell-Clay's Albers Pullover. You can find this pattern in the Summer 2013 Interweave Knits. Our Cotton Comfort combines the pure softness of organic cotton with the elasticity and delicacy of fine wool.
We are very excited to also draw your attention to a these crochet patterns. The Bella Vesta, by Maureen Clark, is not only stylish but will provide you with a touch of warmth for those cool nights. You will need 4-6 skeins of Cotton Comfort or Sylvan Spirit, depending on size. Marly Bird designed the Fun in the Sun Cover-up for the Summer 2013 issue of Love of Crochet. Cotton Comfort comes in both bright and subtle colorways; we have something for everyone!
The I-91 Shop Hop is happening June 27 through 30, giving you four days to explore eleven great yarn shops along the I-91 corridor between Connecticut and Vermont. The Green Mountain Spinnery is the Vermont anchor and we do hope you will make a point to visit us and replenish your stash for those fall sweaters you want to knit! You can purchase your passport for $5 and you will receive a map of the shops and a bright tote bag to carry your purchases. There are great prizes daily in each of the shops and if you visit all of the participating shops you will be entered to win $550 in gift certificates plus yarn, books, tools & accessories plus a $50 gift certificate from every shop participating in the Shop Hop!