Our favorite "knitting enabler" and upcoming Knitting Retreat teacher Lorilee Beltman shared some more details about the workshop that she is organizing for us. We wanted to pass this along to you so that you can consider joining our group this Spring.
Our introduction to Vertical Stranded knitting will begin on Saturday morning. Lorilee will guide us through the history of this technique from its use in Rovaniemi knitting, as a substitute for duplicate stitch in argyle, and even as it appears in a Japanese stitch dictionary. We'll learn how to manage the strands and how to address the stitches so things operate smoothly for you.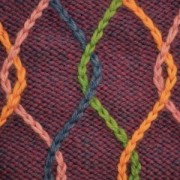 We'll play with simple zigs and zags, color between lace, and purl-only columns that look like caterpillars. Most students will tackle three motifs during this session.
After a delicious lunch featuring local ingredients and a bit of free time to explore Putney we'll regroup for our afternoon class session.
Building on our morning swatch, we'll continue exploring adding color to different fabrics: garter stitch and cables in particular. This will give us hands on practice learning the basics of vertically stranded color work as applied to our favorite knit fabrics.
Our evening will be spent with a convivial dinner and a surprise activity.
Then bright and early on Sunday morning, we'll dive into a project! Lorilee has designed a cowl pattern as a template into which the knitter can plug their choice of the motifs we've learned. You could also knit the free pattern as written – as a sampler of several ways to let color climb. Not a cowl fan? Not to worry, Lorilee will also provide a wristlet pattern option as well.
We'll close the weekend with a show and tell of Lorilee's most recent explorations as inspiration. We'll discuss how to include your new coloring tool in existing patterns and have a Q & A.
Our Knitter's Weekends are always a treat. With an intimate group, we can ensure that you have plenty of support while you are learning. And there is sure to be plenty of laughter and sharing. Come and make new friends or organize a small group of your own to meet and knit together free from the distractions of home.
We hope that you will be able to join the fun. Don't hesitate to give us a call at 800-321-9665 with any questions you have about registering.