Many of us at the Spinnery will be helping to judge this year's Vermont Sheep & Wool Festival Contests.  We are thrilled to see what visitors to the Festival have been making this year and we hope that the broad range of fun categories will give everyone a chance to shine!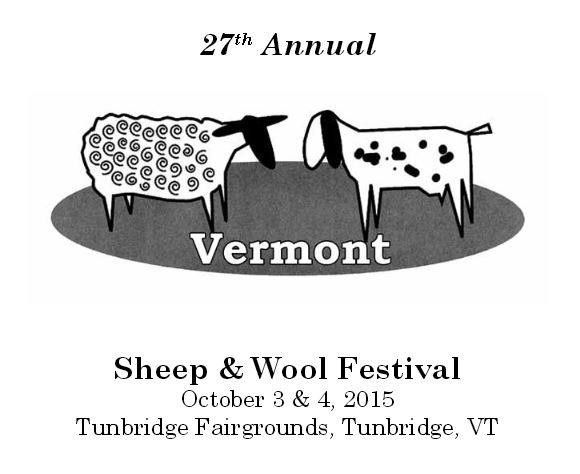 Hand-spun Yarn Contest
All weight yarn consisting of at least 50% animal fiber. Show us the naturals. Show us the dyed. Show us your spun magic!
Year of the Sheep & Goat Sweater
Celebrate all fiber animals and the beauty that comes from uniting fiber into yarn!  Knit, Weave or Crochet a sweater using a mill or hand-spun yarn with a fiber blend, such as wool & mohair (sheep & goat) or alpaca, angora, llama, cashmere, camel, dog, yak and qiviut.
Small is Beautiful
Gloves, mittens, cowls, scarves, shawls, hats, leg warmers, socks, slippers, boot toppers….We must not forget, that sometimes the best things, come in small packages….Knit, weave or crochet a beautiful and definitely essential accessory.
I Felt
Let's honor the ancient tradition of felting; one of the first fabrics known, and still widely used and admired today. Whether a yurt covering, cozy slippers or a mouse cat toy, share your needle-felted or wet-felted creations.
I Felt too!
This special category is for knitted or woven articles that have been felted.
Ewe & Me
The gift of passing down a passion and skill is one to be treasured. Ask any fiber artist, and most will tell you they learned their craft from a grandparent, an aunt, a friend…someone who cared enough to sit down and share what they love with whom they love!  Bring in a garment that is a collaboration (and hopefully wonderful experience) between TWO to create ONE b-ewe-tiful creation.
Mini-Me
I did it ALL-BY-MYSELF!!  (For fiber lovers 12 years old and under).
Show off your fiber creations…perhaps knit clothes for your doll or a blanket for your teddy bear. A hat! Woven pot holder! A crocheted granny-square afghan, felted soap or cuddly needle-felting animals.  Show us your fiber creations.  (This contest is not judged and every entry gets a prize!)
A Picture is worth a Thousand Words
Share your photograph showing us your view of beauty and wonder in the natural world; plants,animals, the beautiful Vermont landscape.
A Poem is its own Picture
Share your poem showing us your view of beauty and wonder in the natural word; plants, animals, the beautiful Vermont landscape.
For those of you that are interested in entering a craft of your own in one of these categories, check out the Vermont Sheep & Wool Festival's contest page for the Official Rules as well as information on how to download entry cards and the how, when, and where of submitting your entry.
We hope that you'll be inspired to enter and we eagerly look forward to seeing your submission!