We have two fun events for you to look forward to!  In just a few weeks the I-91 Shop Hop Bag Day  (on Tuesday March 14th, 2017) could provide you with a discount of 10% at ANY of the 11 participating stores!
Simply bring in any of the bags from previous I-91 Shop Hops to any of the 11 participating stores, you'll receive a 10% discount on your entire purchase!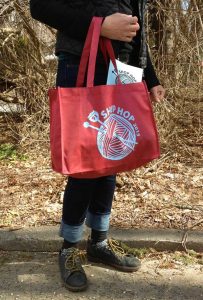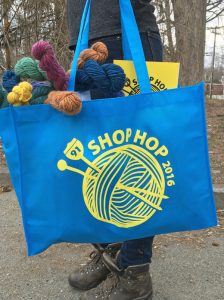 Green Mountain Spinnery (Putney, VT)
HandKnits (Brattleboro, VT)
Sheep & Shawl (Deerfield, MA)
Northampton Wools (Northampton, MA)
WEBS (Northampton, MA)
Marji's Yarncrafts (Granby, CT)
Village Wool (Glastonbury, CT)
Country Yarns (Wallingford, CT)
Knit New Haven (New Haven, CT)
Yarn Barn (Woodbridge, CT)
The Yarn Basket (Branford, CT)
And while you're here, you can purchase your $5 passport for the 2017 Shop Hop!  Mark your calendars for June 22nd – 25th, 2017!
Plan on a fun weekend full of yarn store visits, daily raffles and several prizes that you'll be delighted by.  This year's Grand Prize includes yarn, books, tools and accessories as well as a $50 gift certificates from all 11 participating shops!
We'll have some exciting new patterns to share with you as well as some special limited edition yarns and sale items that you won't find anywhere else.  We're looking forward to your visit.