Tomorrow night on Zoom, we will be sharing a special collection of Thea Colman's patterns with the Vogue Live attendees who tune in!  There is still time for you to register so that you can join us at 6pm EST January 14th, 2021.
We thought that we would summarize the details of these gorgeous patterns in one spot so that you can find all the information you need to get started on any of these designs that call for our yarns.
The internet is abuzz this week with photos of Claret, Thea's newest release.  This V-neck pullover features an eye-catching combination of cables, a cropped length (that of course can be modified) and a boxy fit.  It looks absolutely adorable on Thea's daughter who is modelling it layered over a linen dress.
The pattern includes sizing from 39(43,47,51,55)(59,63,67,71) inches and is intended to be worn with 5-7 inches of positive ease.  The yardage requirements of 1100(1200,1350,1450,1550)(1650,1700,1750,1800) yards reflect a cropped length, and you may opt to purchase an additional skein or two to make your sweater longer.
To save you a few moments with your calculator, we have figured out that these amounts translate to 8 (9, 10, 11, 11)(12, 13, 13, 13) skeins of Mountain Mohair.  Thea's sample shown above is worked up in Claret (hence the pattern's name).
Over a dozen of her test knitters chose to make their sweaters with Mountain Mohair, and only two selected the same shade! You can see a beautiful spectrum of sweaters by browsing among the finished projects to be found on Ravelry.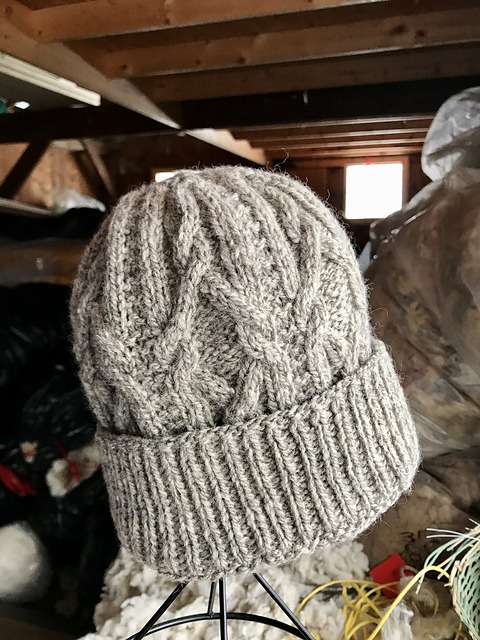 Next up is Thea's Heady Topper.  This beanie style hat features more gorgeous cables paired with garter stitch columns, and a ribbed brim that can be folded up for extra warmth.  This pattern provides instructions for three adult sizes and calls for between 175 and 225 yards of worsted weight yarn.  Thea designed this hat with rustic farm yarns in mind, knowing that crisp woolen yarns would hold every detail of those textured stitches.
Kate knit up this sample for our Trunk Show in a just few hours of knitting using less than a single skein of our undyed worsted weight Organic Maine yarn.
Back in the fall of 2018, Thea released her Fernet Branca pattern, just in time for Rhinebeck.  Shown here in Pine Warbler Weekend Wool, this sweater provides a fun bright pop of color to liven up cold winter days.  Fernet Branca features a simple textured block motif, bookended by bold ribs and cables on either side of the body. Thea's favorite part of this design might just be how those panels meet under the arms.  (We'll be sure to show you that detail on our zoom presentation.)
The pattern has sizing that ranges from 38.5(39.5,42.25,44.25,46)(49.5,53,56.75,58.25) inches and calls for 1000(1100, 1200,1300,1350)(1450,1575,1675,1800) yards of our heavy worsted/Aran weight yarn.  This translates to 8 (8, 9, 10, 10)(11, 12, 12, 13) skeins of our Weekend Wool.  Thea recommends finding a finished sweater size that includes 5-6 inches of positive ease.
Next up is Glenfidditch.  This beanie features an unusual bold asymmetrical cable that transitions out of the ribbing like a climbing vine.  Nesting twisted cables  make for a "paneled" effect that lends itself to a almost star-like effect on top.  It's stunning.
The pattern includes instructions for a single size and calls for approximately 225 yards of worsted weight yarn.  That would be two skeins of our Weekend Wool or a single skein of our worsted weight organic yarns.
Its 18 inch circumference has quite a lot of stretch thanks to that 2×2 ribbing, it can comfortably fit heads up to 21 inches in circumference.  Thea thoughtfully provides suggestions for modifying both the depth and width of this hat to accommodate a greater size range.
Travelling back to the Fall of 2017, Thea's Cranberry Gose was another Rhinebeck hit for us!  This oversized short sleeved tunic is a perfect layering piece.  Thea found inspiration for this design from a beloved thrift store find that she modified with the addition of a little gansey detail, a few options for the neckline, a split hem, and most importantly – Spinnery Alpaca Elegance, with just the right amount of tweedy interest, softness, and drape.  This sample is made with our Rosehip colorway.
This pattern includes sizes from 44.25(47.25, 50.25, 53, 56, 61.75) inches and is intended to be worn with 10 – 12 inches of positive ease.  You'll want 1300(1450, 1550, 1700, 1900, 2100) yards of DK weight yarn or 8 (9, 9, 10, 11, 12) skeins of our Alpaca Elegance or Sylvan Spirit for a garment with lovely drape.
Kate made a cropped version of this pattern that she still wears regularly three years later!
Thea released Greenbriar in June of 2016.  Greenbriar is a simple open cardigan featuring a shaped lace panel with leaves that travel from the neckline, down the center of the body, and then taper away at the small of the back. It's knit seamlessly from the top down and uses contiguous shaping at the shoulders. The collar is picked up last and knit on.
This pattern includes sizes that range from 32.25(34, 36.25, 38.25, 40.25)(43, 45.5, 50.75, 54) inches and calls for 1150(1200, 1250,1300,1400) (1500,1550,1600,1650) yards of DK weight yarn.  That equates to  7 (7, 7, 8, 8)(9, 9, 9, 10) skeins of Spinnery DK yarn.  It is shown here in our Mean Mr Mustard Mewesic.  Our Cotton Comfort yarn could be another terrific option for a similar look and feel.
Thea suggests selecting a size that gives you 2-3 inches of positive ease, based on your bust size. That said, this is a style that works in a more fitted silhouette if desired. Buttons can also be added to the front for a less casual look, and the collar can be knit deeper or narrower if desired. Thoughts on modifications, including length and width are included in the pattern notes.
Thea's City Park Hat was included in the pages of the 2016 issue of Knitscene Handmade, and has been included Interweave's Ultimate Collection of 100 top patterns.  Kudos, Thea!  This two color lacey slouch hat pattern includes instructions for two sizes and is shown here in our Sterling and Citrine Sylvan Spirit.  A single skein of each color is sufficient for both sizes of the pattern, leaving you some extra yardage for a matching pompom.
Thea's Windward Island hat is part of a six pattern accessory collection (the Tiki Collection) that was originally published in March of 2015.  Thea is in the midst of updating all the patterns in this collection with more sizes, new charts with written instructions, better layout, metric measurements and lots more details.   She estimates that the new and improved patterns should be ready later this month.
Her Windward Island hat shown above in
Purple Rain
Mewesic
, plays with texture by mixing a smooth cable with with eyelets, and staggered decreases to create undulating lines.  This mix of lace and cables in this hat looks beautiful in a delicate tweed like
Mewesic
, which comes in some gorgeous, vibrant colors!  This pattern includes two sizes, creating a yardage range from 180 – 210 yards of DK weight yarn.  This means that for the smaller size you'll need  just a single skein!
Thea's Tanqueray is a classic pullover, featuring a deep V-neck with an intricate ribbing that continues around the shoulders and is seamed together at the back of the neck.  Shown here in Silver Cotton Comfort; this yarn adds a rustic touch and a little texture to the stockinette, and it makes the design's motif of little flowers wonderfully delicate. The sleeve cuffs echo the ribbed flower and lace accent, and twisted ribbing stands out against the simple body. The weight is perfect for almost any occasion and the detail is subtle enough for any outfit.
Thea updated this pattern this summer and it now includes sizing that ranges from 33.5(36.5,39.5,42.5,45.5)(48.5,51,54,57) inches, which calls for 1000(1100,1200,1350,1450)(1550,1700,1850,1950) yards of DK weight yarn or 6 (7, 7, 8, 9)(9, 10, 11, 11) skeins of Cotton Comfort.
Last but not least is her Champagne sleeveless top, shown here in our undyed Winterbeech Cotton Comfort whose cinnamon color comes from the unusual FoxFibre cotton grown by Sally Fox.
Champagne is an elegant top that will take you from late summer right into fall. A soft, rustic yarn in a neutral tone like this one goes with anything – a tank top and flirty skirt in summer, or jeans and a crisp blouse as the days get cold. The 80/20 wool/cotton mix in Cotton Comfort is perfect for either, and the vest provides just enough warmth for the transition in season.
The diagonal lace creates a strong visual bias across your natural curves which is both elongating and camouflaging! Shaping is loose at the hips and fitted above, and the slanted lace accents the deep V.
Thea's recently updated pattern includes sizing from 33.25(34.5, 36.75, 38.25, 40.5, 41.75)(44.75, 47.75, 49.25, 51.25) inches and she recommend selecting a size that would allow for 2-3 inches of positive ease.  The pattern's yardage requirements are 750(800,850,900,950,1000)(1050,1100,1150,1200) yards of DK weight yarn or 5 (5, 5, 5, 6, 6)(6, 7, 7, 7) skeins of our Cotton Comfort.
We hope that you've enjoyed learning a bit more about Thea Colman and her designs.  We are certain that if you aren't already a fan of her work, you will be as soon as you cast on for one of her patterns!