Yoked color work sweaters can offer us an exciting blank canvas with which to experiment with color.  We thought we'd share with you several sweaters that were recently finished using our Mewesic yarn that is currently on sale!  All three of these projects are the same design: namely Nelchina by Caitlin Hunter.  It is so inspiring to see hw the same design can be reimagined by different knitters with such beautiful results!
This top-down sweater can be worked as either a cardigan or a pullover and has a generous size range from a 35″  to a 56 3/4″ bust.  It calls for four contrasting shades of DK weight yarn.
Our friend Elissa created hers with a warm autumnal palette that includes Norwegian Wood as her main color that works beautifully with Sandman, Diamonds and Rust and our undyed New Mexico Organic.  (The organic yarn is currently out of stock but could be substituted with our White Wedding color of Mewesic).
She shared with us that " I love it by the way – the yarn is so comfortable to wear, it is going to be my go to sweater for the fall."
Barbara opted to make Evergreen that star of her sweater.  She also chose to work with Sandman and a creamy white for her neutral shades, but opted for Brickhouse for her pop of contrast color.  Wow!
She, "planned this sweater for recovery period after having right knee replacement surgery on 2/17/2020. Did not start right away due to pain meds. LOL.   So this project turned into a covid-19 sweater which has offered me lots of time to work on it. I'm looking forward to being finished with it and hopefully can wear it a couple of weeks before the weather gets warm."
Just last weekend she added to her project page: "I want to add that this yarn, Mewesic from Green Mountain Spinnery, is the perfect yarn for a sweater like this one. It is light, not heavy like so many other sweaters I have knit, and yet it provides just the right amount of warmth on a chilly day. I can't say enough good things about this yarn!"
And finally, Elaine (a hand dyer living in Switzerland) modified her cardigan for a cropped short sleeve version that is adorable!  She paired our Atlantis Mewesic with several other yarns from different manufacturers that all work together beautifully.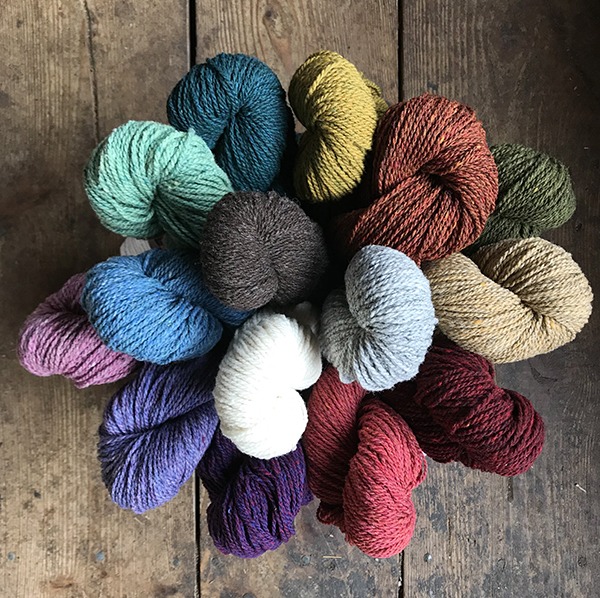 Perhaps her sweater may inspire you to do a bit of stash busting and find some suitable DK weight yarn options that have been waiting for the perfect project to come together?  How would you like to combine our beautiful shades of Mewesic?