We have a new pattern to share with you this week!  We'd like to introduce you to Hybrid.
This top-down yoked sweater designed by Kate Salomon, pairs woolen spun Spinnery yarn with beautiful super washed worsted-spun skeins created by some of our fiber friends whom you may already know.  Kimber Baldwin of Fiber Optic Yarns and Karida Collins of Neighborhood Fiber Co. are both working magic with buttery soft yarns that are a treat for the eye and hand.
Gardeners have been cross-pollinating plants for generations to introduce exciting new variations. This stranded pullover blends different yarns to startling effect, similar to an opening blossom or a spreading bird's wing. Carefully blending lofty woolen spun yarns with brilliant worsted spun yarns can result in a comforting sweater that showcases a radiantly hued yoke like a prized bloom.
The sample shown on the lovely Magalie Remy above was made with a single strand of Dark Roast Alpaca Elegance as the main color and a double strand of Fiber Optic Yarns Unified Gradients in the Java Jive colorway.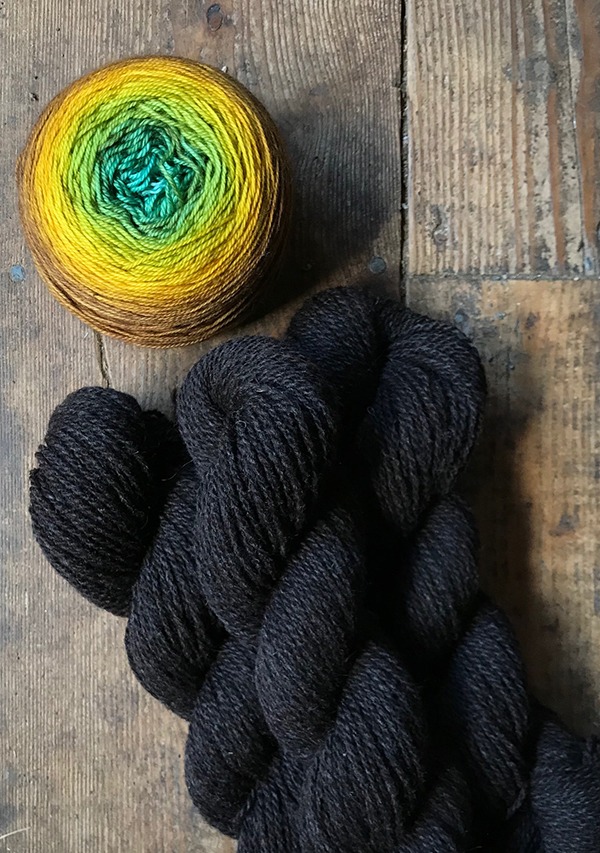 By happy accident, this sample was lightly fulled in the soaking process of the final wet block. (The washing machine agitated for about 3 minutes before it was caught). This slight bit of felting had no effect on the super washed contrast color yarn, but pulled the alpaca blend woolen-spun main color yarn together into a deliciously dense and fuzzy fabric. Below, you can see  the difference in stitch definition between the fulled sample and another that not agitated when blocked.
The Yarn Requirements for this pattern are a little unusual.  The Fiber Optic Unified Gradients used as the contrast color is a fingering weight yarn. In order to get gauge, you will hold a double strand of this yarn throughout the yoke. These vibrant gradients are available in two lengths: Short (225 yards) and Long (400) yards. The two versions are created with an identical color spectrum. This ensures that the larger sizes of the Hybrid pattern can be created with a similar effect using a double strand of the longer gradient.
If you opt for Neighborhood Fiber Company's mouthwatering Studio DK as your contrast color, you'll work the yoke with each yarn held as a single strand.  Karida's signature colorways are all named after neighborhoods in the Washington DC and Baltimore areas.  One of our test knitters is in the midst of a sweater that pairs a soft pearly grey (Charles Center) with our classic navy Ceylon Alpaca Elegance. A sneak peek of her wip is below.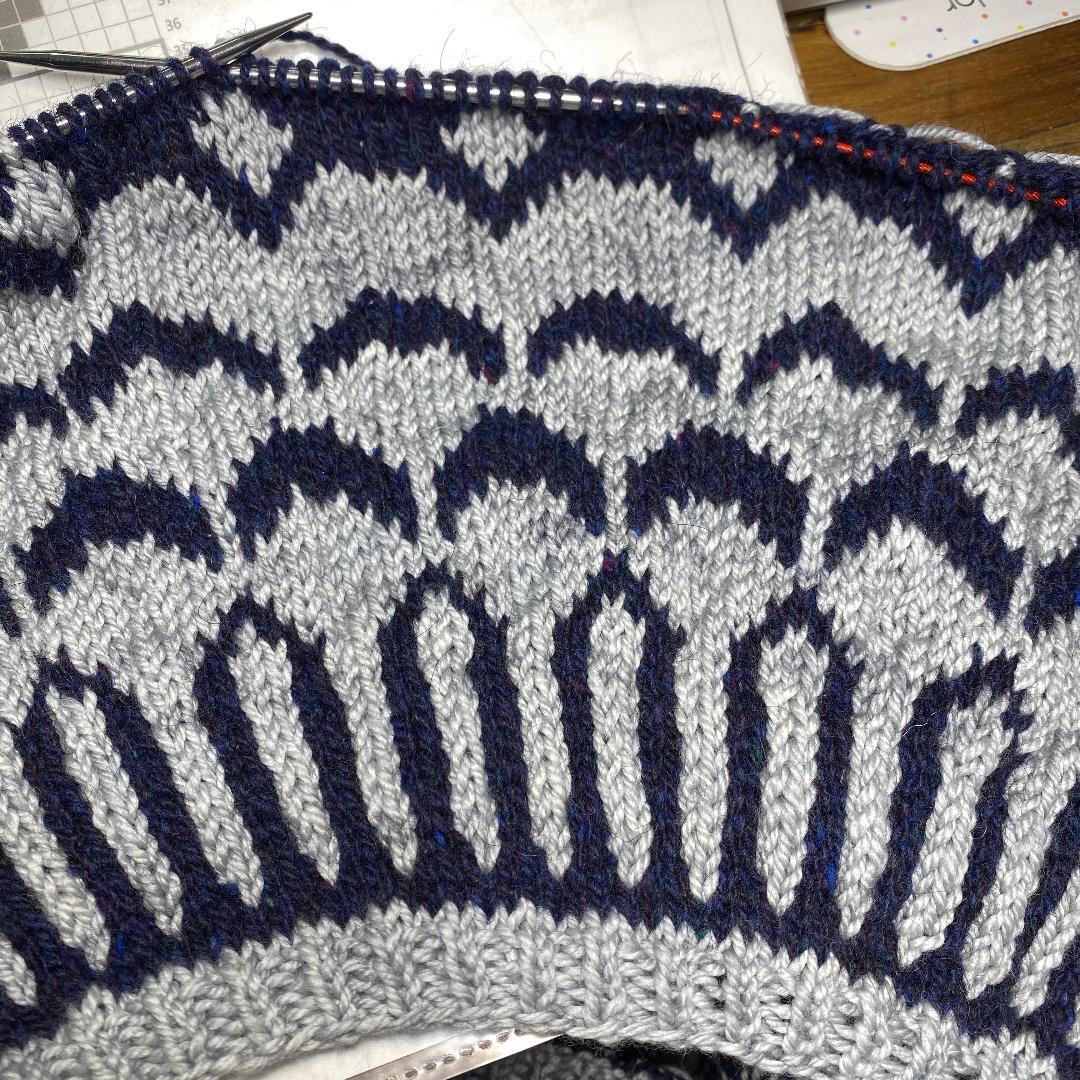 Finished Measurements (Chest circumference) – Chest: 34 ½ (38 ½, 44, 50 ½, 56 ½, 63.2)"/ 87 (98, 112, 128, 143, 161) cm
Yarn Requirements  — MC: 4 (5, 6, 7, 10, 11) skeins Alpaca Elegance CC: 2 skeins Fiber Optic Unified Split Gradient 255 yd each, 400 yds for 3 largest sizes (held dbl); or 1 (1, 1, 1, 2, 2) skeins Neighborhood Fiber Co. Studio DK 275 yds each.
And to celebrate the launch of this new pattern we'll be sponsoring a contest over the month of August that you can read more about on our blog post here!  We hope that you'll join us this month in spending some time reconnecting with fiber friends and sharing your love for gorgeous yarn and fun new patterns.