In her new e-book, Cowls: A Colourwork Sourcebook & Patterns, Inspired by Persia, our friend, knitting designer and podcaster Mina Philipp explores her Iranian heritage, and the motifs found in traditional Persian woven rugs.  This exciting collection of 12 new designs will be published on Thursday November 5th, 2020.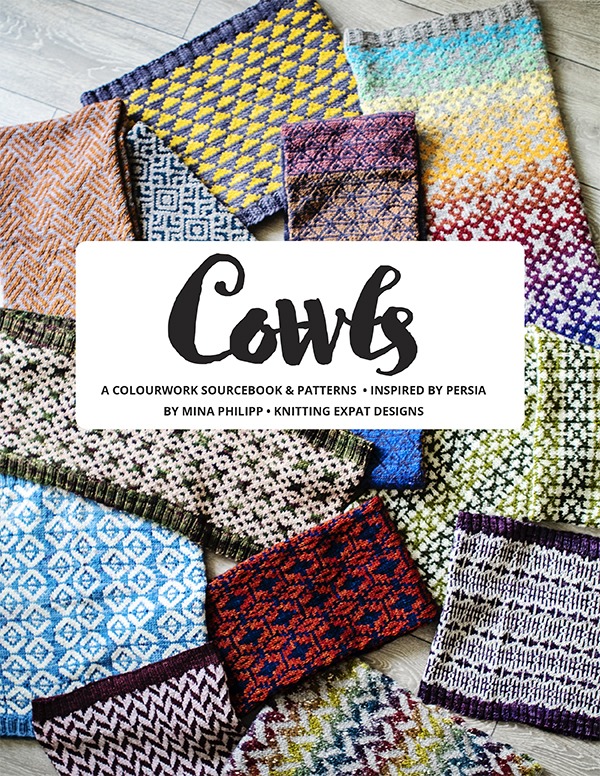 This 78-page full-color e-book contains information on techniques and links to further resources, as well as 12 full patterns to make the beautiful,
colorful cowls featured in this collection. With Cowls, Mina has created a fun, inclusive, inspiring, step-by-step guide to creating your own unique knitted pieces, always with the beginner knitter in mind. We hope you will enjoy knitting from this e-book, and that it will inspire you to try something new with your knitting.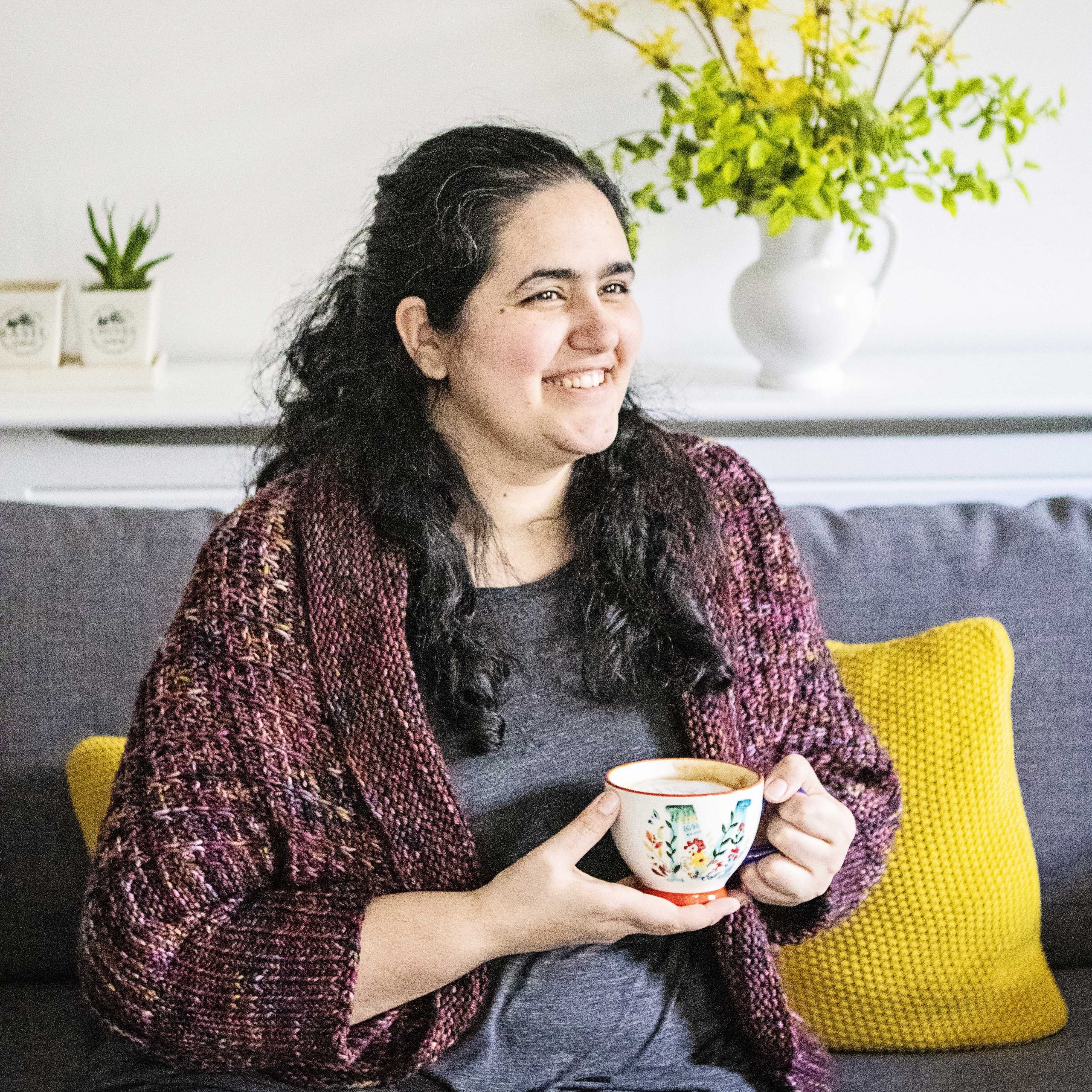 One of Mina's overarching goals with her design work is customizability and accessibility. In the past year she has worked on developing her "Any Gauge" method of designing, which allows knitters the flexibility and freedom to use any yarn and needle combination that they would like to knit up her projects. These "Any Gauge" designs provide knitters with the tools and confidence to truly create something unique and customized to them!
For those of you who have followed Mina's work, you may already be familiar with two of her previous patterns that feature this method: the Any Gauge Tube Cowl and The Hug Shrug (which is modeled on Mina above).
Mina uses this "Any Gauge" approach when creating her new colorwork cowl sourcebook using yarns from fingering-weight to bulky. Knitters can find their perfect combination of yarn, gauge and shape from the many options presented, and can even design their own, using the calculations and the knitting graph paper provided.
We are particularly smitten with her Evil Eye pattern that has been designed with our fingering weight 100% wool Lana; and is modelled here on Mina's mother.  The Noche and Playa colors that she selected provide a sharp contrast that makes the geometric pattern really pop!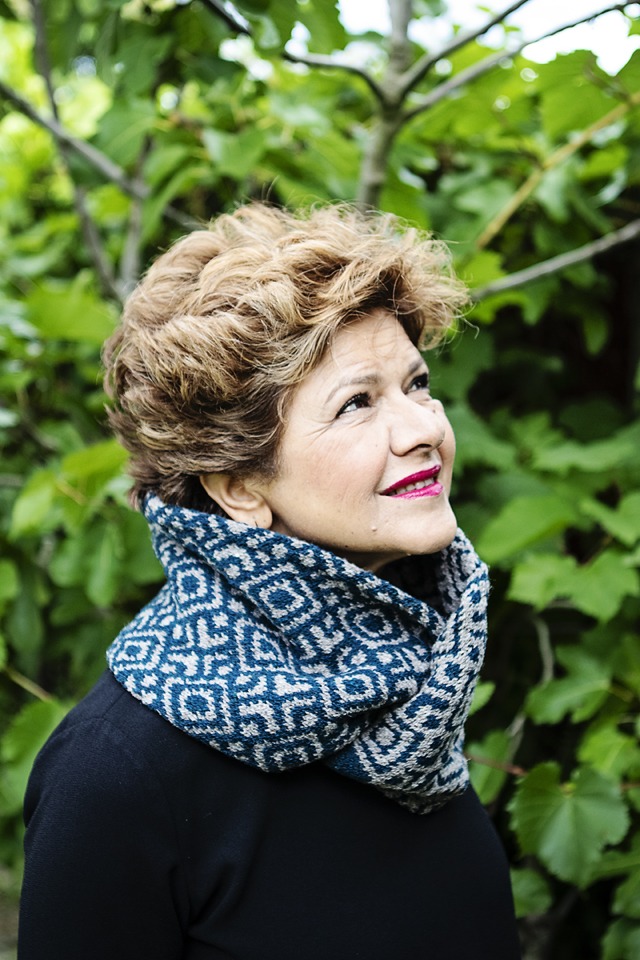 The e-book will be published on Nov 5th, 2020 and will be listed for £19.50 (approx. USD $25) on Ravelry, (Knitting Expat Designs) and Etsy (MinaMakes), it is also going to be available for £16 (approx. USD $20) with a coupon code that will be on the pattern page. This is part of Mina's philosophy of having a "Pay What
Works" pricing structure for her designs, allowing people to choose how much they can afford to pay for a pattern/e-book based on their personal financial situation.
Mina has graciously gifted us with THREE copies to give away, so send us an email or tag us on Instagram @greenmtnspinnery and we'll draw three lucky winners at random on Thursday the 5th.
To help launch this new collection, Mina is hosting a Knit A-Long with the Spinnery and several of the other yarn companies that supported this project.  The KAL starts on November 5th, 2020 and will run to January 31st,  2021. Details for the KAL can be found on the dedicated Ravelry thread on Mina's Group page.  Mina will also be publishing a video over on her YouTube channel –  going over the details of the e-book, and the KAL. The details for the KAL will also be included under that video for those who are unable to access Ravelry.
Entry for the KAL will be on Ravelry and Instagram (you do not need to do both).  For posting on Instagram use the hashtag #PersianCowlKAL and #KnittingExpatDesigns; you can also tag Mina @knittingexpat!
We hope that you'll take a closer look at Mina's newest patterns and join the fun of our KnitAlong.  Fingers crossed, you may be one of our lucky winners!