Elizabeth Doherty released her newest pullover pattern this week, Sian.  It is a top-down slipped stitch sweater that is a dream to knit and wear.
This design, and the slipped stitch texturing that is featured in it were inspired by a trip to Scotland's Outer Hebrides. Each of the stitch motifs reflect a different aspect of that landscape, including the waves, walls, flocks of sheep and little stone huts of the islands.  Her pattern calls for a DK weight wooly wool that will allow that design to pop with clarity and retain comfortable elasticity.
"The yoke's slip-stitch motifs might look intricate, but they are actually quite simple to knit. Only one color is worked per round, so there's no need to carry two strands of yarn at once. Choose from two body styles: a longer A-line shape, or one that's straight and slightly cropped.  The pattern contains notes on customizing the design to suit your style or available materials, and includes a handy chart showing bust circumferences at a range of gauges." (we'll get back to that chart, because it is a game changer).
The pattern as written includes instructions for sizes (31¼ 34½, 37½, 40) (44, 47¼, 50½, 53½) (56, 59¼, 62½, 65½)" with a suggested positive ease of  3 to 5″ at the bust,  1½ to 2½" at the biceps.  The yardage requirements depend on your choice of working the sweater with longer A-line shaping (as shown above) or a cropped version that is just adorable.
MAIN COLOR:
A-line body
(620, 680, 730, 830) (930, 980, 1060, 1140) (1270, 1360, 1440, 1510) yds of a DK weight yarn, or (4, 4, 5, 5) (6, 6, 6, 7)(8, 8, 8, 9) skeins of GMS DK yarns.
Straight cropped body
(570, 620, 670, 760) (850, 910, 970, 1050) (1150, 1230, 1310, 1380) yds of a DK weight yarn, or (4, 4, 4, 5) (5, 6, 6, 6)(7, 7, 8, 8) skeins of GMS DK yarns.
and
CONTRAST COLOR: (130, 140, 150, 180)(200, 210, 230, 250)(270, 290, 310, 330) yds of a DK weight yarn, or (1, 1, 1, 1,) (2, 2, 2, 2)(2, 2, 2, 2) skeins of GMS DK yarns.
You could work with our Mewesic (100% wool), our Cotton Comfort (80/20 wool and cotton blend) or our Alpaca Elegance (50/50 wool and alpaca).  Two of the knitters who tested the pattern for Elizabeth chose to work with our Alpaca Elegance and we thought we'd share their photos so that you can see how versatile this pattern can be.
Laura's version on the left is a subtle tonal variation of rich greens, and Glenna's on the right uses different colors for each stitch motif.  And if this isn't enough to tempt you, wait to you consider the implications of Elizabeth's chart that she's generously included in the pattern's notes.  She has calculated the adjustments to the chest circumference that result when changing your stitch gauge from the 20 sts over 4 inches called for, to any whole number in the range from 16 to 26!  This means that you can potentially use any yarn from a fingering weight to an Aran.  Wow.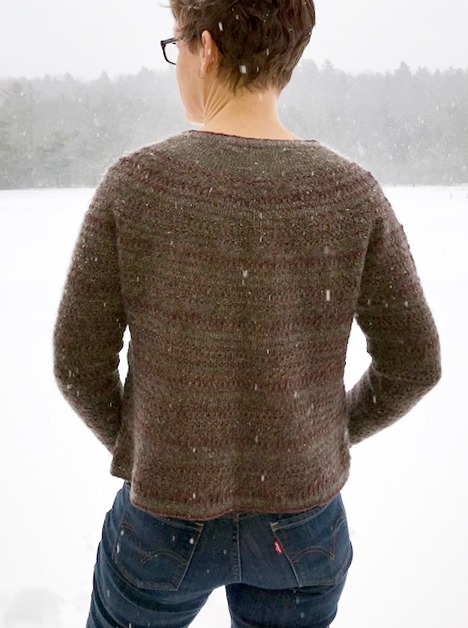 Kate used this chart to figure out which size to work from to create a finished garment that would be a comfortable fit.  The 6th size which would work up to a sweater with a bust size of approximately 47″ at the 20 stitch gauge, created a 38″ sweater for Kate at her gauge of approximately 24 stitches over 4 inches.  With a few tweaks to the decreases called for the sleeves, Kate has a lighter weight version of Sian that will be perfect when the snow melts.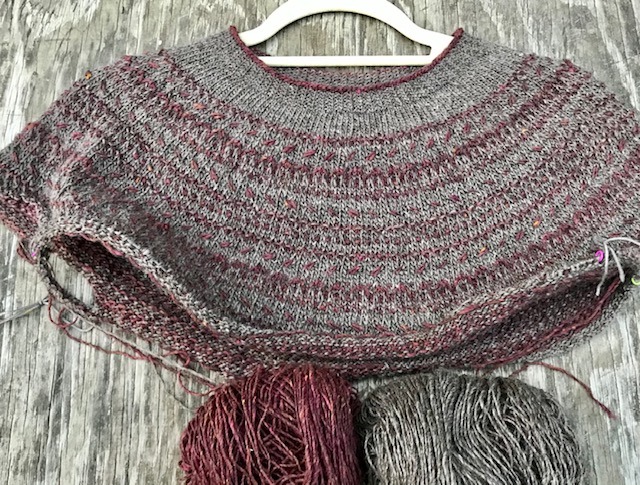 She used our Simply Fine yarn with the Natural Dark as her Main Color and Nostalgia as her Contrast Color.  She loved the subtle contrast between the colors and the delicacy of the slipped stitch pattern so much that she opted to carry that texture throughout her sweater instead of limiting it to just the yoke.
We hope that you'll take a minute to explore the other finished sweaters on Raverly from Elizabeth's test group.  The selection can easily illustrate  just how adaptable this pattern is to any preference!
Elizabeth is offering a discount on her pattern for a limited time.  Enjoy 30% off the Sian pattern, now until midnight PST February 12, when you enter the code hello_sian in the Ravelry shopping cart.  Thank you, Elizabeth!