Thea Colman's newest pattern is remarkable in several ways.  We'd like to introduce you to Wild Mountain Thyme, and tell you all about it.
The sweater is a top down tee with an elegant diamond motif featured along the yoke. Intentionally placed yarnovers add subtle detail around the colorwork, and the fit is loose and boxy. Sleeves and body are short, but the silhouette is easily modified. Notes are in the pattern to alter as desired.  By trying your garment on as you create it, you can ensure a perfect fit!
Thea's pullover was designed to showcase delicately hued, naturally dyed yarn.  When Kate was offered the opportunity to help test the pattern, she immediately thought of the yarns we spin for New England natural dyers.  She cast on for two versions of this sweater using yarn that was spun here and dyed not far away.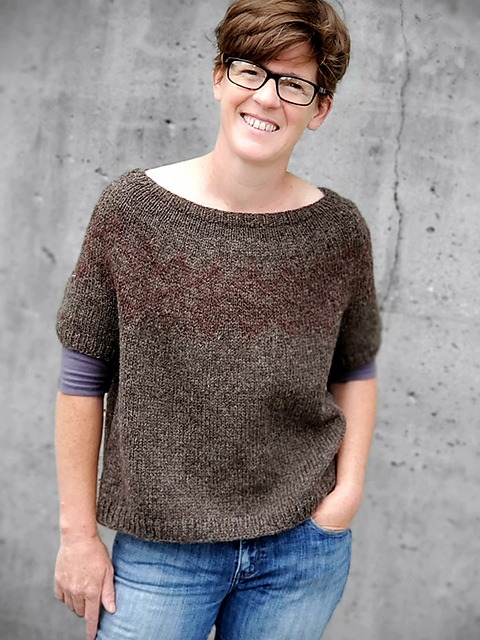 First, she cast on with Tidal Yarns 100% wool worsted weight yarn; intentionally not working to the pattern's specified gauge.  This created an oversized sweater that is perfect to pop on over other layers for a cozy winter sweater that she often wears to work.  Patricia helped her select a subtle color combination that mimics the look of Thea's sample.  The contrast color was over dyed with marigold and madder root!
Since Kate had a few extra skeins in her stash of Wing and a Prayer Farm's Thelma & Louise, she thought she's whip up another version that would have even more drape and fluid movement thanks to the addition of mohair to the yarn.  Tammy helped her select a subtle contrast color that was dyed with iron.
As you can see, this simple top works equally well when worn with a bit less positive ease for a closer fit (that wouldn't accommodate extra layers). Kate's first Tidal Yarns version is about 10 inches larger than her bust, and the second W&PF version is about 6 inches larger than her bust.
The pattern's sizing ranges from 37.5(40,42.5,44.75,47.25,49.5)(53.5,57.75,61.5,65)" 95.25(101.5,108,113.5,120,126)(136,146.5,156,165)cm and Thea suggests between 4-6″ of positive ease.  Yardage requirements are as follows:
Main Color (MC): 700(800,850,900,950,1000)(1100,1200,1250,1300) yds or 4(5, 5, 5, 6, 6)(7, 7, 7, 8) skeins of Green Mountain Spinnery's DK weight yarn.
Accent Color (AC): 75(75,100,100,150,150)(150,175,175,175) yds or 1 skein of Green Mountain Spinnery's DK weight yarn for any size.
We'd love to encourage you to consider using either of the yarns that Kate did, knowing that they were made with love here at the Mill.  You could also consider using Cotton Comfort, Alpaca Elegance, Mewesic or Sylvan Spirit.  You may also want to consider using the naturally dyed skeins that Thea calls for in the pattern, Oysters and Purls.  While collaborating with Armenuhi who creates this lovely yarn in New York, war broke out in Armenia last year, and she's been working to raise awareness and funds for families, displaced by the fighting. Purchases of this pattern will add to her efforts.
50% of all the proceeds of Wild Mountain Thyme to the end of Feb will be donated to kooyrigs.org, helping Armenian families in need due to the fighting. Thea will be matching that amount from other pattern sales, adding to the total on March 1.
So your pattern purchase will do more than just add a gorgeous garment that you'll treasure to your queue, it will reach out into the world to support families in need.  Everyone wins!