We've created something special this spring and we thought you'd like to learn all about it.  Vermont Organic yarn is back in stock!  And we had a chance to briefly interview Anna from Open View Farm who raises the sheep whose fleeces have created our delicious new yarn.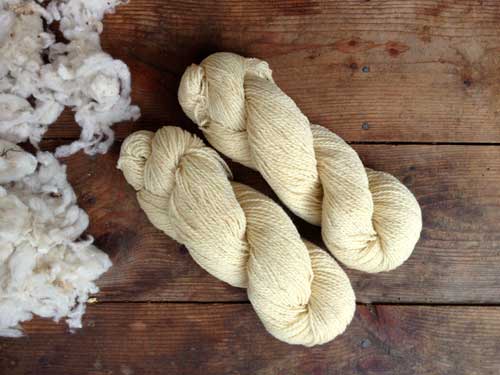 Anna and her husband Ben raise certified organic lambs, grow certified organic vegetables, and produce maple syrup on 180 acres in New Haven, Vermont.  The farm is unique in that it has a 2.49 megawatt DC solar array, which is owned and operated by Crosspollination Inc.
The array spans 17 acres and is composed of 8,448 photovoltaic modules. These produce an estimated 2,700-megawatt hours of electricity per year (which is enough electricity to power approximately 400 homes).  Anna and Ben's sheep seem to appreciate the shade and shelter the panels provide when they graze under and around the panels for part of the summer months.
As it turns out, Open View Farm is a resurrected dairy farm.  Anna and Ben's flock is raised for meat and was started in the fall of 2010 with 30 Tunis ewes.  Tunis sheep are dual purpose, fat-tailed sheep well known for delicious meat.  They've been added to the Slow Food movement's Ark of Taste, which has identified 200 "delicious and culturally significant foods in the US in danger of extinction".
Open View Farm's original flock of Tunis ewes has been bred with Dorset rams to increase the size of the animals.  Dorset animals are slightly larger and thrive on pasture ensuring a quicker growth to market weight.  More than 50 lambs are born at Open View Farm each spring, bringing the total number of sheep on the farm to over 100 during the summer months.
(In case you were interested, you can purchase Open View's lamb and other organic products at the Shelburne Farmer's Market in the summer, and on yourfarmstand.com any time.)
As delicious as Anna and Ben's organic lamb may be, here at Green Mountain Spinnery we are more interested in their fleece.  Tunis sheep are born a soft cinnamon color that transitions to a lovely soft warm tan color.  Dorset's wool is known for its springy elasticity, which adds a delightful resiliency that makes each creamy ivory skein wonderfully squeezable.
Our skeins of worsted weight organic Vermont yarn include 250 yards per 4 oz. skein. Only 42 pounds of wool was processed in this first batch so our supply of these scrumptious skeins is limited. We hope to be able to make more in the near future.  And we hope that you'll be able to get your hands on some of these first few skeins!