This year's I-91 Shop Hop passports are now available for sale!  You can stop by our Mill Shop to pick one up, or you can purchase yours on our website here.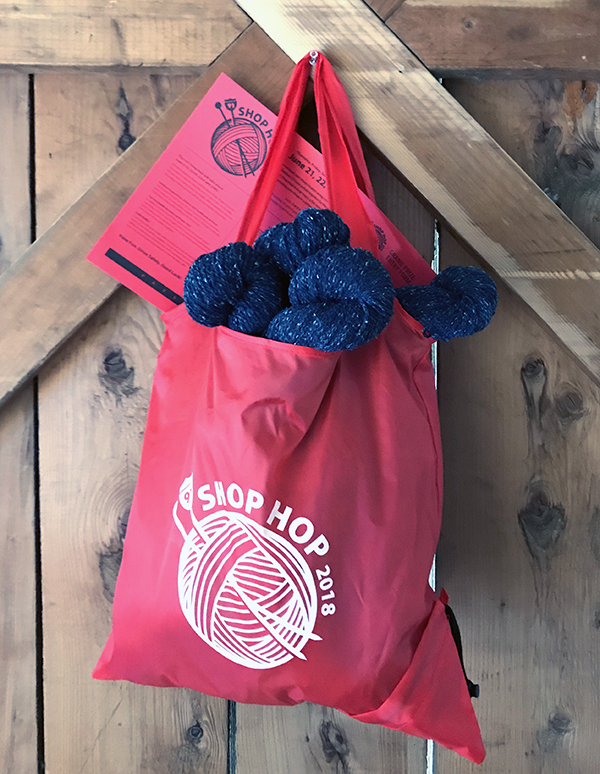 Along with your $5 passport, you'll also receive a FREE tote (pictured above) that cunningly folds up into a handy drawstring carrying pouch.  It is perfect for holding all of the new skeins you'll want to bring home!
As in year's past, eleven local yarn shops located along I-91 from New Haven, CT to Putney, VT, are teaming up to bring you fun, prizes, and plenty of fiber!
Get your Shop Hop passport stamped by visiting the participating shops over the 4-day Shop Hop weekend (June 21st – 24th, 2018).  Every time you get your passport stamped you will be entered to win the Daily Door Prize at that shop. A total of 48 door prizes will be given out to participants!
By visiting all 11 shops you will be entered into a drawing for the fabulous Grand Prize, which includes gift certificates for the eleven shops, as well as yarns, needles and other goodies.
Here's your chance to explore new yarn shops and win some great prizes. You can complete the Shop Hop all in one day, or make it a weekend event.
Passports are available now at one of these fine shops:
Green Mountain Spinnery (Putney, VT)
HandKnits (Brattleboro, VT)
Sheep & Shawl (Deerfield, MA)
Northampton Wools (Northampton, MA)
WEBS (Northampton, MA)
Marji's Yarncrafts (Granby, CT)
Village Wool (Glastonbury, CT)
Country Yarns (Wallingford, CT)
Knit New Haven (New Haven, CT)
Yarn Barn (Woodbridge, CT)
The Yarn Basket (Branford, CT)
Each shop will have a specially designed pattern to share with Hoppers and this year, we're going to be able to give our visitors an exclusive chance to preview a brand new yarn that  launches this fall.
Maureen has created a fun one skein project that features this beautiful new yarn, and we can't wait to share it with those of you who can participate in the Shop Hop!  So mark your calendars, call your friends and make your plans!  We look forward to seeing you then.