All kinds of people stop into the mill to visit us.  Often the group includes a knitter or two as well as some friends and family who are along for the ride. We love to ask our visitors what kinds of projects they like to knit, and often the non-knitters in the group will chime in with what they love to have knitted for them!
Almost everyone agrees that there is nothing quite as luxurious as a pair of hand knit socks; perfectly fitted, delightfully textured, and often breathtakingly beautiful.  Hand painted yarns have their chance to shine.
For those of you who are speedy sock knitters, Maureen Clark's new sock pattern may be a perfect one for you to try.  With a week remaining before Santa's arrival, you may have just enough time to add a pair to the gifts under the tree.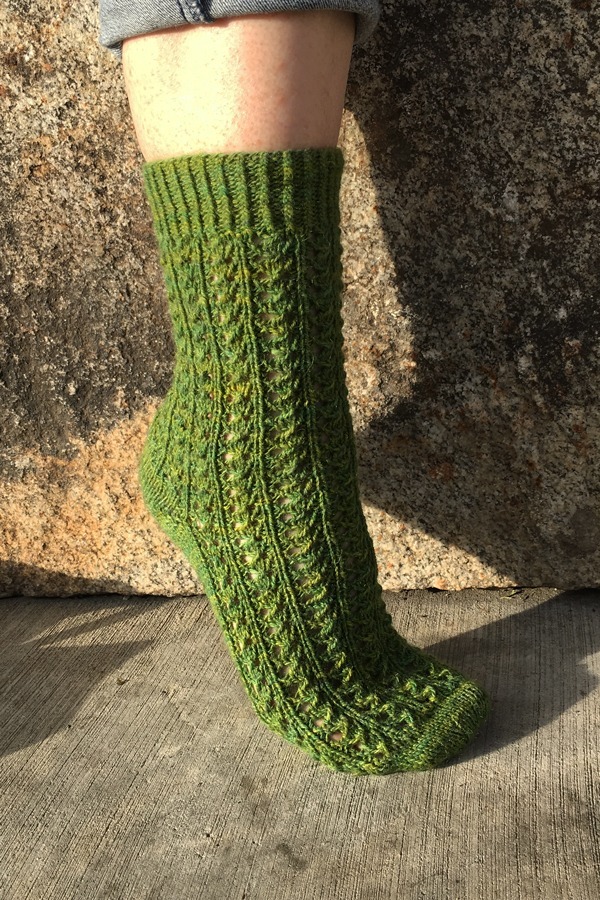 The pattern features a top-down design with a German short row heel construction.  The lovely pebbled lace pattern is both written and charted for ease of use and you may find that it gives you something fun to work as your stitches fly.
And if you need a bit more time to complete these socks, not to worry.  You won't be the first among us to wrap a project still on the needles with a promise to finish just as soon as possible.