Sometimes seeing a garment styled a bit differently, or even on a different model can totally change the look.  That different look can change our perspective and looking with new eyes can make a pattern seem new as well.
When we first introduced Melissa Johnson's Adult East Putney Aran Sweater we featured pictures of the sweater on two lovely female models.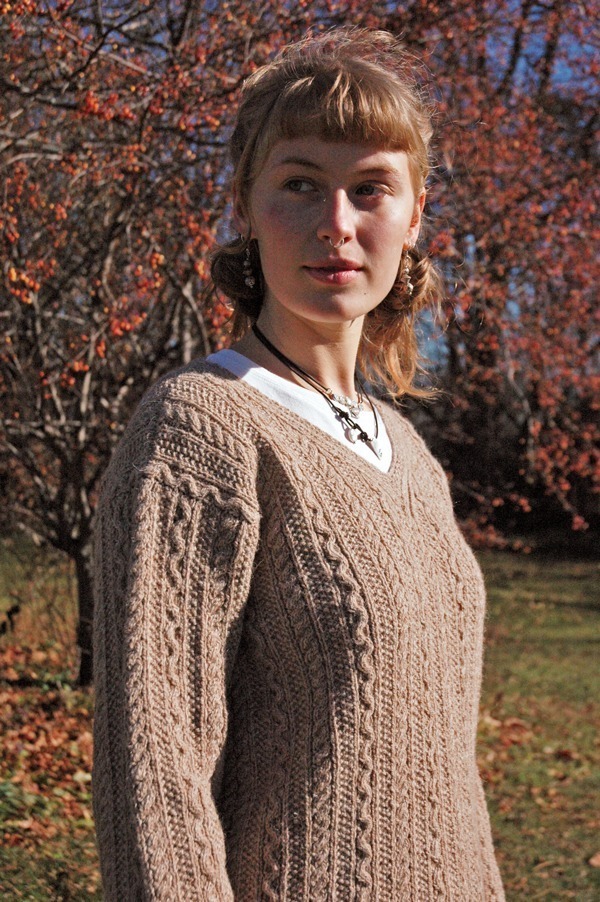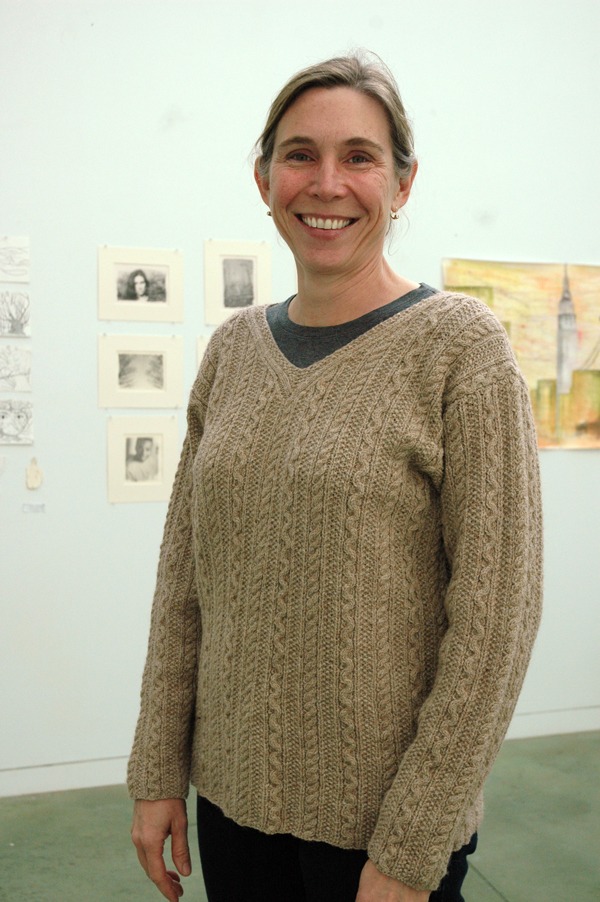 Both of them loved the sweater; finding it comfortable and easy to wear. In fact, one of our models cast on for a version of her own within days of trying the sweater on for the first time.
As we took the sample to various Sheep and Wool Festivals last year, many of the visitors to our booth considered knitting the unisex pattern as a men's sweater since there is no waist shaping, and we wanted to see if they were right.
Last month, we were able to shoot a few more photos with the same sweater modeled by our friend Caitano when he visited our mill.  The sweater is transformed by his different body type.  And we love it!
He and his lovely wife agreed that it was a perfect fit for him.  We love how the neutral color can make the sweater work with any outfit from jeans to cargo pants.  Our sample was created with the Chai colorway of Alpaca Elegance.  This shade is one of the 6 colors created by blending undyed alpaca and wool fiber, making it one of the softer selections.
He loved how comfortable and cozy the sweater felt.  (And truth be told, he was reluctant to leave it behind when he headed out the door).  He thought that the sweater could be one that he and his wife could share.  Possibly making it the sweater version of "boyfriend jeans"?
We hope that these new photos may inspire you to reconsider Melissa's pattern as we have.  With finished chest measurements that range from 38 – 50 inches and a flattering and comfortable fit within a range of positive ease from 1 – 4 inches, this pullover could work beautifully for a lot of us.
Give us a call if you have questions about the pattern, or better yet stop by the shop or our booth at any of the upcoming festivals and shows we'll be attending and try our sample on for yourself!