Kay and Ann of Modern Daily Knitting fame have created a new line of Field Guides that are delightful guides to knitting techniques to be enjoyed by beginners and intermediate knitters alike.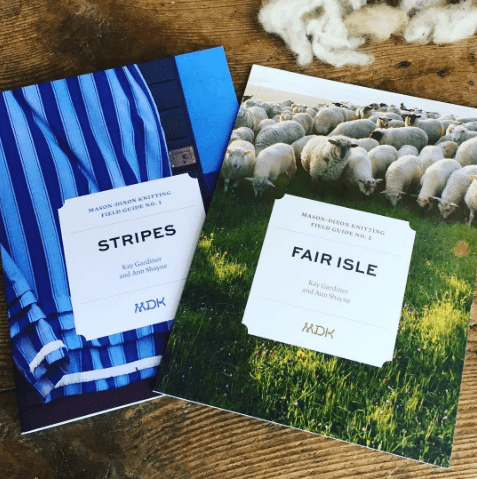 Field guides have more typically have introduced us to animals, minerals and plants to be found in their natural habitat. We carry their well thumbed pages on hikes or on birding expeditions to correctly identify the new creatures we come across and better understand their habits.
These mini books offer similar guidance through two knitting techniques with carefully constructed descriptions, artful photography as well as a handful of stunning patterns that give us the opportunity to practice these concepts.  Using your hands to learn these ideas with stitches on your needles transforms these ideas into muscle memory that you won't soon forget.
"Mason-Dixon Knitting Field Guide No. 1 is all about the stripes: a trio of patterns that play with the way a single line of color can transform a project.  Mary Jane Mucklestone's Station Wagon Blanket is a brilliantly simple stripe pattern–made in garter stitch blocks, it is perfect for travel or TV knitting.  Antonia Shankland's Breton Cowl imagines what happens when you combine two of the softest yarns in the world in one delicious loop.  And Ann Weaver, always inventive, makes one brief and bright contrast stripe the star of the show in her Squad Mitts.
All along the way, Kay and Ann share stories, tips, and hints to make it all even more fun. Sara Remington's photographs are at once epic and intimate, a special sort of inspiration for every knitter."
"Field Guide No. 2: Fair Isle,  provides a mix of patterns that make it possible to play with stranded colorwork at whatever level you'd like to try.  Easy. Easier. Easiest.  A colorful yoke. A modern Fair Isle pattern. Socks with something happening."  Véronik Avery's Hadley Pullover is a bottom up yoked pullover that features a simple modern design that recalls European stranded colorwork and Native American trade blankets at the same time.  Ann Budd contributed a quickly knit sock pattern: the Après-Anything Socks, and Michèle Rose Orne' Asterik/Dot Hat and Cowl patterns will have you comfortable working with two strands of color in no time.
We've been delighted with these guides and have had to restock our supply several times since introducing them in our shop.  If you haven't yet browsed through their pages, you may want to pick up copies now while armchair travelling is at its best.  These books will allow you to explore new knits without ever leaving home!