We find that we and our friends reach for skeins of Cotton Comfort to work with as summer heats up.  Our DK weight blend of 80% of the finest wool we work with  and 20% organic cotton grown in Texas is a delight in the hands.  It has a comforting elasticity, a nubby texture and a color palette that is second only to our Mountain Mohair.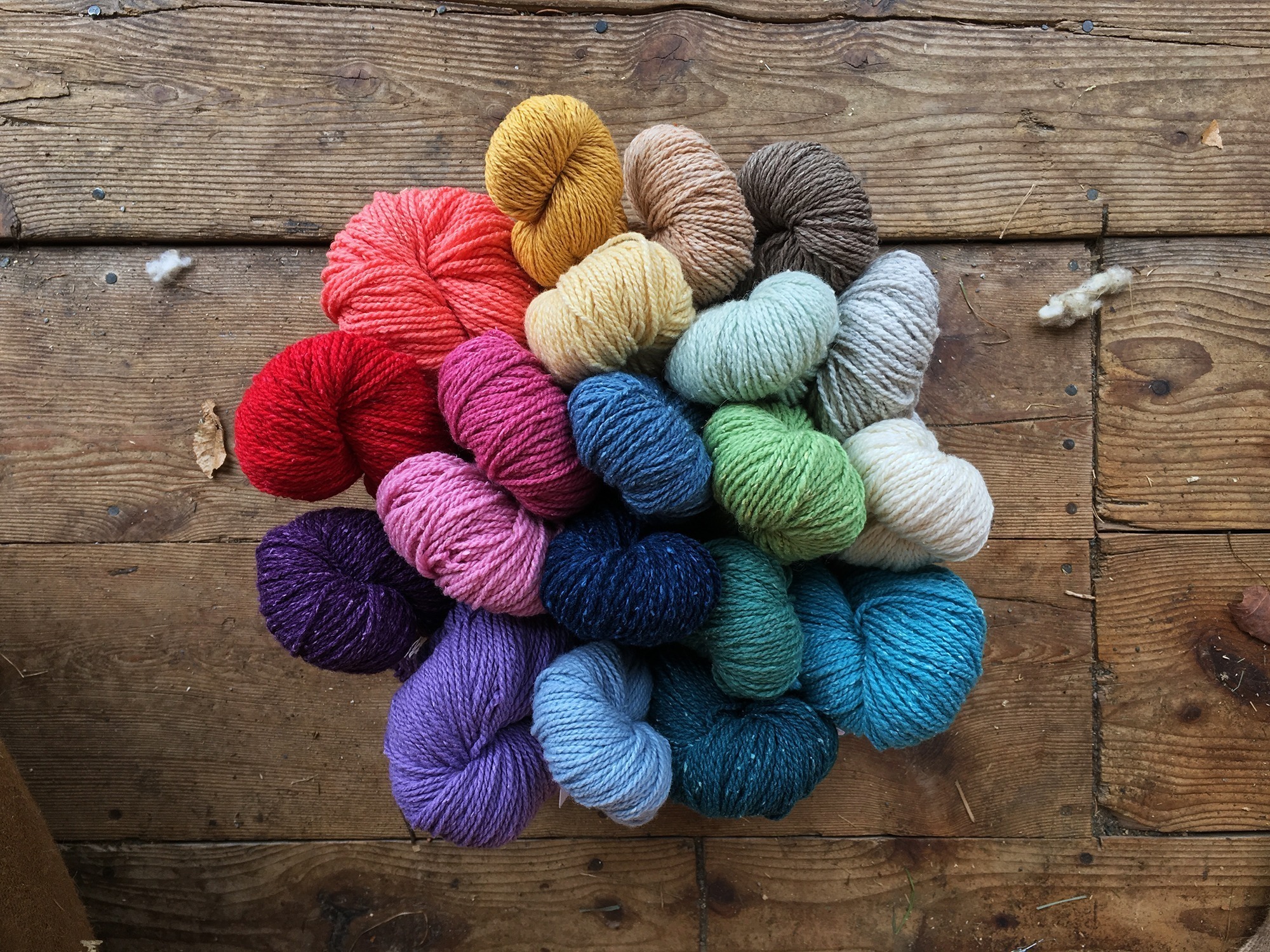 We wanted to use this week's post to keep you up to date on some fresh new patterns that call for Cotton Comfort from some of Raverlry's most popular designers.
Julie Weisenberger (of Cocoknits fame) recently publish Rosa, a figure flattering top-down pullover that is sure to become a classic.
The pattern features the Cocoknits Method of construction, "a commonsense system for knitting seamless, tailored sweaters from the top down. The Cocoknits Method is explained in detail in the book, Cocoknits Sweater Workshop by Julie Weisenberger, which includes 9 core patterns. The book is a necessary tool for knitting this and the other Cocoknits Method patterns."
On a side note, Kate tried out this method of construction by knitting a version of Julie's Antonia/Antonio sweater and was delighted by the clever construction and perfect fit created by this (new to her) English tailoring technique.  It creates a shoulder seam that the weight of the sweater can hang on, that sits a bit behind your shoulders for a more accurate fit and a better silhouette.  The anatomy of the sweater more closely mimics how our bodies move.  You'll recognize the  look from machine knit sweaters in your wardrobe.
For those of you who would be more likely to wear a cardigan, you may want to consider taking a look at Asscher designed by by Christina Danaee as part of her StoneCutter Collection.
"The Asscher cardigan is an open, raglan cardigan featuring an angular eyelet pattern across the back. The eyelet shaping at the shoulders is echoed in the pattern on the back and the ribbed eyelet trim of the front. Green Mountain Spinnery's Cotton Comfort yarn has a slight fleck of color creating a tweed-like appearance, and makes a perfect all-weather garment. Make one in any color to throw over jeans and a t-shirt, your favorite dress or layer with a flannel in colder weather."
We agree that it looks like a perfect layering piece.
On the smaller side, is a kiddo knit for you to consider.  Summertime is a perfect time to select smaller projects that are easy to transport on your summer holidays.  New to Ravelry is Nemunoki designed by Simone Kereit, with sizes ranging from 3M to 2 years.
This darling little top could be worn as a wee dress and then layered over leggings as a tunic, extending its wearability.  We love the bright pop of color created by the slipped stitch texturing.
We hope that summer's heat doesn't prevent you from your favorite past time, and that the right project can keep you happily stitching (perhaps in front of an air conditioner) all season long.