We know how much fun it can be to take a look at what other people are working on, so we thought we'd share the "wips" on our needles this week.
While many of us are guilty of working on a handful of projects at any given moment, these are the projects that came to work with us this Thursday in the hopes that a few stitches could be worked at lunch or when our machines were humming along with occasional intervention.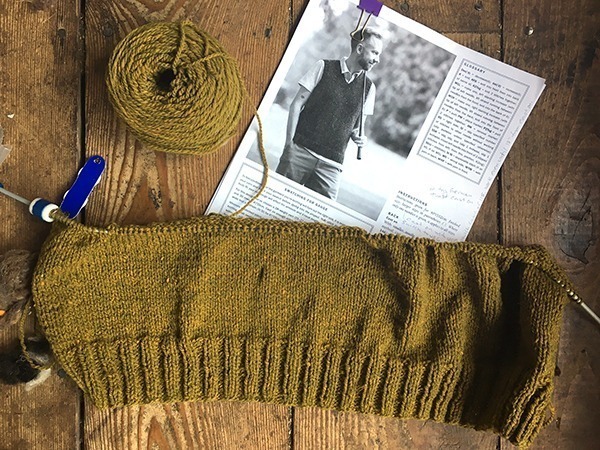 Tracey is about a third of the way through an elegantly simple vest that will become a new wardrobe staple this fall.  She is working on His Vest designed by Churchmouse Yarns and Teas, with a few pattern modifications to adjust the length for a personalized fit.  She selected the Mean Mr. Mustard colorway from the Spinnery's Mewesic line.
This lofty DK weight 100% wool yarn is a pleasure to work with and will make a lightweight and yet warm layer that will be perfect for in between season temperature swings.  Her pattern is worked flat from the bottom up, and seamed before the finishing touches of the ribbed v-neck and armholes is worked.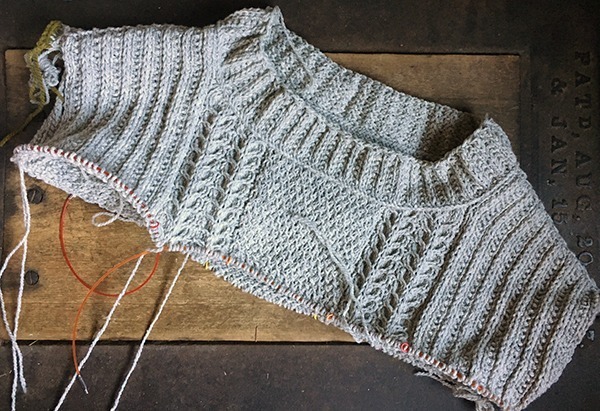 Kate is making some headway with her Clio pullover designed by Elizabeth Doherty.  Kate chose to work with the undyed Silver colorway of our Cotton Comfort.  The addition of 20% cotton in these skeins lends lovely nubbiness to the textured stitches and should make the fabric drape just a bit for a flattering finished piece.
Clio has a top-down, seamless construction that allows the knitter to try it on while in progress. The pattern includes instructions for two lengths making it a versatile option for everyone.  Maureen is also working on a version of this sweater and we hope to share photos of both finished projects soon.
Kate hopes to have this sweater complete in plenty of time to cast on another of Elizabeth's designs before she arrives in October to teach at our Knitters Weekend.  We love having plenty of samples available to try on so that our friends and fellow students can find new project inspiration and leave the weekend knowing exactly which size of the pattern they want to cast on for.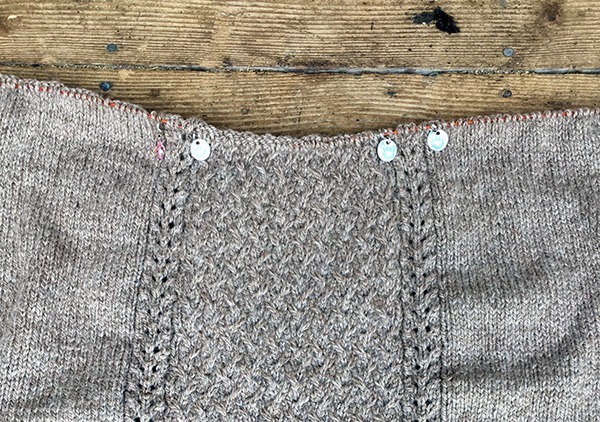 Megan is very close to finishing a beautifully neutral version of Melody Hoffman's Kimono pattern.  She selected the Fawn color of our Weekend Wool for a cozy, slouchy shrug that will go with every outfit.
"The pattern is very easy and comes up in three different sizes.  It features a little bit of lace, a lot of stockinette, and a very addictive slipped stitch panel on the back (a video is provided to help you execute the slipped stitch. It is knit flat, like a large rectangle, and a little bit of seaming brings the sides together to create the opening for the sleeves."
So elegant!  We hope to share photos of her finished project when it is off her needles.
And last but not least, Larisa is putting the finishing touches on a new cowl pattern that will become available this fall.
Her infinity cowl design features an organic lace pattern inspired by the beautiful Latte Art to be found on the beverages served at Larisa's favorite cafe in Bellows Falls.  This sneak peek shows her project with the Orchid colorway of our worsted weight Weekend Wool.
Check back here in several weeks for more details on this upcoming design!