Maureen and Kate arrived in Asheville, NC and set up the Spinnery booth for some fiber fun this weekend at SAFF.   The event is located at the WNC Agricultural Center, in Fletcher, NC; across Hwy 280 from the Asheville Regional Airport. (Exit 40 off I-26).  The marketplace will be open from 9 – 6 pm Friday and Saturday and from 9 – 4 pm on Sunday.  And we have so much to share with you!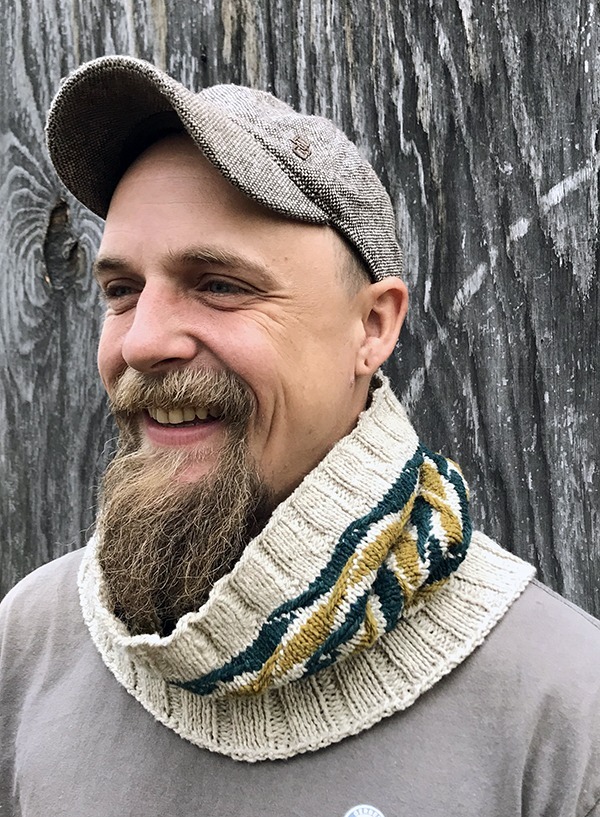 Larisa Demos' Long Trail cowl made its debut last weekend at Rhinebeck.  This terrific slipped stitch unisex cowl is equally appealing when knit up with our Mewesic (as seen above in the New Mexico Organic in Grey as main color, Atlantis and Mean Mr. Mustard as contrast colors), or Spinnery's Cotton Comfort.
This infinity cowl can be created with a bit less than a single skein of each color.  The pattern as written creates a cowl that is 11.5″ high and 25″ circumference (29 x 63 cm).  You'll have sufficient yarn to increase the depth of the cowl if you'd like.
You might want to play with some of our 4 new Cotton Comfort colors.  Shown below is a cowl knit up with Winterbeach as the main color with Gingerbread and Pine.  We love how these colors reflect the beautiful fall foliage on display all along the east coast.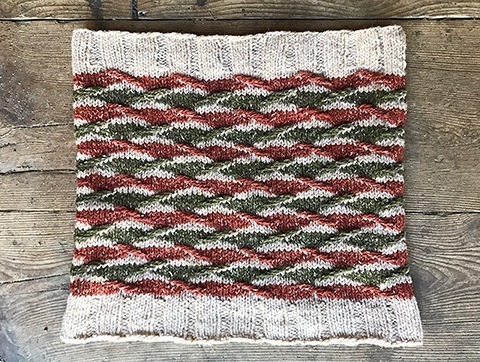 We also have 4 new colors of Alpaca Elegance and a sample of Babycocktails' Cranberry Gose in the booth, that Kate recently finished.  Plus, our favorite new design Maureen's Seeded Pullover that may be your next sweater project!  These two samples are delightfully contemporary, and either one would be very useful additions to your wardrobe.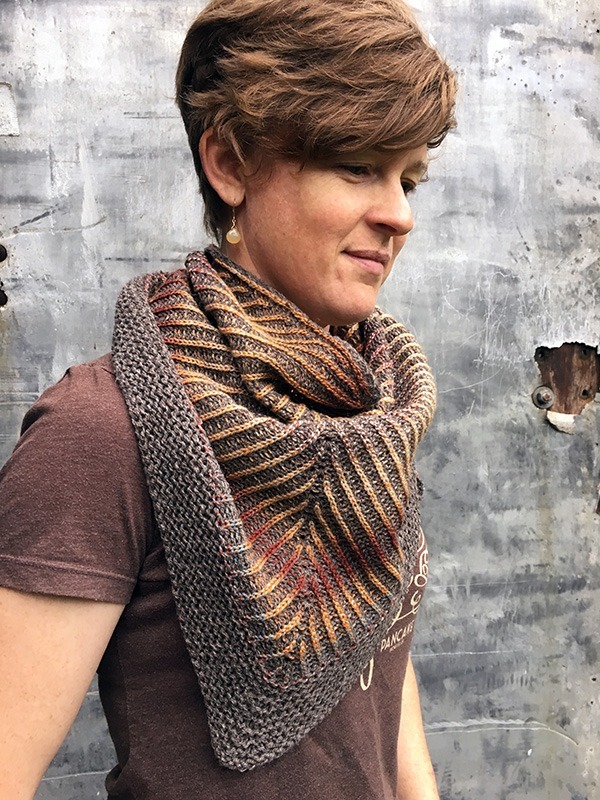 And for those of you looking for something that you won't find anywhere else, we have limited edition shawl project kits that will only be available while supplies last this weekend!
We hope that you'll have a chance to swing by and visit with us.  We'd love to see what you've been working on and help you find a terrific project (or two) to keep your fingers busy this winter!