This week we thought we'd share some of our favorite new releases from non-Spinnery sources.  A friend brought in a copy of Hannah Thiessen's Slow Knitting for us to take a look at, and we can't wait for a long winter's night to curl up with it!
Hannah describes the journey "from sheep to skein to stitch", inspiring a more thoughtful reflection of the materials we choose to work with to create heirlooms worth cherishing.  We are honored to be featured in a chapter that describes how the Spinnery was founded and came to make the very special kind of woolen spun skeins that we all squeeze, sniff, and work with today.
Included in the book are 10 knit-worthy patterns from the industry's leading style makers.  We found a handful of patterns that we'd like to cast on for.  You'll also find informative chapters on other inspirational resources including some of the fiber folks we spin for such as Julie Asselin and Jill Draper.   We can't imagine a better volume to while away a cozy afternoon.
And speaking of cozy, you should certainly take a look at the new sweater released this week by Thea Colman (aka Babycocktails).  Her Cranberry Gose is a loose pullover turtlenecked tunic that can be thrown over almost anything for an effortlessly stylish look.  Designed to be worn with quiet a bit of positive ease (10 – 12″), this lofty and warm fabric has a beautiful fluidity that is figure flattering, thanks to being knit up with Spinnery Alpaca Elegance.
The pattern includes subtle Gansey texturing around the neckline that works gently against the short row shaping of the shoulders for a soft curve that belies the overall boxy shape.  Sheer genius.  And doesn't that rich tweed look like Autumn?  Don't forget we have a few new Alpaca Elegance shades for you to choose from for this pattern.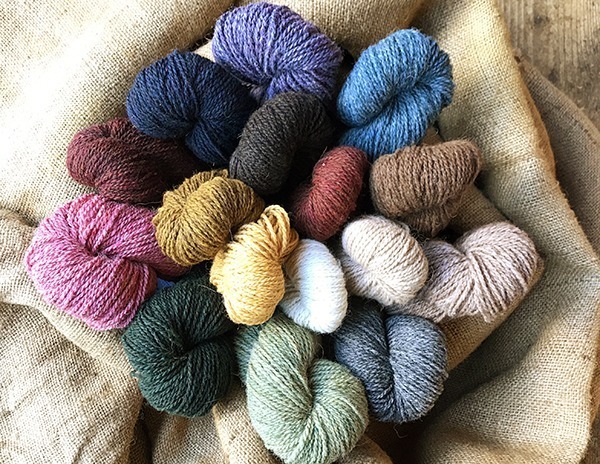 Kate knit up a shorter version of the Cranberry Gose with our Earl Grey color.  She modified the tunic pattern with Thea's careful suggestions to remove 5 inches in overall length.  This makes it a more practical layering piece for her wardrobe, and may inspire you to consider how you could make this piece a perfect fit for you!
Thea has offered a little discount to encourage you to consider making one of your own for Rhinebeck.  $1 off the pattern if you purchase the pattern  between now and Rhinebeck (ending 10/20) – because some of us need to plan, and others of us may need to knit vicariously if not at the fair….
Kate and Thea are likely to be wearing their tunics at the fair in a couple of weeks.  We hope that you'll stop by our booth in Building 22 to check ours out, and experience our new Alpaca Elegance skeins in person.  We think you'll be delighted by our new shades.  We hope to see you there!