We'll be bringing another brand new pattern with us to NYC this weekend.  Maureen and Kate are headed to Vogue Knitting Live at the Marriott Marquis in Times Square, where we'll have a booth with all of our yarns and latest designs.
This week, we're proud to introduce Maureen Clark's new cardigan, Turning Sideways.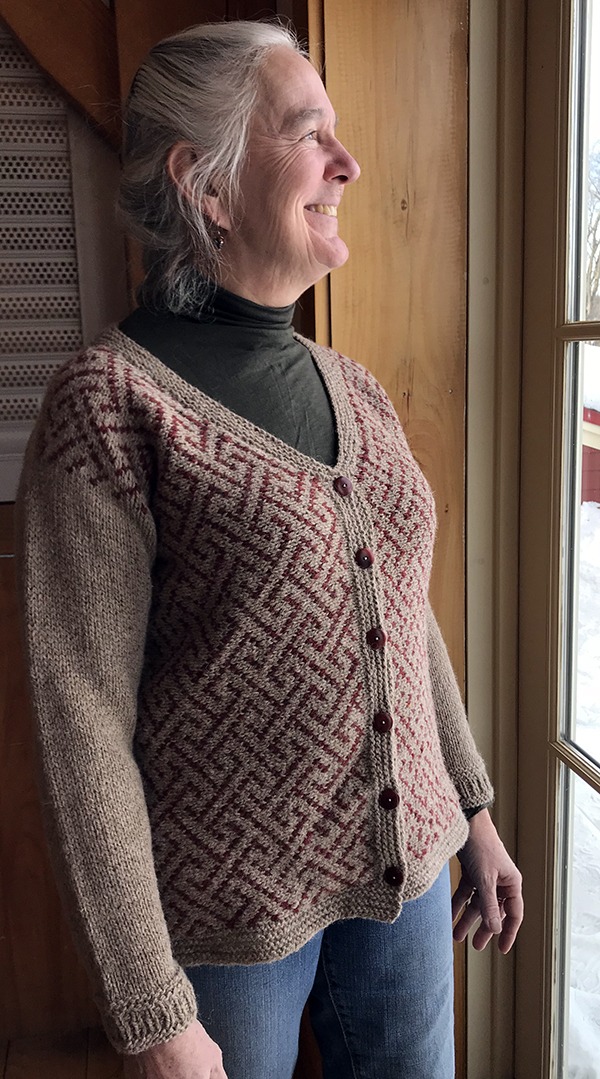 This clever sweater is knit from side to side starting from each ribbed cuff and working towards the center.  You may find that working a project from a different direction to be a refreshing change.  We sure did!
You'll be amazed by the cunning technique that allows you to cast on stitches for the front and back of the cardigan without an edge that requires seaming.  That stunning mosaic colorwork is worked only on the front and is charted for your ease.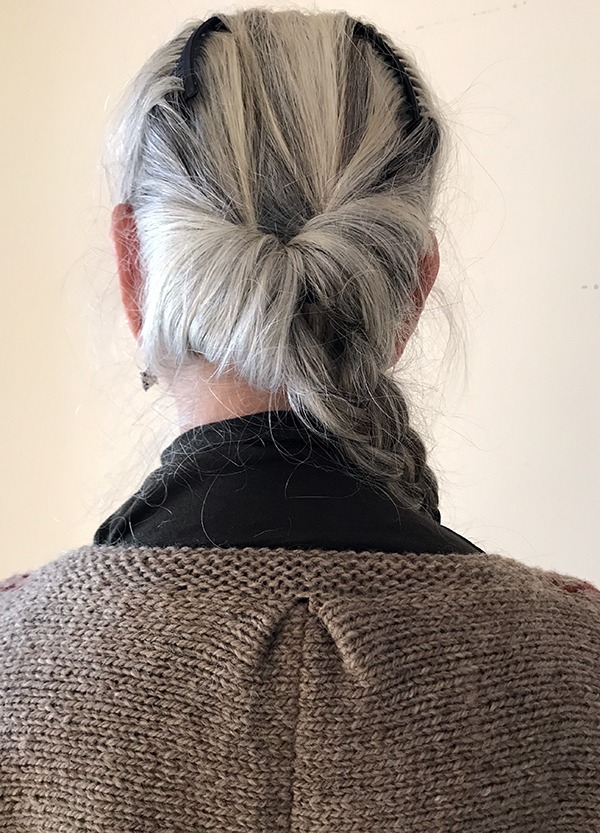 The back features a box pleat at the neck and the two sides are joined at the back with a three needle bind off for a clean finish.  This sweater is exactly what you want to pop on while temperatures remain low this winter.  Knit up with a worsted weight yarn, you'll have it ready before spring!
The pattern is written with a generous sizing range from 30 (34, 38, 42, 46, 50, 54)" / 76 ( 86, 96, 106, 116, 127, 137)cm.  It requires (9, 9, 9, 10, 10, 10) skeins for MC, 1 (1, 1, 1, 2, 2, 2) skeins for CC, in either Weekend Wool or Mountain Mohair.  The possible color combinations are mouthwatering!
We'll have our entire color range with us this weekend, so that you can have your pick of lovely shades to work with.  We'd be delighted to visit with you while we're enjoying our stay in the big apple.
And you can always shop our website, any time.  If you're shopping online, you may want to take advantage our of current sale and see if any of our odd weight skeins of Mountain Mohair strike your fancy.
And we have more great news!  We're extending the deadline to sign up for our 2108 Mystery Project Club through this Sunday January 14th. So that folks attending Vogue Knitting Live in NYC can get signed up at our booth!
Members receive 4 exciting projects sent throughout the year.  Each project will create a different kind of accessory. And as a Project Club member, you'll have exclusive access to these patterns until they are made available to the public in 2019.
Members will receive four exclusive projects sent quarterly. Shortly before delivery you'll receive an email revealing the details of the project and a choice of color options to work with. Your four project packages will include the pattern, all the yarn needed to complete your project, and a little gift. Their first delivery also includes a Spinnery project bag to keep everything organized.
Membership is $192 and open until Sunday January 14th, 2018!  You can still sign up
here
.
Whether we see you in New York or here in Vermont, we look forward to seeing you soon!