One of our best deals to be found in the Spinnery's Mill shop is our basket of ply ends.  At just 25 cents an ounce, this is a bargain that many crafters find is hard to resist.
These cones allow us to wind off any extra material from our spinning and plying bobbins without wasting an inch of it.  We don't keep track of exactly which batch of yarn each cone contains, so our collection at any given moment often includes a wide selection of yarns that we create for both our custom work as well as the yarns you can find in our shop.  Some cones contain a single continuous length, and others have many smaller segments so it's a bit of an exciting grab bag.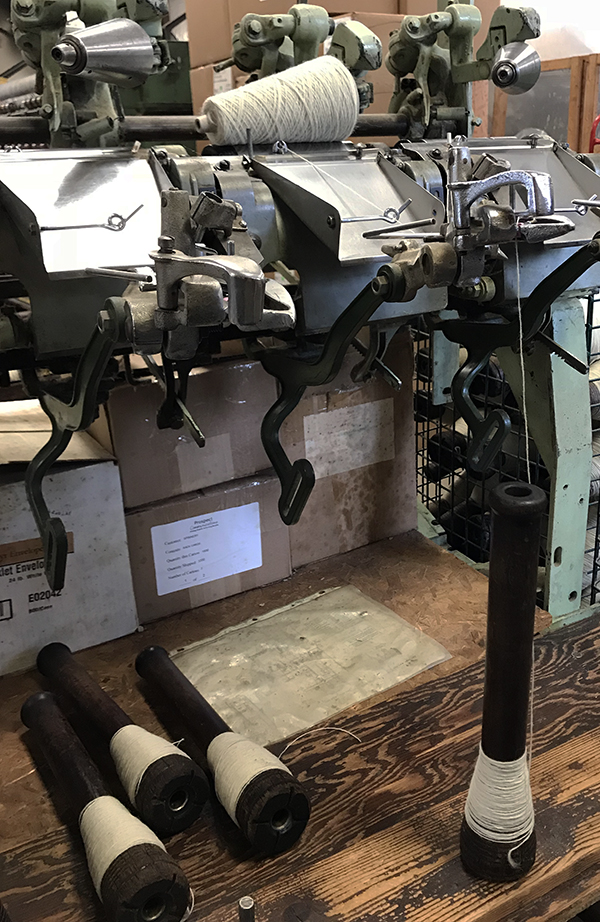 It can be hard for some visitors to imagine how they can be effectively used.  Weavers can work with this material straight from the cone for fine weight projects.  We encourage knitters and crocheters who prefer to work with bulkier yarns than lace weight singles, to consider using multiple strands held together.
You can work with several strands from separate cones, effectively plying the strands as you work; or you can try your hand at Navajo Knitting or chain plying as you work which creates a triple strand from a single cone!  This handy instructional video demonstrates the technique.
This past week, Kate knit up a version of Brooklyn Tweed's Freja cardigan working with 4 strands of these plies held together to create the gauge equivalent of the bulky yarn called for in the pattern.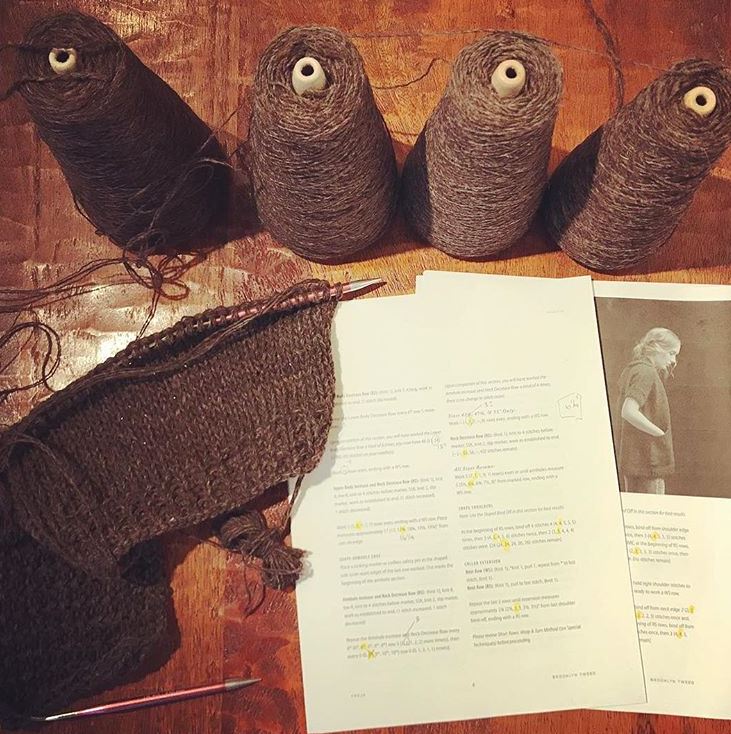 The yarn on the cones were not an exact match but she had enough weight on each one to accomplish the pattern with a bit left over.  By holding all four together, she created a fabric that blends the different plies into an overall tweedy heathered look that highlights the textured stitches of the pattern beautifully.
She found many smaller lengths on her cones, and found it easy to knit her ends in as she worked.  By blocking her garment pieces before seaming (as the pattern suggests), any unwoven remaining ends felted gently into the wrong side of the fabric and could be safely trimmed.
And best of all, the overall cost of the yarn for her sweater?  Less than $6!
Due to their unique nature, these cones are only available in our Mill Shop on a first come first served basis.  We are constantly making more of them as part of our production process, so we're confident that you'll find an interesting selection when you arrive.
We hope that you'll keep an eye out for them on your next visit to Putney.  You'll be delighted by what you feel inspired to create!