Our friend Kimber of Fiber Optic Yarns will be debuting a new pattern for us this weekend at DFW Fiber Fest  in Dallas, Texas.  We hope that you'll stop by the festival if you're in the lone star state.  She'll be in booth 325 – 327 (right across from the Fiber Laboratory).
The show floor is open from 9 – 6 this Friday and Saturday and 10 – 4 on Sunday.  Our samples should arrive for her to share with you on Saturday morning.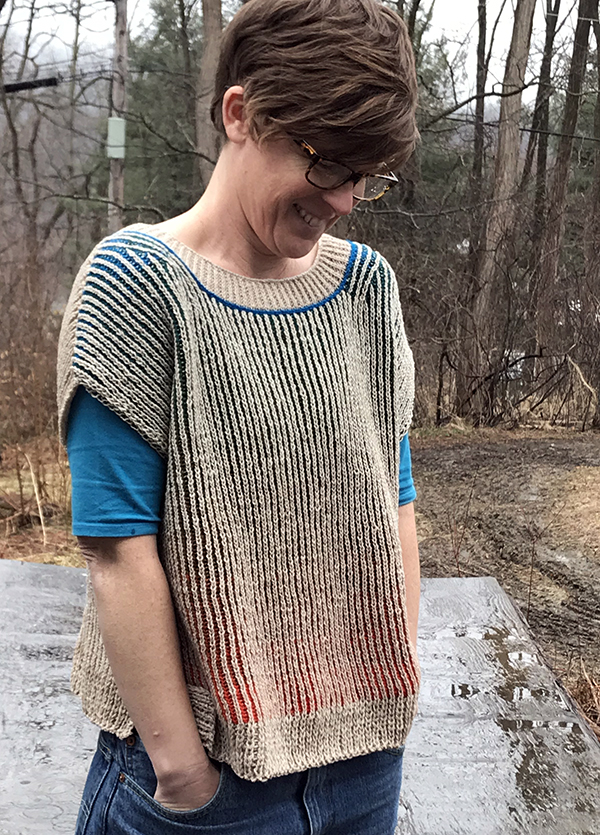 Our Brioche Popover is a simple oversized layering piece that is stunning enough to be a statement while being equally suited to "popping over" any outfit (including your pjs). The lushly textured ribbing is created with three different brioche techniques for a comfortingly squishy fabric that is a pleasure to wear. Select a gradient yarn for a dramatic effect, or quintessential classics for a vest that will never go out of style.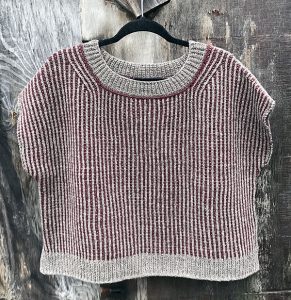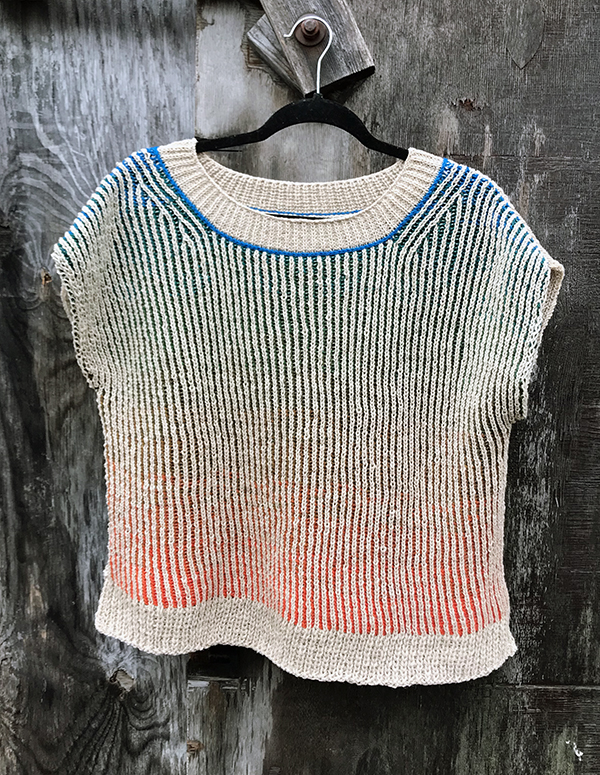 Shown on the left in Gris Lana as the main color and Ancho Lana as the contrast color. Shown on the right with Playa Lana as the main color and Fire and Ice Fiber Optic Footnotes Gradient as contrast color.  We all agree that Kimber's yarn makes this project an instant show stopper!
Kate loves the boxy shape of this top, that is so easy to wear.  The strong horizontal elements of the ribbed hem and half brioche ribbed neckline counterbalances the vertical two color brioche that provides hints of dramatic color beneath.  We love the subtle hints of drama, but with careful seaming and weaving in of your ends, there is no reason why you couldn't wear this top inside out for a more stunning effect!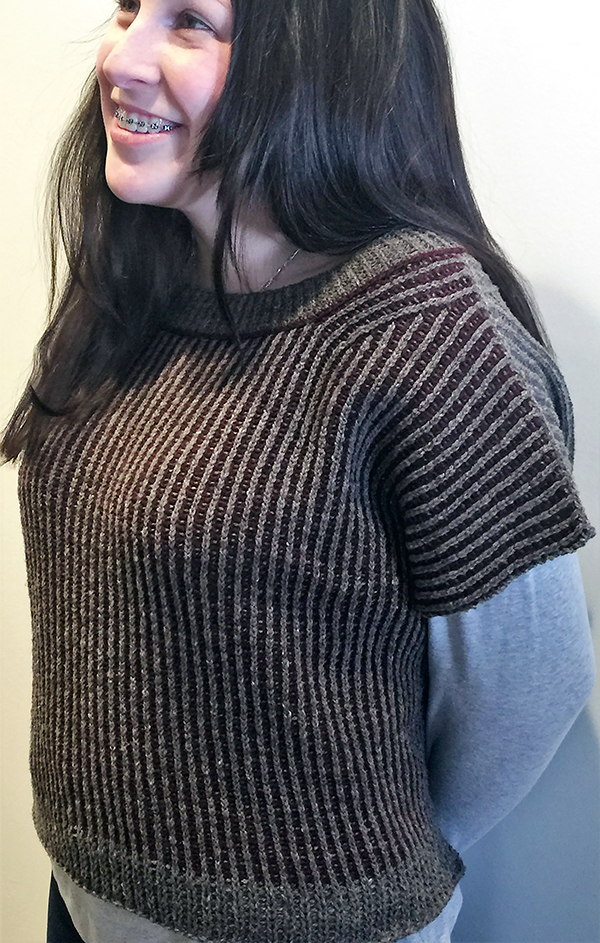 This piece was designed in one size with a generous 50″ chest circumference for a flexible fit that will accommodate a range of figures.  We hope that if you are already comfortable with brioche techniques, you'll give this project a try.
The top is worked flat from the bottom up in two pieces.  You'll work two color brioche on the front, single color brioche on the back, and a half brioche rib for the neckline.  This results in a delightfully squishy fabric that is light in weight and yet deeply textured.
We've collected several youtube videos together on our channel that will demonstrate some called for techniques that you may not already be familiar with including managing short rows while working two color brioche, a three needle bind off for two color brioche and a decorative Icelandic purled cast off.
We hope that you'll have a chance to see our Brioche Popover this weekend at DFW, or at the Maryland Sheep and Wool Festival that is just a few weeks away.  You may find that this is the perfect project to launch your summer knitting!