Many of our friends groan and roll their eyes when they think of having to work a swatch.  For many knitters, this step represents a frustrating delay before we can enjoy the fun of getting stitches on our needles, and a sense of real progress towards our goal of a finished garment.
But in some cases, what can be learned from a swatch could dramatically impact the final product.  Learning that before spending hours on our stitches can make the difference between a flattering fit or a disappointing one. Occasionally, it can provide the insight that redirects the yarn to an entirely different project!
This week, Kate created a swatch with John Crane's Medium Wool.  She thought that it might be perfect for Thea Colman's Oban Sweater.  This yarn includes a blend of Beltex, California Red, Columbia, Corriedale, Finn, Ile de France, Montadale, Polypay Rouge de Roussillon, Texel, Tunis, and Zwarbles fiber.  This combination lends itself beautifully to projects that are soft enough to be comfortable and strong enough to wear well: the perfect sweater wool.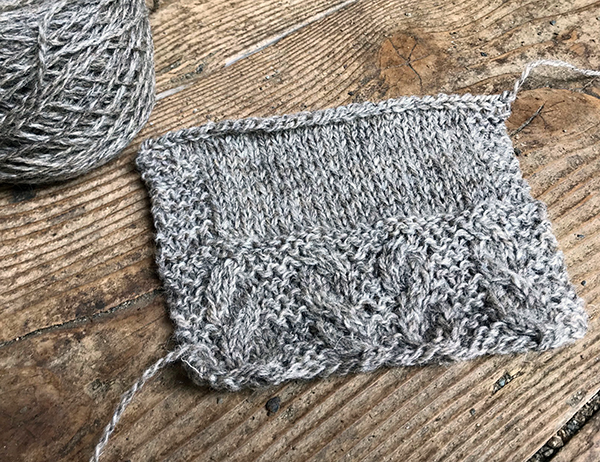 But she found that the lovely garter and cable texture of Oban's pattern did not present itself as clearly as she would like.  All those blended undyed fleeces produce a visual complexity of many shades of grey.  As her swatch dried from it's blocking, she surmised that a more pronounced stitch texture wouldn't compete with the yarn, but highlight it.
After a brief Raverly search, she found Lille kongle (Little woodland) by Ingvill Freland.  This pattern calls for a worsted weight yarn knit at a dense gauge for a warm winter hat.  Kate opted to work the largest size with the pattern's recommended needle and created a lighter version of this deeply textured accessory that makes this unique yarn shine.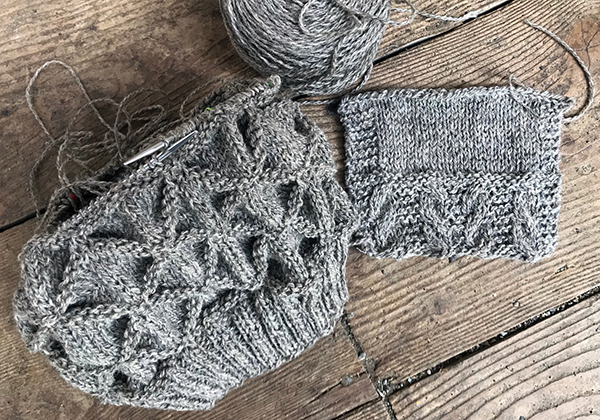 Dressed up with a removable fur pompom, this is a finished project we're delighted with!  What do you think?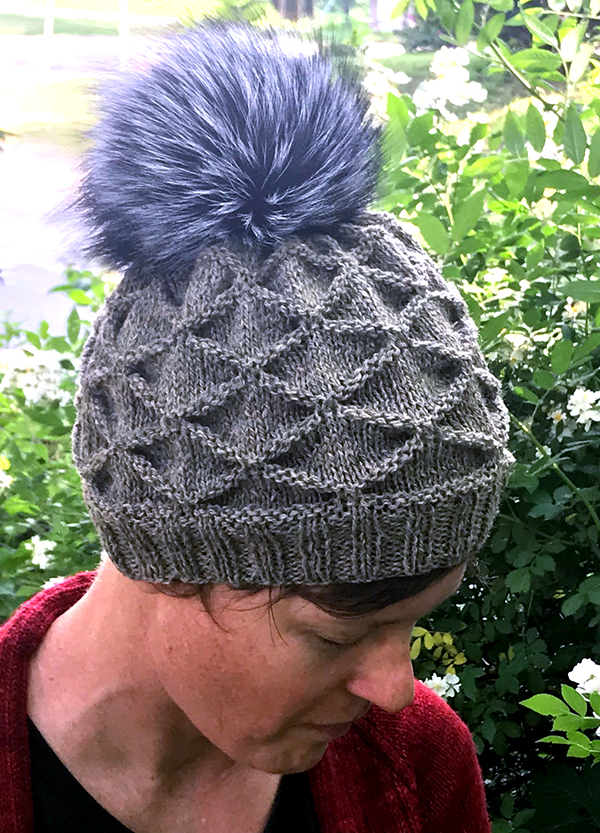 As frustrating as it can be to delay the gratification of getting a project started, the reward of a really successful FO can make a swatch an invaluable investment of time.  We hope that when you fall in love with one of our yarns you'll consider working up a swatch, especially if you don't have a pattern in mind.  We've found that starting a project search with the information learned from our swatch can produce the best match between yarn and finished results!