One of our favorite things about attending sheep and wool festivals is that opportunity they provide us to see everyone's completed knitwear.  And it can be just as fun and inspiring to see what other knitters are working on.  We hope that our current wips (works in progress) may help inform your next project choices…
Like many of us crafters who enjoy having some choices to play with, Scott has a couple of Spinnery projects on his needles.  His smaller more portable project that often comes to work with him, is a lovely version of Maureen Clark's Melody Cowl.
It will likely be a gift that will make someone very happy this holiday season.  And for himself, he is working on a classic cabled sweater: Annie Lupton's Navigate Pullover.
This crisp design was featured on the cover of the second issue of Rib magazine.  When Scott saw that photo, he knew that it was just what he wanted to cast on for.  However, he did have some reservations about working an entire cabled sweater in fingering weight yarn.  So he's opted to use Spinnery's DK weight New Mexico Organic yarn, and has been making pattern modifications as he goes to accommodate for the difference in gauge.
We can't help but admire his willingness to work out mathematical equations in summer's heat.
Lauren, who works with our custom spinning customers is working on two projects with yarn she purchased directly from the sources.  (We often become so enamored with the yarns we create for local growers and dyers that we purchase some of this yarn before these skeins even leave the building! )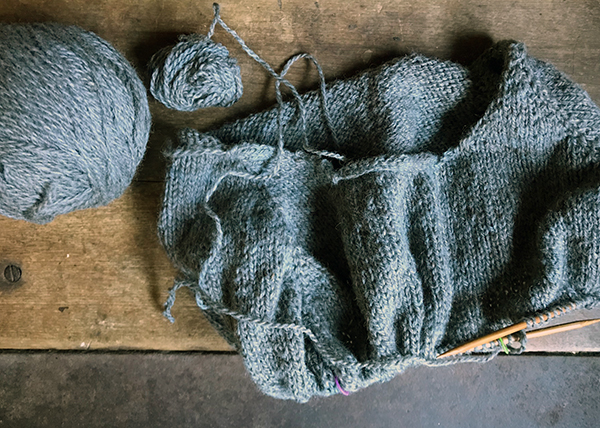 She has several muted skeins of Patricia Fortinsky's yarn (@tidalyarns) for a worsted weight sweater of Debra Parcella's design.  Patricia uses all kinds of botanicals to create beautiful shades that we all admire.  When you see this yarn in person, you'll see subtle shifts in color from a soft grey-green to mauve this is softly breathtaking.  The Tidal High-Low pullover is a top-down raglan design that creates a flowing boxy shape that is perfect for every occasion.  Lauren hopes to have it ready to wear for Rhinebeck this year.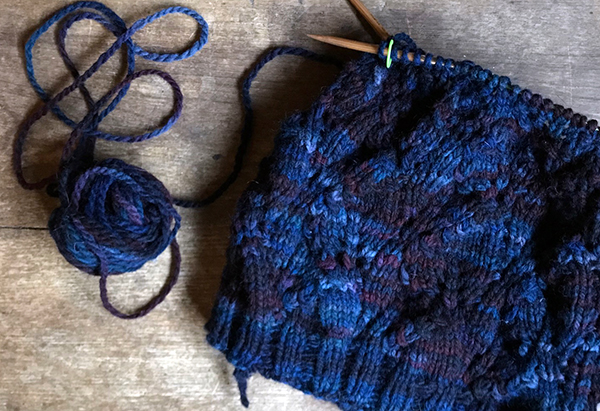 Lauren is also working on a Jump in the Leaves Hat designed by Rachel Stecker.  The yarn she's using for this project was spun here and hand dyed by Andy who works on the carding machine alongside Laurie.  When he's not knee deep in wool on our production floor, Andy stays busy on a small homestead raising goats, chickens and more.  He and his partner Rachel offer these beautiful skeins on their website and at the Brattleboro Farmers' Market; and Lauren couldn't resist this lovely combination.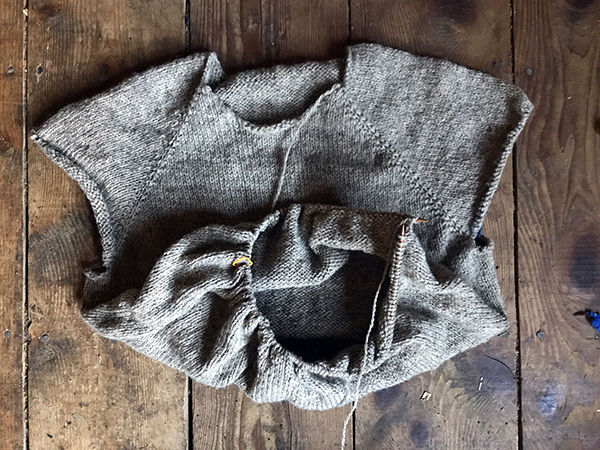 Andy is also a knitter, and on his needles this week is #991 Neckdown Pullover for Men from Knitting Pure & Simple.  He's working this raglan pullover up with our Maine Organic yarn; and this sturdy fiber will create a very useful garment to toss on for farm chores as the fall turns into winter.  It will work as hard as Andy does.
This week, several members of a Bellows Falls' knitting group that Larisa is a member of have decided to start a Steven West KAL.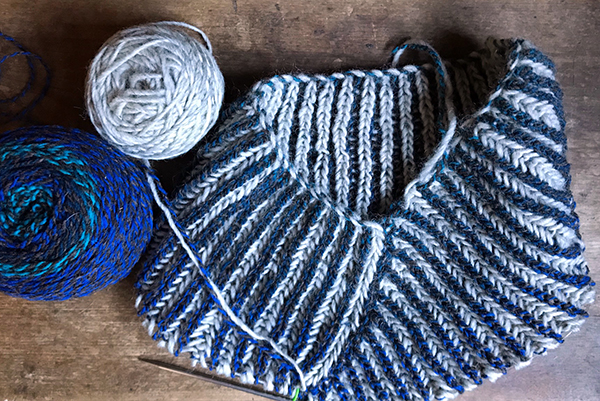 Larisa cast on for the Askews Me Sweater using a neutral shade of Mountain Mohair and our new Ragg Time as her contrast yarn.  As you can see, the unexpected color changes in the variegated ragg yarn will make for a stunning finished result of lush brioche ribbing that will be a delight to snuggle into this winter.  She also hopes to have this ready for the exciting release of our Ragg-Time yarn line in early September!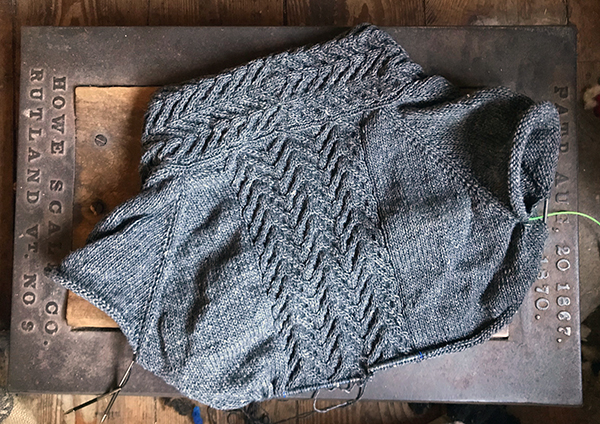 Kate started a modified version of Veera Välimäki's Gemstone cardigan using Hematite Sylvan Spirit earlier this Spring.  Her project has languished on the needles for several weeks, but she hopes to get back to it before long.  We all admire how this yarn's TENCEL content creates a luster that makes those gorgeous cables featured down the center back and around the shawl collar crisp and clear even in our darkest shade.
We hope that you'll continue to share your projects with us.  You can email photos to us or tag us on Instagram (@greenmtnspinnery) if that is where you prefer to post your work.  We love to see your progress and we're often inspired by your projects to start new ones of our own!  Until we see you next, happy knitting.