We've been abuzz at the Mill ever since Kirsten Hipsky's new Arboreal Collection was released.  Her new ebook includes 5 new botanically inspired knits that will knock your socks off!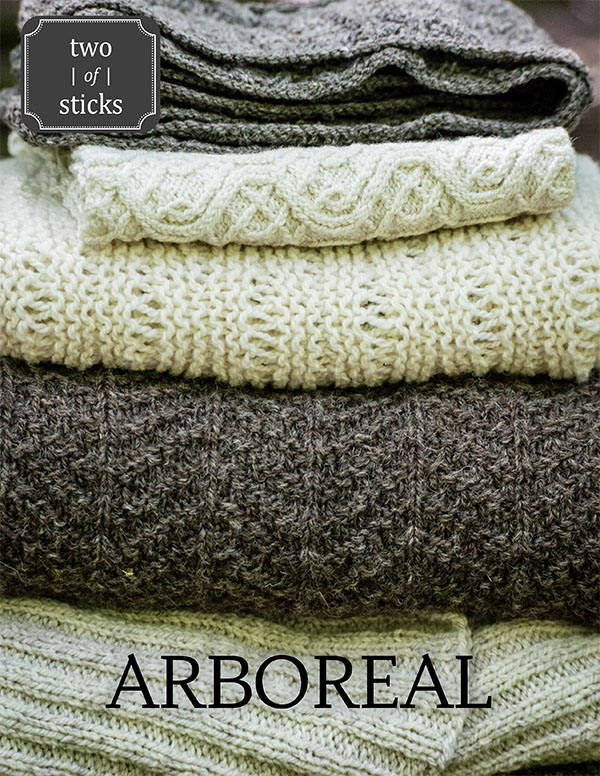 All five patterns call for Spinnery yarns, and we think that you're going to be smitten with more than one.  From the bottom to the top of the stack of delicious knits featured above, let's look at each design a bit more closely.
Kirsten's Burr Oak Cardigan is crafted with our DK weight New Mexico Organic yarn.  This shawl collared, double breasted design features a bottom-up raglan design with a generous range of seven sizes from 36″ to 60″.  That gorgeous bark-like cabled texture extends across the back and the tunic length makes it ideal for cooler weather.
Next up is the Sassafras Pullover.  This unisex pullover has an all-over chevron texture that appeals to all of us here at the Spinnery.
This sweater is constructed flat from the bottom front hem, up and over the shoulders and down the back.  This ensures that the stitch pattern never skips a beat.  The side seams provide the perfect amount of structure and the hearty yarn it's knit with will make this sweater an heirloom to keep!
The pattern calls of our worsted weight Maine or Vermont Organic yarns that are finished at a generous 250 yards per skein.  The sizes range from a 36″ chest to a 60″ chest so you may find that you want to size up for layering under this handsome sweater.
Kirsten's Birch Shawl presents a delicate contrast.  It is also created with our New Mexico Organic yarn, shown here in the creamy white.  This triangular shawl features a lacy texture that mimics birch bark; which is created with an easily memorized repetition of dropped stitches.  One of our favorite aspects of this design is that the shawl is reversible.  No matter how you wrap up in it, you'll look picture perfect!
The last two patterns in this collection call for single skeins of our fingering weight yarns for lightweight accessories that will be a pleasure to wear.
Her Ash Cowl features a more complex pattern of twisting cables that are presented in crisp detail thanks to the Forest yarn's blend of fine wool and TENCEL that provides a luminous stitch definition we love.  Her finished cowl blocks out at approximately 36" around and 9" wide and will easily fit under your winter coat.
Last but certainly not least, is Kirsten's Dogwood Cowl, created with Spinnery Lana.  This design has a larger circumference and a bit less depth (approximately 80" around and 5" tall) for more styling versatility.
"Arranged in a soft, quilted diamond formation, the eyelets in this cowl are formed in an unusual and educational way. Instead of the expected yarn overs, you knit the strand that runs between your needles. This creates a slightly smaller and tidier eyelet that is easier to work on circular needles than a yarn over, since there are no loops of yarn to drag around the cable. It's also the professional trick for fixing any missing yarn overs in traditional lace patterns— just knit into the strand running between the needles!"
We adore learning new tricks while making such wearable garments.  It's a pleasure for both process knitters AND product knitters.
We hope that you take a closer look at Kirsten Hipsky's Arboreal collection on Ravelry.  And be sure to join in on our Instagram contest this week for your chance to win a FREE copy of the entire collection!