We have one last fiber festival scheduled this season. This weekend, Maureen and Kate are in Asheville, North Carolina for SAFF.  The Green Mountain Spinnery booth is in an exciting new location; you'll be able to find our beautiful yarns in booth 326-328.
We hope that if you're in the area, you'll stop on by and see all that we've been working on this season.  In addition to our entire collection of yarn and patterns, we have 10 shades of our new DK weight Ragg-Time yarn to show you.  And to support this new yarn we've developed a half dozen patterns that call for this fun variegated 2-ply yarn.
Just this week, we've released a new design of Larisa Demos': her Knotweed Wrap.  This beautiful textured wrap calls for three skeins of our DK weight Ragg-Time.
Shown here, it's knit up with our Joplin colorway.  As you can see, the colors shift through three tones of beautiful green that is plied with a contrasting dark chocolate brown to create a new take on a traditional ragg yarn.  The changes in tone can jazz up your knitting, keeping you engaged while you progress.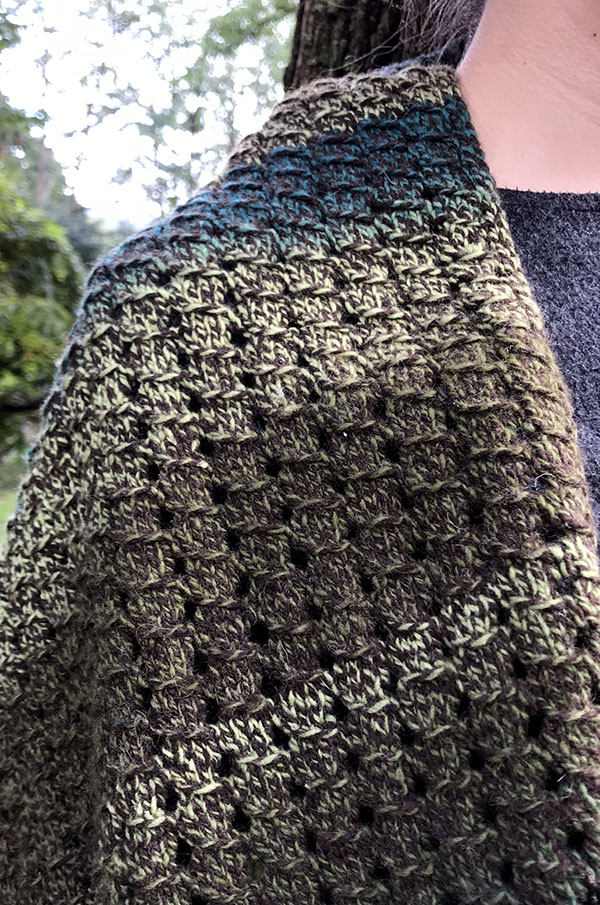 This lovely textured stitch is created with a quickly memorized sequence of four rows that you'll find start to accumulate as quickly as Japanese Knotweed is able to grow!
We hope that you'll visit our booth at SAFF, swing by our Mill in Vermont, or check out this pattern on our website.  It could be the perfect pattern to inspire you to cast on with our new Ragg-Time yarn, bringing some welcome improvisation to this season's knitting.