For those of you who love to follow folks who create, make and share on Instagram, you may be enjoying the recent stream of posts that are focused on #MeMadeMay2019.  We thought we'd help orient some of our readers who might not already be aware of this phenomenon, to the background of the project.
"Me-Made-May is a challenge designed to encourage people who make their own clothes to develop a better relationship with their handmade wardrobe. You set the specifics of your own challenge to make it suitable and useful for YOU. However, one very common pledge is for a participant to aim to wear one self-stitched or refashioned garment each day for the duration of May."
Almost a decade ago, Zoe (author of the So, Zo blog) wanted to test herself to see how far she could rely on a wardrobe of things she had made herself. In her words, "I first attempted the challenge as a solo endeavor in March of that year. It was fun, informative, but mostly COLD! I wanted to try it again during a warmer month, so I decided on May and mentioned it on my blog to see if anyone else was interested in trying something similar. My own personal pledge was to wear only me-made things, aside from bras, tights, socks and shoes, but I left it open for anyone else taking part to set their own specific pledge and have done so ever since."  And Me Made May was born.
Some of us crafters here at the Spinnery were talking about this around the water cooler this week, and we can't help but recognize the network of producers and makers who make this all possible.  For every yard of fabric or skein of yarn that we use to make a garment, there is a large community of producers who work to provide the "ingredients" that make a handmade wardrobe possible.
Farmers nurture the plants or raise the animals which provide the fiber that eventually clothes us.  Many of them have made a commitment to produce their crops or raise their flocks more ethically, sustainably, or organically.  This has fostered a greater focus on soil health, biodiversity and heritage breed preservation that is benefiting the planet in myriad ways.
Mills of all sizes and even hand spinners produce skeins of all kinds.  We source fiber and make yarn that highlights the attributes of the included materials for a finished fabric that will delight and last for years to come.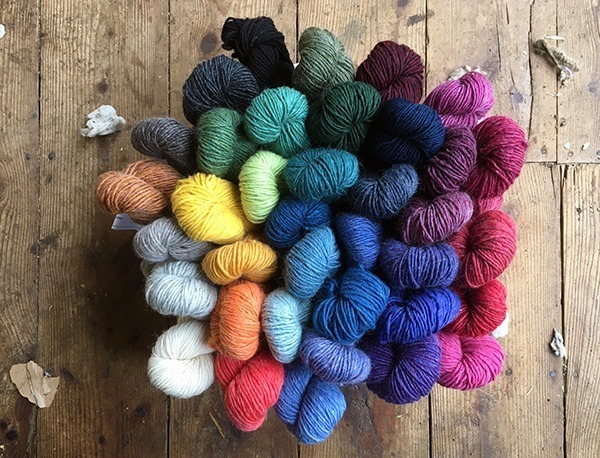 Fabric designers and independent dyers play their part in creating and enhancing materials to mimic or even surpass industry trends; allowing us to make garments more personally suited to our preferences.  When this year's "it" colors miss the mark for what we need, or would prefer, we can craft something that is exactly what we're looking for.
Pattern designers and tech editors work tirelessly to create an almost continual stream of fresh ideas that fit and flatter.  Their test knitters work out many unexpected kinks so that when we get started cutting and sewing or casting on, we can be confident that our finished garment will work up as we expect.
Online communities such as Raverly make finding helpful comments, suggestions and feedback easy.  We no longer need to work in solitude, struggling to interpret cryptically worded instructions and second guessing our understanding.  Reaching out to other makers for help has never been easier.
Social Media plays a part by presenting new ideas and materials for our consideration.  A well-timed photo and description, blog post, or podcast can provide us with information that a generation ago would have only come to us with hands-on experience.  A workshop, online course, or video tutorial on youtube can increase our skills, making complex techniques something we can master without professional experience or a mentor guiding us along the way.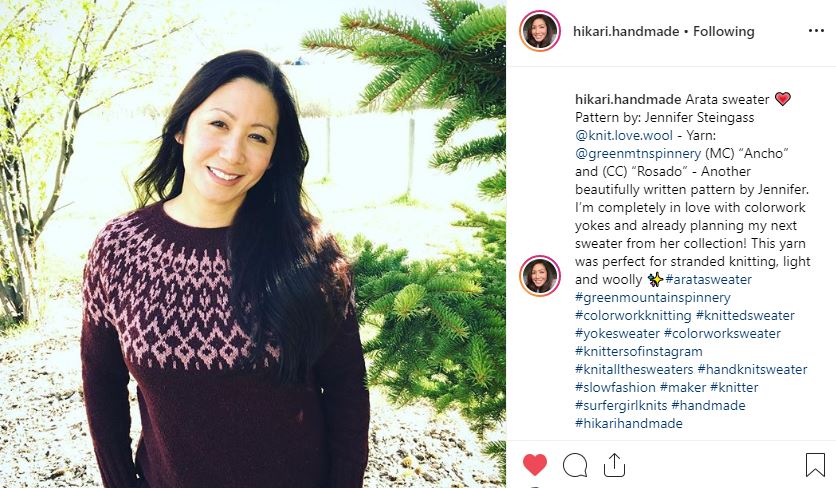 Behind every finished garment that you'll see this month, with a hashtag for Me-Made-May, there is a we; a group of passionate makers who each play a role in making a handmade wardrobe possible.  We are thrilled to be part of this tribe. We hope that our yarns and patterns are allowing you to create pieces for your wardrobe that you'll enjoy well beyond this May.
For those of you would would like to follow us more closely on social media, you might want to start following us Instagram or searching for hashtags that relate to us ( #greenmountainspinnery #greenmtnspinnery #gmswip)  you can also find us on Ravelry and Facebook if those are platforms that you prefer.   We'd love to connect with you there!