Thea Colman (aka Baby Cocktails) let us know that she's updated her very popular Tanqueray pattern this week.  This lovely pullover design was originally released in 2013 and knit up with our Cotton Comfort.  Our DK weight blend of wool and cotton is our favorite for warmer weather knits.
"Like the gin, this sweater is appropriate for any occasion. Tanqueray is a classic pullover, featuring a deep V with an intricate ribbing that continues around the shoulders and is seamed together at the back of the neck.
The Cotton Comfort adds a rustic touch and a little texture to the stockinette, and it makes Thea's favorite lace flowers so wonderfully delicate. The sleeve cuffs echo the ribbed flower and lace accent, and twisted ribbing stands out against the simple body. The weight is perfect for almost any occasion and the detail is subtle enough for any outfit."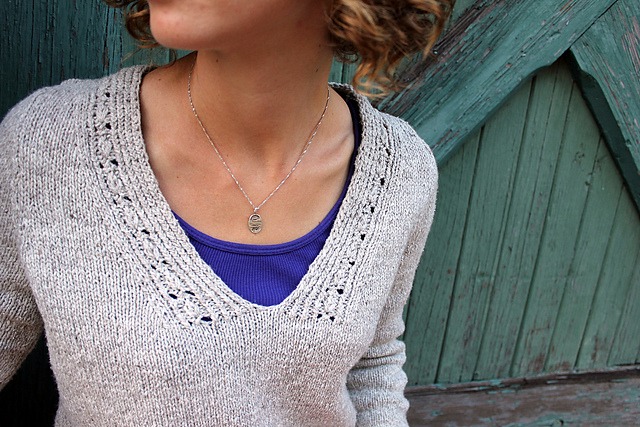 As with all of Thea's patterns, Tanqueray includes a generous range of sizing. Finished width at bust: 33.5 (36.5, 39.5, 42.5, 45.5)(48.5, 51, 54, 57)" Shown above in the Silver colorway with 2.5 inches of ease.  You'll need 6 (7, 7, 8, 9) (9, 10, 11, 11) skeins of our DK weight yarns that are put up at 180 yards each.  Thea has mentioned that she thinks that Mewesic would create a great cooler weather version of this garment.
We adore the delicate flowers in the lace work and twisted rib detail that surrounds the flattering v-neck.
These iconic flowers are created with a dip-stitch technique that is also featured in two of Thea's other patterns: her Chamomile mitts and the Apple Swizzle hat pattern, that was created as this month's offering from Jen Arnall-Cuillford's Boost Your Knitting: Another Year of Techniques series.
This educational project launched this March and will continue through February of 2020.  "Members receive a digital photo tutorial and pattern file each month that will teach you a new skill to boost your knitting. Each pattern will also be accompanied by a video tutorial so that you have total confidence in exploring new knitting techniques. Every month a knitalong to celebrate that technique will run in their
Ravelry group
, and the projects are all carefully designed to be achievable within a month."
You can still sign up and take advantage of this program to learn:
Brioche knitting, including increases and decreases
Choosing colors for stranded colorwork
Correcting mistakes in lace knitting
Tubular cast-on method in the round
Dip stitches
Double knitting, including decreases
Finishing techniques for toy knitting (sewing together, stuffing, embroidering faces)
Gusset short row heel for toe-up socks
Intarsia in the round
Joining in yarns for colorwork
Marlisle
Tuck stitches
Thea noticed that many members of the Ravelry knitalong group completed their Apple Swizzle hats already and the month is not yet halfway over!  She thought it might be fun to share all of her patterns that include this dip-stitch detail, so we can all play with these delicate lace flowers this month.
To make that choice even easier, Thea has generously created a discount code to be used on Ravelry for a 50% discount on all three patterns!
Simply enter DS Flowers at checkout on Ravelry to receive 50% off the patterns until June 30. 
And on our website the same discount code will provide you with 15% off any purchase of Cotton Comfort until June 30th.
Thank you, Thea!! Let's get stitching.
** Thea's Chamomile mitts pattern calls for something slightly different than the DK yarns indicated for her sweater and hat.  They knit up at 5 stitches and 7 rows per inch with a fingering yarn held double throughout.  You might want to consider using our Lana for this project.