Many of us identify as either a cardigan person or a pullover person.  We like what we like.
Our friend Thea Colman (aka Babycocktails) has taken that into consideration and has recently published her scrumptiously textured sweater design Oban, as either a cardigan or a pullover.  And we find ourselves smitten with both!
She fell in love with the texturing in these patterns on a whim – in a single day while swatching this cable for something else, and boom – before she knew it, she'd cast on and was on her way.  In her words, "It's classic but just a little different."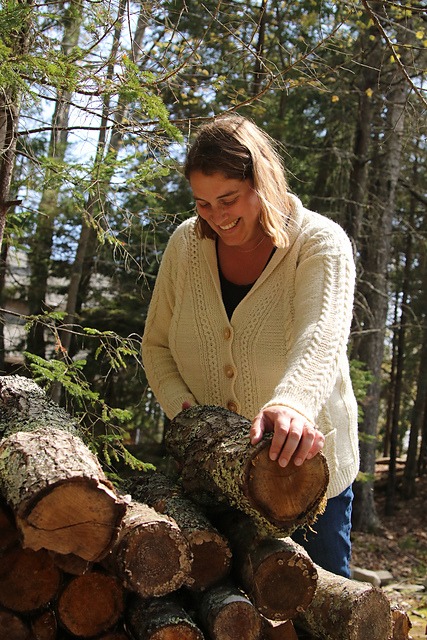 Our ravelry friend Annie recently finished her cardigan using Spinnery Weekend Wool.  (You may have already seen this if you follow Thea's instagram feed.)  Her selection of the classic white colorway has resulted in an heirloom sweater that shows off Oban's lush cables to perfection.
The shawl color and pockets (!) make it a perfect comforting and flattering grandpa sweater. It is easy for us to imagine that it will be Annie's first choice when deciding what to wear this autumn, as temperatures start to fall and she heads out for more firewood on a brisk morning.
The visual contrast between the garter stitch columns, two kinds of cabling and reverse stockinette adds up to a winning combination.
For those of you who prefer to pop your sweaters over your head, not to worry;  Oban is available as a pullover as well.  Kate knit her pullover Oban this winter with some undyed yarn from Savage Hart Farms (one of the New England Farms that we process wool for).  It couldn't be cozier.
Our Ravelry friend Jenny completed her version, using Spinnery Mewesic and it looks like a million dollars on her!  What a perfect fit.  She selected the Sandman colorway which is a perfect warm neutral tone which allows that complex texture to take center stage.
We love how adaptable this design is.  It seems just as perfectly suited to a rustic landscape or an urban one!
Both patterns feature a bottom-up construction and all of the cable instructions are both charted and written.  The genius of Thea's design is that it is simpler than it looks.  We love finished garments that come together easily and yet have a wow factor that impresses everyone (makers and non-makers) alike.
Thea's size range in both versions is wide and inclusive.  She also generously provides notes to alter length or width of either body or sleeves.  In the cardigan pattern, the shawl collar can easily be modified for a deeper fold if desired – or worked without shaping as a straight button band.
And if all of this doesn't convince you, you have a third option!  She started all of this gorgeous cabled madness with yet another pattern, her Oban Hat!
You could cast on a smaller version of this project to get the hang of the pattern's cables, while it may feel a bit too hot to consider a lap-full of wool.  Our Maine or Vermont Organic yarns would work perfectly for Thea's hat design and it requires just a single skein.
We hope that you'll take a closer look at all of Thea's Oban patterns this week.  We feel confident that one of them will be just right for you!
Be sure to subscribe to our newsletter if you aren't already receiving it. (You'll find a button on the bottom right hand side of the Spinnery.com home page.)  Thea has offered us a Ravelry coupon code that we'll be able to share with our newsletter subscribers for 25% off any or all of the three Oban patterns will be good till Sept 1, 2019.